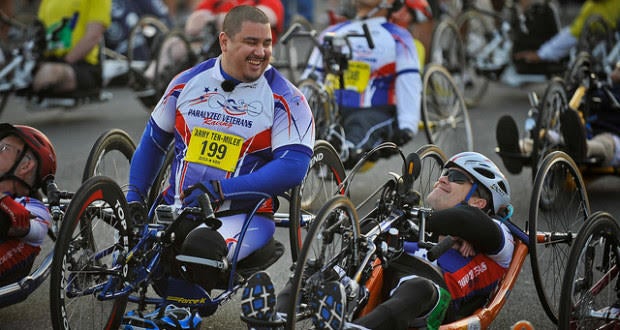 How do you tell a 19-year-old Marine, waking up in a hospital room that he'll never walk again? Or that he has suffered a spinal cord injury so severe, he will not be able to scratch his own ear? For thousands of military service members, this becomes their new reality.
Paralyzed Veterans of America (Paralyzed Veterans) has led the charge to provide high quality care and rehabilitation services for veterans recovering from injuries sustained while serving in the Armed Forces, since 1946. Originally founded during World War II for soldiers wounded on the battlefield, a person's life expectancy with spinal cord injury in that era was predicted to be anywhere from 18 months to 5 years. Complications can vary, but chronic health problems associated with this degenerative disease are always a factor, and require ongoing interventions for the lifetime of the survivor. Today, Paralyzed Veterans provides healthcare resources and lifestyle accommodations to this population, and veterans living with this injury are thriving well into their 90's.
On August 29, Paralyzed Veterans of America will gather for the world's largest spinal cord injury and disease conference, dedicated to the 750,000 people living with spinal cord disease (SCI/D) in the United States, today. Through their work with the Department of Veterans Affairs, they have secured over -+$1 billion dollars in financial assistance for veterans. Lana McKenzie, Associate Executive Director of Medical Services and Health Policy at Paralyzed Veterans shared about the program.
How would you describe Paralyzed Veterans of America and the Annual Healthcare Summit?
We are life-long advocates for our members and the only veterans organization that employs licensed nurses and architects, allowing us to provide the highest possible quality of life to those with spinal cord injury or disease (SCI/D). For example, in addition to managing business aspects of the organization, I am also a registered nurse and have a long history of working with patients living with SCI/D. I understand through field experience how people suffering with SCI/D often don't receive the care they need at nursing homes or generic health facilities because staffers are not typically trained in the nuances of spinal cord disease complications. The Paralyzed Veterans' Healthcare Summit works to provide specialized training to clinicians through scholarships, training workshops and connects nurses in the field with peers who can provide best practices related to the dozens of unique issues specific to these conditions.
You mentioned architects, what is their role?
Our on-staff architects not only help our members with accessible accommodations at the home, they also advocate for accessibility in public buildings, transportation venues and entertainment attractions throughout the nation. That means not just veterans benefit from our work, but entire communities have access to new hotel ramps, curb ramps and elevators for strollers, luggage or walkers.
What assistive skills are taught to veterans through Paralyzed Veterans of America?
For starters, all services are free and we work to provide support on virtually any challenge a paralyzed person might encounter. Assistance can include training on what to expect during pregnancy, how to maneuver around a kitchen in a wheelchair, providing access to custom clothing designed to accommodate paralysis, or fun, life enhancing activities like learning to dance from the wheelchair, or participating in wheelchair sporting events.
Can you share a little known fact about the Paralyzed Veterans of America Healthcare Summit?
One special aspect of the Summit is that we also work with the Multiple Sclerosis (MS) population. For many years, veterans with this disease did not qualify for medical assistance because there weren't programs dedicated to this disorder. MS symptoms can mirror spinal cord injury due to the nerves disconnecting, and often the nurses treating MS patients lack specialized training in paralysis-related issues. At our annual Summit we gather veterans and clinicians together to exchange ideas and best practices, and they take this education back to their jobs and families for enhanced caregiving. It becomes this beautifully connected community that continues to grow throughout the year.
We also collaborate with the Department of Veterans Affairs, providing program oversight, quality audits of VA SCI Centers, and ensuring that the needs of veterans are being both heard and met. It can be difficult for a federal employee to stand up and request more funding for programming, but as an independent non-profit, we are able to be objective and perform one hundred percent, as the voice of the patient.
How does Paralyzed Veterans of America generate funding?
Paralyzed Veterans is funded entirely by the generosity of donors and we are very excited to be granting 500 scholarships for medical clinicians August 29, at our annual Summit. We consider it an honor to give back to the professionals working hard to take care of our veterans. The scholarship program enables us to enhance the skill set of clinicians in the field, while improving quality of care for the most catastrophically affected veterans. Funding is also used to advocate for mainstream living accommodations. One important and successful initiative was the installation of elevators at train stations, providing the disability community safe and reliable access to public transportation.
What started as an organization to provide veterans with quality resources has become a movement empowering an extraordinary community of survivors and caregivers. For more information about the upcoming Annual Healthcare Summit or to find vital resources, visit www.summitpva.org.