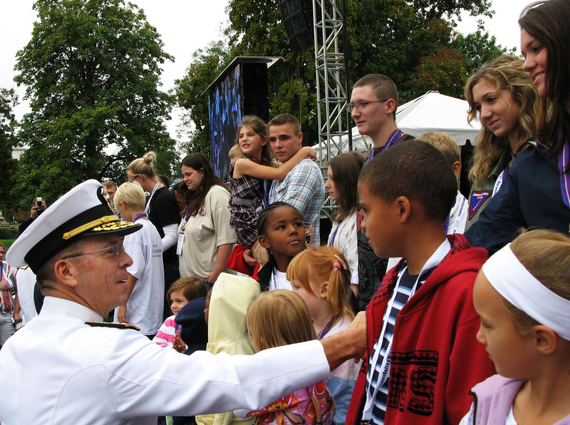 I don't recall how many times -- when writing about our casualties of war -- I have lamented over the unfathomable grief the fathers, mothers, wives and husbands, sons and daughters of the fallen must experience when they receive that "knock at the door."
Because we oftentimes imagine our warriors fighting our wars and "conflicts" to be relatively young men and women, we sometimes fail to realize that many of them are parents with sons and daughters. These sons and daughters are as young as a few days, some in their 30s, perhaps parents themselves.
When these parent warriors fall, they leave behind young children who will continue to pay the cost of war "with the cheers they won't hear from the soccer sidelines." They leave behind teenagers who will do so with "the hugs they won't get at their graduations." They leave behind young adults who will pay the price with "the arms they won't clasp down the aisle at their weddings."
Those are the haunting words used by Steve Hendrix at the Washington Post introducing a heartbreaking collection of stories of sons and daughters who have lost their parents in the Afghanistan War.
The stories are of children who have heard "[t]he knock at the door." Stories of children who have experienced and continue to experience "[t]he shock and grief that followed. An absence that lasts a lifetime."
Those profiled range in age from 6 to 34 and live from Florida, Georgia and the Carolinas to Connecticut, Minnesota, California and Hawaii. They are second-graders and high school seniors, athletes and artists, strugglers and strivers, each finding a path through a childhood marred by loss. Each living with a piece of themselves forever gone.
With a box of tissues by your side, read about 6-year-old Calvin Davis who was only four when his dad was killed by a bomb in Afghanistan. As his mother's car passes some white fences along a gravel road in rural Arizona, Calvin turns to her and says, "There's the graveyard...I see Daddy's flags. Do you see it, Mommy?"
If you still have a dry eye left, learn about Tiffany McKay-Mortimer -- now 34 -- who followed her father into the military and served in Iraq at the same time as he did. Her father could not be with her when she was going through some "brutal physical therapy" after undergoing surgery for a brain aneurysm -- when she needed him most. You see, her dad -- Army Sgt. 1st Class Joseph McKay -- had been killed a little less than three years before her surgery by a roadside bomb south of Kabul, Afghanistan.
With more and more women in combat roles, some children won't have a mom "on the day of [their] graduation or the morning of [their] wedding," as is the case with Sidney Pompa, whose mother, an Army Staff Sergeant, died on assignment in Afghanistan when Sidney was only 13.
There are 12 more similar yet uniquely heart-rending "portraits" of young children, teenagers and young adults, each deprived of a father or a mother, "[e]ach living with a piece of themselves forever gone," because of a war that has gone on for much too long.
Please read them all here, but be prepared...
Lead photo: Navy Adm. Mike Mullen, then-chairman of the Joint Chiefs of Staff, meets with children of fallen servicemembers at the fourth-annual "A Time of Remembrance" ceremony held on the west lawn of the U.S. Capitol, Sept. 26, 2009. DoD photo by Gerry J. Gilmore
There are several organizations dedicated to start the healing process and to provide care and support to family members -- including children -- who have suffered the loss of a loved one serving in the armed forces.
Three of them are TAPS (Tragedy Assistance Program for Survivors), Wounded Warriors Family Support and the Marine Corps Scholarship Foundation (MCSF). The latter provides "financial assistance in the form of scholarships for higher education to deserving sons and daughters of Marines and children of former Marines, with particular attention being given to children whose parent was killed or wounded in action."
Other organizations -- and ratings -- can be found at the Charity Navigator "Support our Troops" page.
Related
Popular in the Community