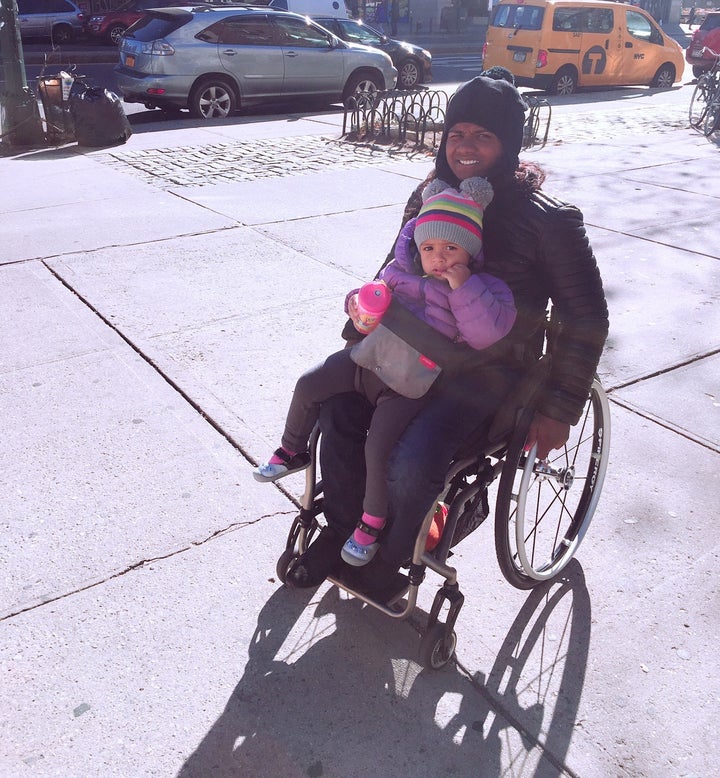 In January, my daughter celebrated her second birthday. She ran around our apartment with cake on her face and a joyful grin. Pushing around in my wheelchair, I could not catch her, and it hit me again that I cannot run. I cannot even pick her up off the ground if she falls down. I can't do these things because my legs are paralyzed from contracting polio as an infant in India.
My daughter did not face this risk because she was protected by the polio vaccine.
Today, more than any time in history, we are able to save children's lives and prevent disabilities through the use of vaccines. Yet also today, the legitimate use of vaccines in the United States is facing new threats as more and more parents opt out of vaccination requirements, and vaccine opponents promote state laws that make it easier to do so.
If this trend continues, we may soon see the re-emergence of epidemics of deadly and disabling diseases, such as measles and meningitis. It is critical that now we - parents, health professionals, and lawmakers - stand together in support of vaccination programs.
States determine immunization requirements, and all but three states (California, Mississippi and West Virginia) accept religious or philosophical exemptions. Now, a number of state legislatures are considering laws that would further expand non-medical exemptions.
A bill proposed In Idaho would allow parents to opt out of vaccinating their children with a simple letter rather than having to fill out a state or school form. In January 2017, the Rhode Island Senate Health and Human Services committee introduced a bill that would allow parents to exempt their children from required vaccinations based on non-specified personal belief-in addition to the state's existing religious exemption.
But in several states, record numbers of non-medical exemptions are already being granted. Last year, the number of non-medical exemptions in Oregon (6.2 percent), Idaho (5.8 percent) and Vermont (5.5 percent) were high enough to expose the community to increased risk of disease.
This threat arises when the percentage of vaccinated children falls below a certain threshold-usually at least 90 or 95 percent. When this happens, disease is able spread more readily through the community, affecting those who are unable to be immunized, such as infants or immune-suppressed children or elderly. Thus, in order to stop the spread of vaccine preventable disease, each community is reliant on actions of its individuals.
A study by research scientist Dr. Peter Hotez shows the dangerous increase of non-medical exemptions granted in Texas. In 2016, there were almost 45,000 children with non-medical exemptions to immunizations, double the number in 2015. This dropped measles vaccine coverage in communities like Gaines County to below the crucial 95 percent threshold needed to prevent outbreaks. According to Dr. Hotez, in Travis County alone, the exemption rate exceeds 20 percent.
When I was an infant in India, my birth mother did not have the opportunity to immunize me against polio. After my adoptive parents brought me back to the United States, they were able to obtain the medical care necessary for me to walk with leg braces and crutches and push a manual wheelchair.
Vaccines play a fundamental role in protecting our lives and those around us from illness and death. They prevent diseases like measles that can cause brain damage, polio that paralyzes, and meningitis that can cause brain damage or even death. According to a study of vaccinated children by the United States Center for Disease Control and Prevention (CDC): vaccine use in America between 1994 and 2013 has saved 732,000 lives (greater than the population of Boston), avoided 21 million hospitalizations and 322 million illnesses (more than the current population of the entire country).
Meanwhile, a study based on a survey by the American Academy of Pediatrics reported that parents' number one reason for declining vaccines was the belief that they are unnecessary. Other reasons included concern for discomfort and worry that vaccines place a burden on their children's immune systems.
To be sure, there are many reasons for parents to fear for the health and safety of their children. But vaccines need not be one of them. As the World Health Organization (WHO) puts it, you are far less likely to be injured by a vaccine than by the disease itself.
It is easy to take vaccine protection for granted. They have been so effective in eliminating disease that many people are unaware of the extent of suffering they once inflicted. The U.S. polio epidemic in the 1940s and 1950s left tens of thousands of people paralyzed. Prior to measles vaccination in the early 1960s, there were an estimated 50,000 hospitalizations, 4,000 cases of permanent brain damage, and 500 deaths from measles every year.
If today's concerned parents were to experience such devastating epidemics, they would likely think twice before denying their children the best shot at life.
As a parent who understands the value of vaccines personally, I urge other parents, health care providers and state legislators to join together to support childhood vaccination programs. We must ask our state legislatures to vote against bills that would soften existing requirements or allow for more vaccination exemptions. We can go further to ask our leaders to consider tightening exemption policies altogether. Let us send the message that we value children's lives and the vaccines that help to keep our country safe from preventable diseases.
Minda Dentler became the first female wheelchair athlete to complete the Ironman World Championship in Kona, Hawaii in October 2013, and is both a polio survivor and a global health advocate. She is a 2017 Aspen New Voices Fellow.