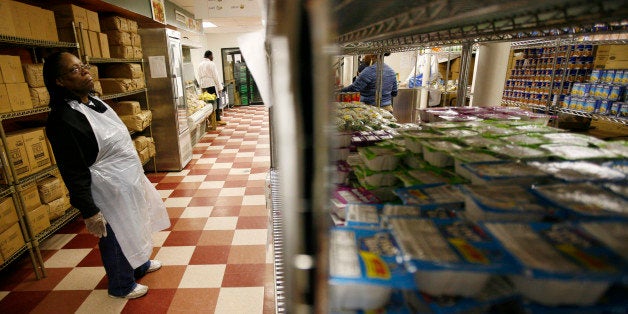 What if I told you that the most valuable asset you could bring to the fight against hunger in America is your voice?
This was the question I posed to a well-meaning businessman -- brimming with ideas about "feeding stations" and other newly imagined logistics -- who approached me to share potential solutions on ending hunger. It was obvious this was not the response he was expecting. Yet in this moment, as we evaluate the candidates for the highest office in the land, it is silence that could jeopardize the wellbeing of low-income Americans -- and voice is our most powerful tool.
Hunger exists in every community and every state. It crosses demographics, affecting the lives of children, seniors, people with disabilities, and low-wage workers. More than 48 million Americans are currently struggling with food insecurity, meaning that more than one in seven Americans can't always afford enough food to sustain a healthy life. Here in New York City, approximately 1.5 million people -- nearly one in five New Yorkers -- rely on the services my organization, Food Bank For New York City, provides. Yet not a single presidential candidate includes this issue in their stump speeches, raises it in debates or even posts a position statement on their website.
In this kind of silence, dangerous ideas can take root. When no one speaks out, harmful assumptions are able to mask as consensus. As the leader of one of our country's most robust food banks, I have seen that a lack of voice can mean meals taken off the tables of those struggling the most.
The food bank I lead works to lift the voices of the individuals who run our city's network of food pantries and soup kitchens, and the concerned New Yorkers supporting our collective work. We have mobilized together to protect and strengthen the programs and services that prevent New Yorkers from going hungry. When all of the most vital resources supporting your work are donated, speaking out can feel risky, but the reality is that remaining silent can be far worse. Here's what we've learned from our work:
Raise your voice, even when you think you don't have to. I have yet to meet someone who believes hunger in our society is a good thing -- so why would anyone need to speak out? Tacit agreement can be a refuge for misconceptions and misinformation. While no one is for systemic food insecurity, most people know very little about who is at risk of hunger in our city and country -- and many are surprised to learn it is not just homeless men. Sharing the story about our myriad neighbors in need -- many young, female and working -- can completely change notions of what an effective solution looks like.
Raise your voice, even when you risk upsetting those who hold important purse-strings. My organization works closely with various private funders and government agencies to make sure programs are effectively administered, and sometimes we must point out when those efforts fall short of what is needed. In fact, this is a requirement of effectively serving the most vulnerable - specifically when there is a risk of retaliation or retribution. If emergency food resources experience chronic shortages and those on the front lines don't raise our voices, how will our village of concerned citizens and responsible leaders know to respond? Change for the better does not happen by accident -- it happens when vital ills are given voice.
Raise your voice, even when you fear it won't change anything. I would love to say that hunger in the poorest communities is fought by tireless soldiers. I cannot, because the truth is that those on the front lines are exhausted. I've watched them load up on buses to our nation's capital filled with hopes about meetings with senators and anxiety about happenings back at their sites. I hear them whisper (and sometimes shout), "Why do people not care about those at the bottom?" Nevertheless these men and women continue to move forward, showing up yet another day to give it yet another try. When 48 of 51 Council Members from across our city recently joined forces to assert that our city should increase its resources for soup kitchens and food pantries, I watched the energy shift across our citywide network. By raising their voices, these unsung citizens realized they had inspired bold, engaged leadership -- able and willing to speak for their very real needs. Today, they have the results to show for it: a promise of an increase that will provide more needed meals for the most vulnerable New Yorkers.
This election season, pay attention to what leaders are saying, but also to what they're not saying -- and raise your voice about issues, like hunger, that deserve their attention.
Related
Popular in the Community