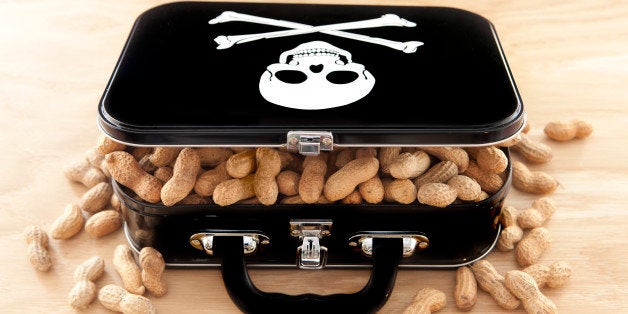 When my son was five, I signed him up for a daily nature camp. I had vetted the camp and felt comfortable with him attending with his peanut allergy because his counselors were all teachers who had previous experience with food allergies. He loved this program, waddling in the pond, taking samples, learning new facts, and told me his counselors carried his Epi-Pen wherever they wandered. He came home on day three telling me that another child had waved a sandwich in his face, in order to scare him. It was a peanut butter and jelly sandwich. He had gone straight to the counselor who had handled it beautifully by taking the time to talk to his group about the dangers of food allergies. The child involved truly had not grasped the dangers of food allergies and apologized, and camp life moved on with no further incidents. The danger posed by food allergies can be difficult for another young child to comprehend because they are not visible until they strike, but what about when it is the adult or the person in charge who is engaged in taunting behavior -- what should happen then?
If you think taunting another person who has a life threatening food allergy takes place only with very young children, you would be sadly mistaken. I was recently invited to a workshop in Washington DC offered by the Food and Nutrition Board of the Institute of Medicine (IOM) in regards to IOM study titled "Food Allergies: Global Burden, Causes, Treatment, Prevention, and Public Policy", where some sobering statistics were shared. A study that assessed the social impact of food allergies in children concluded that approximately 35 percent of children with food allergies over the age of five reported experiencing bullying related to their food allergy. In another study, 57 percent report an actual physical event. An example of a physical event can be seen in the federal lawsuit filed by the law firm of Stein & Vargas, LLP on behalf of a 26-year-old food allergic young man, Dustin Maldonado, alleging that Panera, LLC discriminated on the basis of disability.
The complaint asserts that his fellow employees tricked Dustin, an assistant manager at Panera, LLC into eating food that was unsafe, telling him that a cookie had no nuts and encouraging him to take a bite. It goes on to allege that he was threatened that his fellow employees would poison his coffee with peanut butter and he was taunted that his EpiPens would spread AIDS. The most egregious of his asserted claims, which was digitally recorded, was when his general manager invited him into his office, told him the staff had made him dinner and asked him to hold out his hands. The manager is then alleged to have poured peanut butter cups into them. Keep in mind that according to factual allegations filed, this is a young man who has been previously gone into respiratory failure, required the use of defibrillator and intubated because of exposure to peanuts. The staff that led this taunting campaign was well aware of the severity of his allergy. When Dustin spoke to human resources at Panera, LLC they told him he should have more of a sense of humor.
A press release from the law firm representing Dustin Maldonado, quotes him as saying, "All I wanted was to do a good job and feel safe at work. When the taunting and bullying turned into threats to my health and even my life, I realized I had to find a way to make it stop - for myself and others with same disability. Why would a food service company like Panera put someone's life in jeopardy with a potentially fatal exposure to a food - in my case a severe peanut allergy? If it was customer safety, would this be allowed?"
The Division of Human Rights, according to court documents, found probable cause to believe Panera, LLC engaged in the discriminatory practices alleged. It will be most telling to see how Panera responds to these allegations. One of the attorneys in the case, Mary Vargas told me that "As a disability rights attorney and as a parent of a food allergic child, it is difficult to listen to audio recording of Mr. Maldonado's General Manager deliberately exposing Mr. Maldonado to peanut butter, but it is important to bear witness, to demand better treatment, and to understand the work that remains to be done in food allergy."
I hope that Panera, LLC uses this incidence to create an education and awareness program amongst employees on how to deal with food allergies and how dangerous they are. As Panera, LLC is a large corporation; a little education can go a long way. It seems adults need to be reminded and educated of the dangers of having a life threatening food allergy, and if they do not respect food allergies in the workplace, there must be consequences. When you are living with a food allergy, the world can be a dangerous place. I truly worry about sending my food allergic child into a world that largely is ignorant about the dangers of having a potentially fatal food allergy.