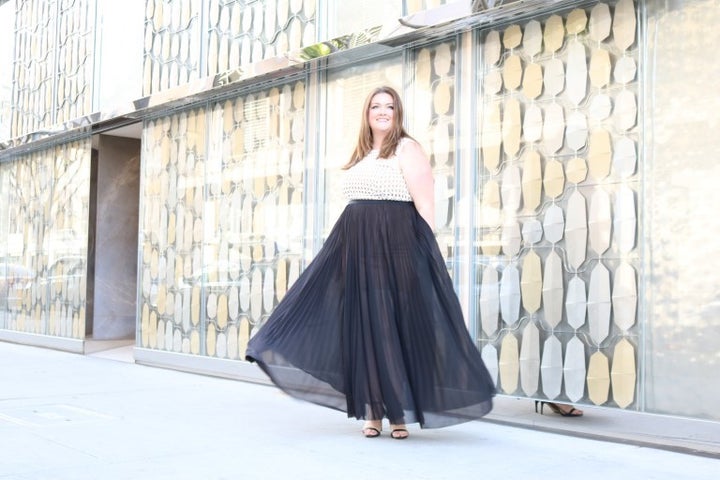 The average American woman is "plus size" by fashion industry standards, garnering the plus-size clothing market $20.4 billion of the apparel industry's $108 billion in sales. However, plus-size women—by definition, those who shop sizes 14 and up— struggle to find their sizes in-store, and many brands still refuse to accommodate the growing apparel segment. Plus-size women are often called a "design challenge," don't fit into the exclusionary vision of certain brands, and are incorrectly assumed to spend less on clothing and accessories than the "standard" size woman.
For these reasons, the brick-and-mortar shopping experience is nearly nonexistent for this demographic – but savvy brands are taking note. In recent years, companies like ModCloth, Eloquii, and Fashion to Figure have emerged to sell fast-fashion trends to women online. Given the lack of brick and mortar options, these brands are cashing in – plus size women are twice as likely to shop online than other women, and buy 50% more of their clothing online than their "standard" size counterparts.
Because plus size women depend on online channels, major retailers that sell to plus women need to put more emphasis on creating a personalized ecommerce experience. This means building an online shopping experience that makes plus size women feel safe, attended to, and celebrated.
To successfully create such an experience, marketers need to allow plus size women to be the most authentic versions of themselves. Brands have a nasty habit of putting idealized versions of plus size women on their websites. They assume that plus women are in the process of losing weight, and that they are buying clothing for an idealized version of their bodies. This may be true for some women, but the reality is that many plus size women are not in transition—nor do they want to be.
The truth is, many plus size women don't want to hide their bodies until they are a size 8 and more "acceptable" to the fashion industry. They are taking to social media to build a community around their beauty ideals. Online blogs such as the Curvy Fashionista, Eff Your Beauty Standards, and Everything Curvy and Chic have sprung up in recent years. On these sites, plus size women post and share photos of the products they love in hopes of building the safe and celebratory community they do not receive from brands. These photos reflect the diverse personalities and trendy individual styles of all plus size women.
So why don't brands use this content in their marketing?
At the end of the day, this user-generated content helps plus size women make better-informed purchasing decisions. When plus size women see photos of other women their size looking good in a particular brand's clothing, they can better understand how that brand's clothing will fit them. While many standard size women will often buy "what's cute," plus size women place a greater emphasis on "will it look good on me?" The authentic lens of customer photos provides a reference point for plus size women, who typically aren't given the privilege to touch or try on products in a store to buy with confidence.
It doesn't come as a surprise that placing customer photos on company websites impacts sales. Real customer photos are 20% more influential on purchasing decisions than any other type of media. And yet, they remain a taboo and controversial marketing resource that only a few plus size brands encourage and leverage. It's telling that even when retailers could make big gains in sales, some brands feature only a subset of their own customers because they are unwilling to celebrate the diversity of plus size bodies.
The reluctance to celebrate all plus size women as customers reflects America's ambivalence and attitude towards beauty norms. But it's not just plus size women – all women want to feel accurately represented by the brands they love. There are very few fashion companies that are dedicated to destroying society's narrow-minded ideals of beauty. The ones that do are the ones standing out in today's crowded newsfeed.
Related
Popular in the Community