Many people hate their jobs. They spend most of their time working at something that gives them little or no personal satisfaction and then take out their frustrations on the people they love.
For creative types, the opposite is true. Many of us are in love with our work and derive a deep sense of fulfillment from our artistic process. Sometimes our obsession with our work can cause us to ignore the people we love.
In his commencement speech to the 2005 graduating class of Stanford University, the late Steve Jobs said:
"You've got to find what you love. And that is as true for your work as it is for your lovers. Your work is going to fill a large part of your life, and the only way to be truly satisfied is to do what you believe is great work. And the only way to do great work is to love what you do. If you haven't found it yet, keep looking. Don't settle. As with all matters of the heart, you'll know when you find it. And, like any great relationship, it just gets better and better as the years roll on. So keep looking until you find it. Don't settle."
Confucius put it more succinctly: "Choose a job you love and you will never have to work a day in your life."
There is a point, however, where a passion for one's work crosses over into workaholism. Much like someone with a substance abuse problem, the drive to get another "creative high" can keep an artist chasing after professional rewards while neglecting his personal relationships.
American Conservatory Theater recently presented the world premiere of Higher, a new play by its artistic director, Carey Perloff, that focuses on two architects in love who end up competing for the same gig. Directed by Mark Rucker on a simple yet stunningly effective unit set designed by Erik Flatmo, Perloff's play revolves around the following characters:
Michael Friedman is a very aggressive architectural celebrity, the kind of workaholic who is constantly jetting around the world to oversee projects in Berlin, Dubai, and other major cities. Having sworn off designing memorials, he is eager to start a new phase of his career. Divorced from his previous wife, he has been in a romantic relationship with a talented female architect which, because of his schedule, is often consummated in hotel rooms during international stopovers.
Isaac Friedman is Michael's gay son who, in addition to resenting his father's continual absenteeism from important moments in his life, has turned to his religion and his loving French Canadian boyfriend (a restaurant chef) for emotional support.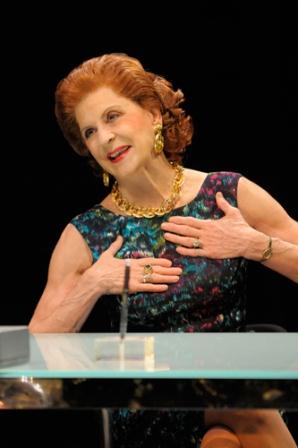 Concetta Tomei as Valerie Rifkind in Higher
Photo by: Kevin Berne
Valerie Rifkind is a predatory New York socialite whose fat husband was blown to bits during a terrorist attack in Israel. Because she comes from the wealthy Freiburg family (whose family foundation donated the money that paid for the architectural designs of many famous buildings), she is not someone who takes "no" for an answer. Valerie is now heading a committee to oversee the architectural competition to design an appropriate memorial honoring the deaths of her husband and the other 22 victims of the bombing. She insists that Michael compete for the award.
Jacob Stein is the son of one of the Israeli bombing victims and a powerful presence on Valerie's committee.
Erica Constantine is the attractive female architect who has entered Valerie's competition. A trifle self-conscious about the fact that female architects rarely receive any professional recognition or awards, she desperately needs to prove to herself and her deceased father (who one day swam off into the Mediterranean Sea and never came back) that she can win this competition. Erica has a deeply compassionate approach to the artistic aspect of her work as an architect that Michael clearly lacks. However, because she is currently involved in a romantic relationship with him, she has refrained from telling Michael about her plan to enter the competition. In addition to her professional skills as an architect, it's possible that Erica remembers Albert Einstein's famous quote: "The difference between stupidity and genius is that genius has its limits."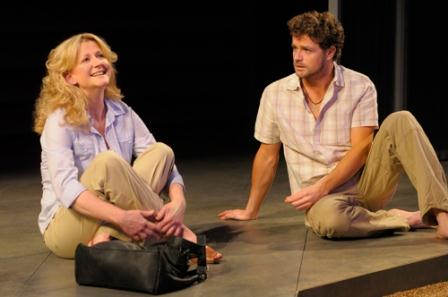 Elena (René Augesen) and Jacob (Alexander Crowther)
discuss life and death in Higher (Photo by: Kevin Berne)
Perloff's drama neatly contrasts the way rival professionals approach their art. Elena desperately needs to be able to tap into her emotions and explore the proposed site for clues on how to design an appropriate memorial. Michael, on the other hand, is so passionless, competitive, and ego-driven that he never stops to question the appropriateness of his designs.
Because Michael is so wrapped up in himself (and so busy fending off Valerie's sexual advances), it never crosses his mind that Erica might be competing for the same prize. When her secret is finally revealed, it almost destroys their relationship.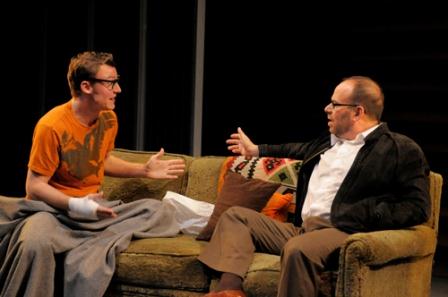 Isaac Friedman (Ben Kahre) argues with his
insensitive father, Michael (Andrew Polk) in Higher
(Photo by: Kevin Berne)
As usual, Mark Rucker has directed with an extraordinary sensitivity to ego, motivation, and how to communicate a creative person's personal and professional frustrations to an audience. Perloff's script is smart, touching, and abrasive in all the right places.
I was particularly taken by René Augesen's performance in a role that seems tailor-made to her emotional strengths as an actor. Alexander Crowther provided a sensitive foil as the passionate young Israeli man who misinterprets her work-related interest in his story.
Andrew Polk and Ben Khare were noticeably uncomfortable with each other as the estranged father and son. Concetta Tomei's portrayal of Valerie ricocheted between an angry viper's sting and a wealthy cougar's insatiable lust.
REAL LIFE. REAL NEWS. REAL VOICES.
Help us tell more of the stories that matter from voices that too often remain unheard.