For our recent four-night break in Lisbon (a side trip from a London vacation), we didn't need too many addresses on our list: One hotel and a few restaurants would do the trick. Rather than scouring the Web for ideas, I turned to the chef Nuno Mendes, a Lisbon native with whom I had exchanged e-mails in the course of writing a few words about his good modern-Portuguese restaurant in London, Taberna do Mercado.
His response was exactly what we needed. He named the hotel he stays in and passed along a handful of favorite eating places. None of these were secret hideaways, and in echoing Mr. Mendes's recommendations I'm blazing no new trails for anyone already familiar with the city. (Indeed, another friend had recently eaten in some of the restaurants and had equally good things to say about them.) But, secret or not, these were great recommendations and may be all you need for a quick Lisbon visit.
We stayed at the Bairro Alto Hotel, a stylish medium-sized hotel in a lively, almost chic neighborhood (on the boundary of the Bairro Alto and Chiado districts) that's convenient for strolling, tourism and public transport: two metro lines intersect just a block away, and the number 28 tram (famous for its scenic route and old-fashioned rolling stock) stops a few yards from the front door. Staff are uniformly able, consistently cheerful and proactively helpful; our room was decorated in an appealing mixture of the traditional (wainscoting on the walls) and modern (sleek desk with cleverly hidden electrical outlets), with a tub in the bathroom big and comfortable enough for a restorative soak after a day of trudging up and down the city's steep hills.
A good breakfast is included in the room rate, as is WiFi. In addition to a ground-floor bar and a small restaurant with an intriguing menu (at which we did not eat on this visit - apart from breakfast), there's an outdoor roof terrace that will be lovelier once the construction work on the next-door building has been completed toward the end of 2017: The plan is to expand and renovate the hotel. The work generates noise and vibration during the day, and if your vacation routine includes afternoon naps you may wish to postpone your visit until the noise has come to an end; we were out all day and were only mildly inconvenienced. But by all means keep this place on your list.
Just around the corner from the hotel is the Taberna da Rua das Flores, and that proximity is one logistical reason this list panned out so well. The tiny, sketchily (but charmingly) furnished and decorated restaurant takes no reservations, and unless you arrive early (before seven p.m., let's say) you will probably need to place your name on a list and be given a well-informed estimate of how long you'll wait for a table. At certain points in the evening, this can be 90 minutes or even two hours, though it is often not so bad at all. Faced with that sort of wait, many people simply give up; some go for a walk; some loiter outside the door drinking nice wine and posting to Facebook about how they're standing on the sidewalk when they'd rather be eating. Still others sit in the nearby square (Praça Luís de Camões), possibly drinking wine (less nice but pleasant enough) purchased from a kiosk for next to nothing. We, on the other hand, had the option of lounging in the hotel until it was time to present ourselves at the Taberna. This took the headache out of the waiting list malarkey - a headache that, in any event, disappears the moment you're seated because the staff is so cheerful and welcoming and because you and your fellow diners are having such a good time.
Written on a blackboard, the menu changes daily, or even in the course of the evening, though there are a few ultra-popular dishes they try to serve every night. It is, of course, in Portuguese, but, as in the other restaurants we visited, everyone spoke excellent English and was able to explain every dish. Ingredients are predominantly local and, as suggested by the menu's fluidity, impeccably fresh. While some dishes are fairly traditional, most of the cooking is not pure Portuguese; there are clear Asian, African and Latin American influences, but passed through a European filter. You may taste ginger, lightly pickled radish and coriander (cilantro), but you'll also taste olive oil. Portion size is in between a hearty appetizer and a normal main course; the three of us ordered four dishes plus dessert and left feeling very well fed.
We had such fun that we wound up eating here twice, and we covered quite a lot of ground. Favorite dishes included octopus with sweet potato, sesame, coriander and ginger; scrambled duck eggs with pork belly and tomato; thinly sliced pampo (a fish that appears to be a large member of the butterfish family) with a tomato dressing and crisp manioc (cassava) chips; enduringly crunchy fritters of salt cod; mackerel tartare with shredded seaweed; barely-grilled marlin; and succulent pork stir fried and served with raw shallots, lemon and cilantro. Desserts were good (great chocolate mousse flavored with Portuguese grappa); the standout was fresh sheep's-milk cheese with toasted almonds and honey: we ordered it both nights.
The restaurant, as I said, is small. The first night we had an ample table with room to spare (and a tablecloth), but a couple of days later two of us were on chairs around the tiny, bare table while the third sat on a little stool (to give the waiters room to walk through the room). A "table" has also been installed on a staircase: two diners were sprawled on the steps eating off a wooden wine crate fitted onto the stair. Though good-humored, they did not really look comfortable. Don't let them seat you there unless you're extraordinarily flexible about the hips and lower back.
The well known and blazingly popular seafood restaurant Cervejaria Ramiro also takes no reservations; it doesn't even keep a list, so you need to stand on line. But although until a year and a half ago it was modest in size, it now comprises several dining rooms on two floors with a total of some 200 seats (on a typical night they'll serve 700 or 800 people, according to our waiter). Don't feel bad if you're seated upstairs away from the action in the older, more atmospheric ground floor; it's comfortable and happy up there too. Ramiro serves no fin-fish, only shellfish, plus necessities such as cured ham and, of all things, steak sandwiches, all skillfully executed without fripperies: you'll detect no Japanese influences in this former beer hall. (Actually, it still is a beer hall, though the majority of patrons seemed to be drinking wine with their meals.)
Unless you can make a firm decision on exactly what you want to order (the multi-lingual menu is presented on iPad-like tablets), the waiters have the knack of getting you to eat exactly what they think you ought to, doing this in such an engaging way that you think you've made your own choice. For most people unfamiliar with the crustacea and bivalves of the eastern Atlantic, this is a good system, and everything we ate was simply perfection: gigantic red prawns (banana-sized, nearly) grilled and buttered; smaller shrimp with toasty garlic, chilies and nubbins of pork fat; and an enormous boiled crab served with plastic hammers and anvils (the European Union frowns on wooden ones) to get into the substantial claws, with its various digestive and reproductive organs (what in the UK they call the brown meat) mashed with some of the cooking liquid and placed in the carapace with spoons for dipping.
This meant that we had to neglect all the other varieties of crabs, lobsters, clams, oysters, barnacles and what not, but how much can one eat? Not another bite is the answer, although we did find room for a shared prego - a garlicky little steak sandwich - because Mr. Mendes had said we needed to. Ending dinner with a prego is traditional here: in the past, a meal consisting solely of seafood was not considered complete, and, according again to the waiter, a meat course was de rigueur even if it was just a sandwich. After that, however, we postponed dessert until we had walked the mile or so back to Chiado and were ready for a scoop of ice cream (at the surprisingly good Amorino on Rua Garrett - "surprisingly" because it is part of an international chain, which always makes me suspicious).
Mr. Mendes's top recommendation for a fancy restaurant with innovative, precision cooking was the two-Michelin-star Belcanto, and we thought it would be nice to have one genteel dinner. But even trying to book a month before departure, we were unable to get a table for any of the nights we were to be in Lisbon. There is a waiting list, and it is not unusual for tables to open up a couple of days in advance, but we decided instead to go to a more casual restaurant operated by the same chef-owner, José Avillez: Cantinho do Avillez, a four-minute walk from the hotel (this too needed to be booked well in advance).
It was good, for the only time on this trip, to arrive at a restaurant knowing we had a reservation, and it was good to be in a comfortable and calm - though energetic - environment designed by ... well, by a designer: one who observed the line between lighthearted informality and the sort of do-it-yourself whimsy that doesn't send a message of professionalism.
A tip: When we reserved our table, we were told by e-mail that there were two seatings in the evening, at 7:30 and at 10:00. As we ate, we saw people arriving and being seated at all sorts of times in between - just as in a restaurant that doesn't limit its slots to two times. The fact is, as we were told and as regular customers know, the policy is actually somewhat flexible, so when you're making your reservation don't hesitate at least to try for the time at which you'd really prefer to eat. No guarantees, but it could be worth the extra e-mail or two.
Like the food at Taberna da Rua das Flores, Cantinho's dishes have sturdy Portuguese roots onto which shoots of world travel and modern technique have been successfully grafted. Here, though, the menu - offered in both Portuguese and English - is more extensive (it is a far larger restaurant and is part of Mr. Avillez's group of five eating places in Lisbon alone). It is also not in constant flux as ingredients come and go. To the diner, the high technology is most obvious in - though not limited to - several dishes featuring low-temperature-cooked eggs (actually, a long-standing method in Japan but new to the West), which Mr. Avillez has named 21st Century Professor-style eggs, and other elements like "exploding" olives - what some would call spherified olives.
Non-Portuguese influences are evident in, for instance, a Thai-type green curry with meatballs, a Mexicanized steak sandwich with guacamole, homemade corn tortillas, chilies and cilantro (a traditional prego is available too, with or without fried egg), a lamb tagine and one of the restaurant's best sellers, a bright marinated-tuna tartare. There's a small group of vegetarian dishes, and there's even a hamburger.
Even with three at the table, we needed to avoid ordering wildly: How would anybody not be tempted by veal trotters with chickpeas, cumin and lemon confit? Or big red prawns with "Thai sauce"? Or house-confit tuna belly with ginger-lime mayonnaise? In the end, we stuck to first courses, such as moist, deftly seasoned mini pies (empadinhas) of partridge - which come two to a plate, but of which we were able to order three without creating a scene - that famous tuna tartare; deep-fried string beans in a substantial, tasty batter, seasoned with lemon salt and served with mayo; a whole baked sheeps's-milk cheese from Nisa (east-central Portugual near the Spanish border) with ham and rosemary honey; a sort of deconstructed farinheira sausage, turned into a cornbread-topped gratin (this was disappointingly stodgy: an outlier); and those professor-style eggs with a crumble of fried bread crumbs and chorizo.
One of the desserts is billed on the menu as "life-changing," and despite being reasonably content with our lot we had to order it: it was a delicious three-texture treatment of excellent hazelnuts. In fact, all three desserts were particularly good in concept, flavor and textural contrast. After the life-changing hazelnut dish, a favorite was vanilla-orange crème brûlée.
We drank ginger-tequila cocktails (reminiscent of Jean-Georges Vongerichten's ginger margarita) and lovely house-label wine by the glass; when the busy waiter forgot to bring my refill, he insisted on treating me to the next glass. This was correct behavior, but is still indicative of the kind-hearted service.
Most good restaurants are worth more than one visit; we'd really like to have a second crack at that menu some time, maybe in winter when a plate of calf's feet with chickpeas will seem even more alluring.
Bairro Alto Hotel. Praça Luís de Camões 2, Lisbon; +351 213 408 288; reservations@bairroaltohotel.com; http://bairroaltohotel.com/en/. Double rooms start at around $200 depending on date and availability.
Cervejaria Ramiro. Avenida Almirante Reis 1, Lisbon; +351 218 851 024; http://www.cervejariaramiro.pt/. Dinner for two with a bottle of modest wine, about €65 ($73). Open noon to 12:30 a.m.; closed Monday.
Cantinho do Avillez. Rua dos Duques de Bragança 7, Lisbon; +351 211 992 369; cantinholisboa@cantinhodoavillez.pt; http://cantinhodoavillez.pt/cantinho-lisbon/. Dinner for two (ours was composed of several first courses and desserts) with a cocktail and wine by the glass, about €75 ($85). Open for lunch and dinner Monday to Friday; 12:30 p.m. to midnight on Saturday and Sunday.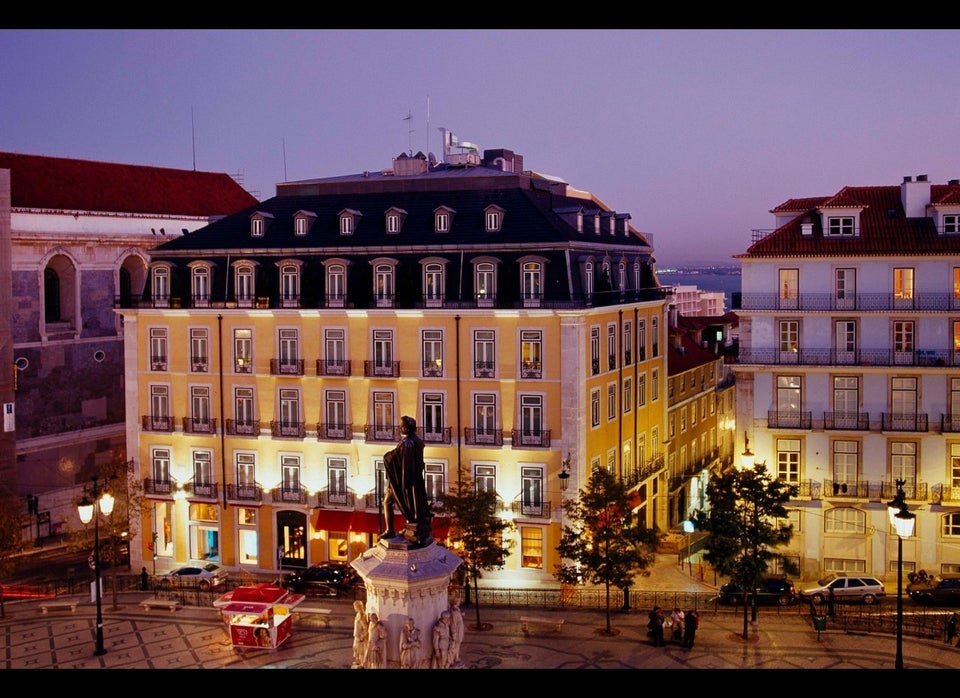 Lisbon: Recommendations That Panned Out