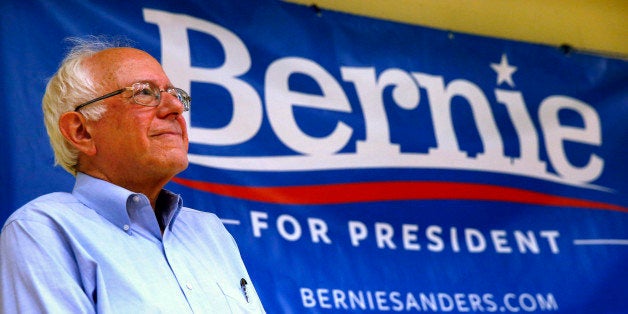 According to The Wall Street Journal, a New York billionaire is leading GOP candidates for his party's nomination. Should we take this poll seriously? Or, should we as a nation view a real estate tycoon known for xenophobic and nativist comments to simply be an anomaly in the polls? In the minds of many people, there's no way this reality television star can win, even though every current favorability poll has the man leading every other GOP challenger.
Conversely, while some observers disregard polls related to Republican candidates, it's bizarre that some Democrats view ever-changing nationwide polls pertaining to Hillary Clinton as gospel. Ironically, while Republicans have rallied around the brash communication style of their leading candidate (conservatives seem to relish comments like "They're bringing drugs" and "They're bringing rapists"), some Democrats feel that Bernie Sanders is too liberal to win a general election. It says something about both Republicans and Democrats when one candidate is overtly racist and basks in the adulation of conservatives, while another candidate boldly attacks "the billionaire class," yet is seen as unelectable by certain liberals.
The fact, however, is that Republicans might elect a billionaire as their nominee.
If you think this is merely hyperbole, and the GOP poll numbers are only temporary, then be sure to use such skepticism on polling that says Clinton's lead among Democrats is insurmountable.
Furthermore, not only did the Huffington Post write "Bernie Sanders' Appeal Has Doubled Among Americans Since March," but Gallop confirms this astonishing surge with a recent report titled "Sanders Surges, Clinton Sags in U.S. Favorability." As for a hypothetical matchup between current frontrunners, it will be difficult for Democrats to beat a billionaire with Clinton, especially since the former New York Senator accepted $100,000 in donations from the possible GOP nominee.
In addition, as The Hill's Brent Budowski writes in a brilliant piece titled "Sanders beats Trump by 20-plus points," the Vermont Senator does extremely well against every GOP possibility in a head-to-head matchup:
A poll recently released by CNN/ORC found Sen. Bernie Sanders (I-Vt.) walloping Donald Trump by about 20 points, beating Gov. Scott Walker (R-Wis.) and running in a statistical tie against former Gov. Jeb Bush (R-Fla.).

The huge margin that Sanders holds over Trump makes it clear that America is in the summer of Sanders, not the summer of Trump, cable news obsessions with Trump notwithstanding. The fact that Sanders beats Walker by six to seven points, depending on whether all voters or likely voters are counted -- a near-landslide margin in a general election -- makes it clear that the Sanders surge is more than a surge against Donald Trump, but move that makes him competitive with all Republican candidates.

Most interesting is the fact that Sanders is running dead even with Bush, which means that this poll, at least, refutes the notion that Sanders is not electable and supports the idea, instead, that Sanders could defeat any Republican.
So, the view that "Sanders could defeat any Republican" is now a statistical reality; to say otherwise would be to undermine the same polling that was once (and still used, by some incredulous "progressives") cited to disregard Sanders as an impossibility.
One can't simultaneously cite an ever-evolving national poll about Clinton's dwindling lead among Democrats (a survey similar to Clinton's ever-evolving stance on gay marriage, the TPP, and Keystone XL), yet disregard polls that find the former Secretary of State untrustworthy in swing states, or that she faces "trouble" in Colorado, Iowa and Virginia.
Regarding the intangible qualities of a candidate that polls don't reflect, The Iowa City Press-Citizen highlights a recent Iowa visit by Bernie Sanders in an article titled Presidential hopeful Bernie Sanders draws a crowd in Iowa City:
He talked of breaking up the largest banks in the country, stating "if a bank is too big to fail, that bank is too big to exist." He urged those in the room to say "enough is enough, the billionaire class can't have it all. And when we do that, we win."

...The crowd that applauded for Sanders during his speech was comprised of young and old that had come from near and far to hear him speak.

In the back of the room amongst a standing group of about 100 were Austin Ray and Derrick Branson, who drove for eight and a half hours from Tulsa, Okla. to hear Sanders speak. "I love Bernie, I've been listening to him for the last four years, catching him on C-SPAN whenever I can," Ray said.
Of course, certain pundits who happen to be white liberals will inevitable say that Iowa and New Hampshire are full of white liberals, thus overshadowing the fact that people are willing to drive "eight and a half hours from Tulsa" to hear Sanders speak.
Again, such vapid criticism is rooted in the fact that polls on minority voters and Sanders address primarily name recognition and not the policy differences between Clinton and the Vermont Senator. Add the fact that Clinton's infamous 3 AM ad against Obama in 2008 had a "racist sub-message," or that Clinton waited almost three weeks after the death of Michael Brown to make a statement, then more analysis about Hillary's apparent advantage over Sanders with minority voters leans towards Vermont's Senator. When POLITICO says that Clinton is Wall Street Republicans' dark secret and a leading civil rights activist Tweets a quote from Sanders about investing in jobs and education, there's a clear distinction that can't be found in current polls.
Finally, just look at the GOP billionaire's exchange with Anderson Cooper (within the transcript of their CNN interview) to get a glimpse of why the GOP will have a much easier time against Hillary Clinton than Bernie Sanders:
COOPER: You are talking extemporaneously, why do you think Hillary Clinton is not talking?

DONALD TRUMP (R), PRESIDENTIAL CANDIDATE: Well, Anderson, she has a lot to hide. She gets a subpoena on emails and she - I mean, from the United States Congress and she gets rid of the emails and her server and everything gone.

COOPER: She said yesterday in the interview she didn't get a subpoena.

TRUMP: Well, I mean, they said they issued a subpoena...

COOPER: But you used to donate, gave a lot of money to her over the years?

TRUMP: Sure, I was a businessman, guess I still am. But I was a businessman. I was with everybody. Everybody loved me. When I called them they always treated me well. And that's part of the game...

COOPER: Is that why you were donating money to people you donated to? Because you donated to Democrats I think in 2006. You gave $20,000 to the democratic congressional campaign fund.

TRUMP: Democrats and Republican.
Therefore, Republicans and their billionaire are ready for Hillary Clinton. Already, there's the political arrow that states, Clinton "has a lot to hide" and that she accepted money from Republicans.
Also, the following question is something even a CNN journalist is asking: "Why do you think Hillary Clinton is not talking?"
Can a GOP billionaire say that he gave $100,000 to Bernie Sanders, like he did to Clinton's foundation and Senate races in New York? After all, POLITICO writes that Trump spent years courting Clinton and other Dems.
Ultimately, it will take the antithesis of a man who destroyed a portion of the 4,000 year-old coastal sand dunes in Scotland simply to build a golf course. All the GOP or their billionaire candidate have to do is tell voters that Clinton was against gay marriage. All they need to say is that she voted for Iraq and was inclined to accept Keystone; simply reiterating her conservative record on the most contentious issues will help the GOP win voters.
With Bernie Sanders, there are no subpoenas, "thumb drives," FBI inquiries, billionaire donors, foreign donors, 31,830 deleted emails, or questions about honesty. There's no controversy or scandal. With Sanders, there's only a GOP frightened of facing it's polar opposite, and a Democratic Party riddled with naysayers who aren't comfortable with a truly liberal value system. Like Zaid Jilani writes, "Bernie Sanders isn't electable. Except new CNN poll shows him beating every GOP candidate, tying Bush."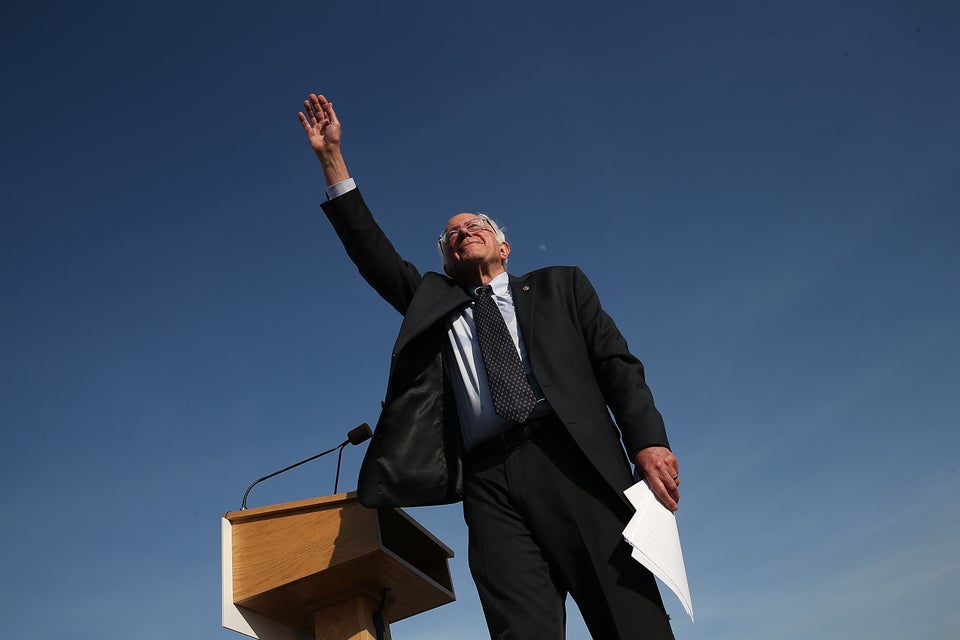 Bernie Sanders On The Campaign Trail
Popular in the Community