It was almost crazy to try; no matter what direction you were coming from, water suffocated your path. Freeway exits led to water. Gas stations, eateries, and hardware stores ― your only lifelines within miles of the flood zone ― were under water. Public officials, state agencies and even highway signs warned to stay away from the water.
Apparently, there are a lot of people in Texas who might be crazy ― and exceptionally brave.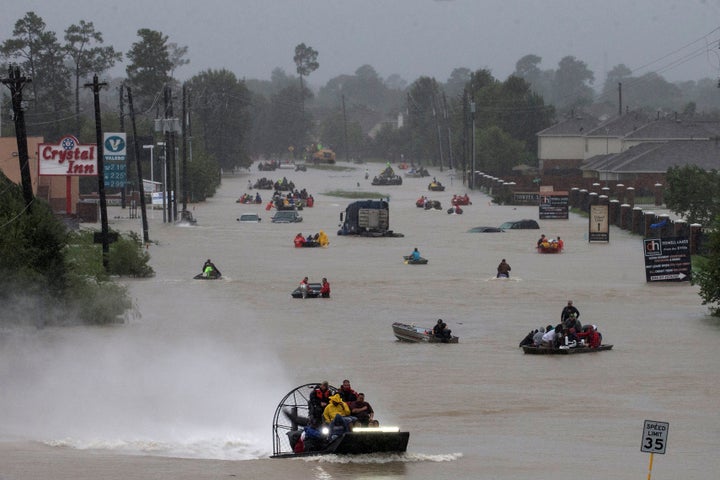 Roads that could have been empty have been filled with trucks towing watercraft since Harvey made landfall on Friday. Men and women hauling equipment or food or the shirts on their backs begged officers to cross police lines so they could reach the flood zone, dive into a life-threatening situation and rescue people they didn't know.
The sight of civilians risking their lives for one another is as surreal as the water itself, and you don't need to look hard to find it.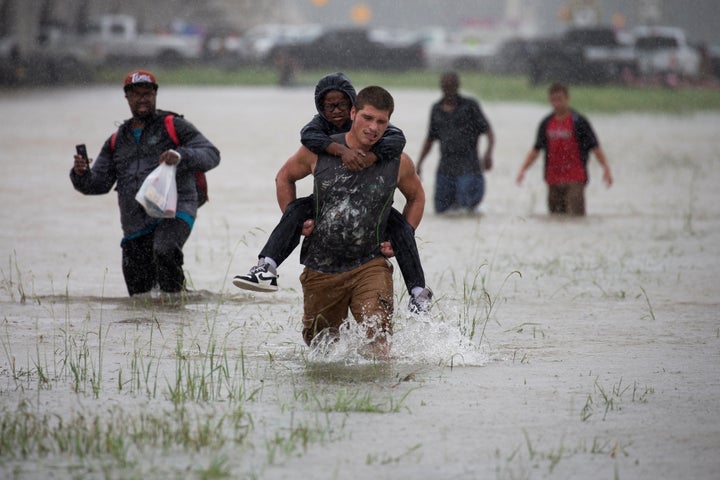 Since the devastating floods began over the weekend, first responders have worked in concert with civilians due to a lack of equipment, changing road conditions and the sheer amount of people who need rescue.
The shortage led firefighters to use a boat owned by HuffPost reporter David Lohr near Katy, east of Houston, to look for people stranded in vehicles. 
Having access to a small vessel proved useful ― Lohr and other civilians would use it to move at least two dozen people from their flooded homes or vehicles to dry land. 
Often the mission consists only of getting in the water and driving into neighborhoods. Each time Lohr and others puttered onto a side street, someone would be calling for help. Some people waited for hours or days as the water slowly rose around them. In many cases, the victims were elderly or very young, and with no way to float down the street. They were trapped.
The "Cajun Navy," a voluntary army of some 300 heroes from Louisiana manning duck-hunting boats, rescued evacuees out of a sense of duty.
"We were out there all day ferrying people," Doug Payne, 35, told HuffPost's Laura Bassett. "We just want to help, and we have the means and the opportunity."
 Jet skiers came out in droves and saved families from the rising murk:
A quick-thinking reporter, Brandi Smith, was hailed for helping to save a stranded truck driver as she was reporting live. She flagged down emergency crews when she saw "water filling his cab," and posted his rescue to Facebook ― her station, KHOU, was going off the air due to flooding of its own.
Meanwhile, hundreds flocked downtown and lined up at a convention center downtown to offer their services to the thousands of displaced people there ― so many that scores of them were turned away and asked to return later.
Civilian heroes and emergency crews were gearing up to hit the waters again Wednesday morning, even as Harvey threatened to make landfall again. But South Texas still needs help. Read more on how you can assist the superstorm's victims here.
REAL LIFE. REAL NEWS. REAL VOICES.
Help us tell more of the stories that matter from voices that too often remain unheard.
BEFORE YOU GO
PHOTO GALLERY
Catastrophic Flooding After Harvey