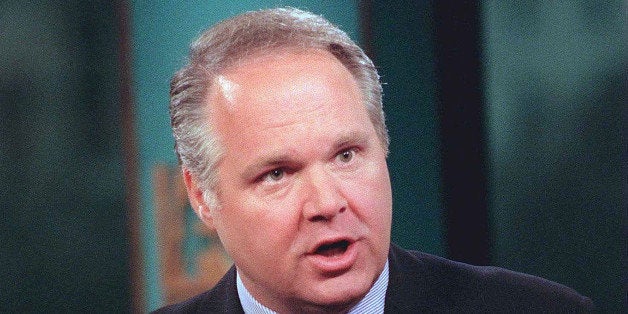 When Rush Limbaugh is attacking you, you know you must be doing something right.
In his national radio program yesterday, the conservative radio host read at length from a poll our sister organization, the Women's Voices Women Vote Action Fund, released on Monday with Stan Greenberg of Democracy Corps. Our poll found that, in the 12 Senate battleground states, unmarried women favor Democratic candidates by an overwhelming 22 points, or 58 to 36. But instead of trying to understand why unmarried women favor candidates who support common-sense economic policies that benefit working women and men, Limbaugh ridiculed the very same pool of voters he would like the Republican Party to attract:
"The Republican Party would be well advised to set up a dating service and to embark on a policy of arranging dates for as many unmarried women as possible," Limbaugh said. "Well, it's too late for a policy initiative. The only thing to do is to embark on a plan to get these women married."
In the call-in portion of his show, Limbaugh doubled down on his scorn for women who would have the gall not to be married. "Feminism was established so as to allow unattractive women easier access to the mainstream of society," Limbaugh railed. "They're unmarried. How many of them, is it simply a matter of economics? There's no second income in their house, and the government and Democrats will readily assume that role for 'em, with benefits here, benefits there, benefits over here."
Limbaugh is at the end of the day an entertainer, and his patronizing pronouncements don't come from the Republican Party. But it's not hard to see why unmarried women and other members of the Rising American Electorate (a massive voting block that also includes African Americans, Latinos and voters under 30) would reject political candidates who share his views.
In our poll, we learned that unmarried women plan to vote for candidates who understand their lives and espouse populist "in your shoes" policies that help middle-class men and women. Policies that level the playing field, like equal pay for equal work, an increase in the minimum wage and other elements of the Women's Economic Agenda. And, spoiler alert, unmarried women and people of color tell us they plan to vote for candidates who support the Affordable Care Act ("Obamacare," as Rush calls it). Our poll found that African American and Latino voters' support for the Affordable Care Act has risen dramatically and, for them, the health care law has now become the single biggest factor in their vote after jobs.
So Rush can continue to believe that it's some sort of character flaw that is drawing unmarried women toward Democratic Senate candidates, instead of practical, kitchen-table economic concerns. And in the meantime, come Election Day, this powerful group of voters representing more than 25 percent of America's voting eligible population will pull the lever for candidates who respect them, help them and try to understand their often difficult lives.
Page Gardner is the founder and president of the Women's Voices Women Vote Action Fund.
REAL LIFE. REAL NEWS. REAL VOICES.
Help us tell more of the stories that matter from voices that too often remain unheard.