Today, United Nations Day, marks 72 years since the UN's creation. Sitting tall these days at the Human Rights Council is Saudi Arabia, a kingdom whose laws and society systematically discriminate against its Shia population.
Earlier this year UN experts repeatedly condemned Saudi Arabia's use of force to raze a Shia neighbourhood in the country's oil-rich Eastern Province. So too has the kingdom's treatment of its Shia citizens prompted criticism from the US – one of the kingdom's major allies. Secretary of State Rex Tillerson expressed "particular concern" about Saudi Arabia's "attacks targeting Shia Muslims, and the continued pattern of social prejudice and discrimination against them" while releasing the State Department's annual report on religious freedom on 15 August.
The following day, Saudi Arabia announced that its security forces had succeeded in demolishing 488 homes in the Shia-majority town of Awamiya. The operation, which had begun in May ostensibly for health and safety reasons, saw forces hold Awamiya under siege while they destroyed a 400-year-old neighbourhood.
In early August, international journalists were permitted a glimpse of the town on an escorted tour. It resembled a "war zone", according to the BBC and Reuters. Up to 25,000 people had fled the town of 30,000, residents told Human Rights Watch. Reuters reported that 23 civilians were allegedly killed.
UN experts had urged Saudi authorities in April to halt their forced evictions and planned demolition. The next month, UN experts again called on Saudi Arabia to halt the ongoing demolition, saying it had forced "residents out of their homes and of the neighbourhood, fleeing for their lives" and would "erase the traces of … historic and lived cultural heritage."
Far from abating, Saudi forces escalated the operation. According to Human Rights Watch's sources, security forces occupied a public school, closed clinics and pharmacies, and blocked essential services. On 12 June, security forces appeared to avenge an officer's death by shooting indiscriminately in Awamiya. Among those killed were a toddler and a prominent Shia activist. Also shot, though not fatally, was the brother of Sheikh Nimr al-Nimr – a Shia cleric executed last January. Ambulances were out of reach.
The three year old, Sajaad Abu Abdalla, was hit by gunfire as his family drove to visit his grandparents. The main road was quiet near Awamiya's police station, until gunfire blasted and a bullet pierced the car door. "It took time to understand my son was shot," his mother told me. Sajaad died in August after months of torment. His mother's grief was intensified by her inability to bury her son in Awamiya, nor give him a funeral procession. "You know the condition in this country now," she said by way of explanation.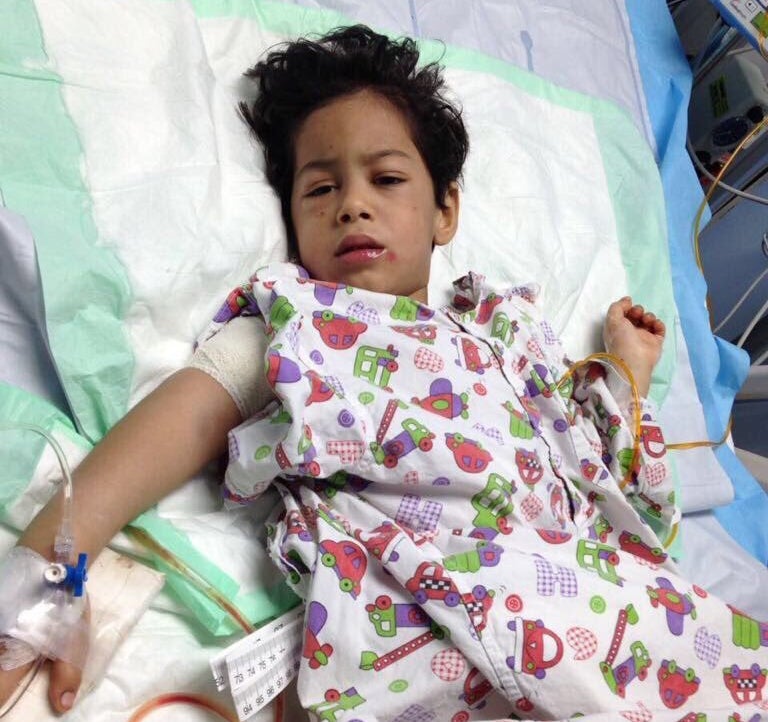 Mohammed al-Nimr, Sheikh Nimr's brother, survived his shooting – which likewise hit close to the police station. His nephew, also named Mohammed, told me that many more people were injured on 12 June. "Some people would not talk. They thought if they speak they would be detained," he said. The Saudi authorities treated Mohammed's uncle to a hospital visit from his imprisoned son, Ali – who is on death row for having protested in the Arab Spring.
Abdul Mohsen Abdullah Alfaraj, a Shia campaigner, died from the wounds he sustained while driving in Awamiya on 12 June. Mohammed told me, "My friend's friend was in his car and I saw the picture: they shot two bullets at his head level." The friend survived, but Alfaraj's injuries were fatal. Mohammed said the security forces "started firing at everyone … like revenge."
Though the demolition is over, the Saudi authorities' subjugation of Awamiya continues.
A former resident, who wanted to remain unnamed for safety, told me of a clampdown during the month of Muharram. "There is more suppression in the religious freedom," he explained, saying that religious chanting, singing or food had to be contained strictly within religious buildings. "Awamiya used to be very active but this year we had many restrictions," he said.
Life of course will never be the same for Sajaad's mother. "He would come everywhere with me," she said, singling out Arbaeen, a Shia pilgrimage: "I thought, how could I go this year – without you?". She recalled her son's demise, "His words were very few, not like the previous Sajaad whose voice was loud."
Saudi Arabia must end the shameless silencing and repression of Shia citizens. UK Foreign Secretary Boris Johnson last year condemned "politicians who are twisting and abusing religion and different strains of the same religion in order to further their own political objectives." He added, "That's why you've got the Saudis, Iran, everybody, moving in, and puppeteering and playing proxy wars." Downing Street disowned his comments.
Indeed, such a "proxy war" is currently playing out in Yemen, where a Saudi-led coalition (blacklisted by the UN) is compounding the world's worst man-made humanitarian crisis with its bombardments against Shia-led Houthis. The kingdom even recently used its sway in the Human Rights Council to threaten members against setting up an inquiry into possible war crimes committed in Yemen.
'Everyone has the right to freedom of thought, conscience and religion,' states the Universal Declaration of Human Rights. This United Nations Day, let us urge the UN to confront the Saudi abuses against Shia citizens – and to ensure the freedoms enshrined in the Declaration soon become a reality for them.
Calling all HuffPost superfans!
Sign up for membership to become a founding member and help shape HuffPost's next chapter
This post was published on the now-closed HuffPost Contributor platform. Contributors control their own work and posted freely to our site. If you need to flag this entry as abusive,
send us an email
.