"When should I buy my Thanksgiving flight?" That's the question on most minds lately: Should I start shopping for my Thanksgiving flight now? Can I wait? Will holiday flights be expensive?
Yes, your Thanksgiving flight will be expensive all right. But the good news is, you can probably wait a bit to buy it this year. Below, we explore some Thanksgiving flight facts, all backed by Hopper's expert research straight from our data scientist, Patrick Surry.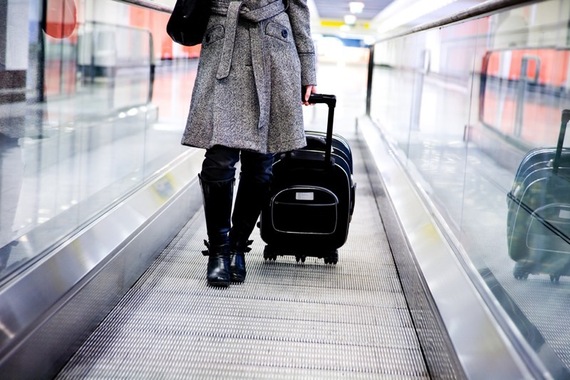 How Expensive Will Thanksgiving Flights Be?
Prices this year are trending about 5-10% lower than last year and have dipped due to early September sales. Read: Airfare is still pricey, with the current "good price" of a Thanksgiving flight going for about $322. This is comparatively more expensive than other fall flights. For example, a round-trip to Dallas Love Field (DAL) for Thanksgiving averages more than 3x the price (or +223%) of a trip earlier in the fall. While DAL wins the dubious award of bearing the highest Thanksgiving premiums, you too can expect to pay a premium, no matter where you're flying this Thanksgiving.
Here are the places with the highest premiums for Thanksgiving flights:
Although Thanksgiving travel is more expensive for all major U.S. destinations, the lowest premiums are found for West Coast destinations, along with Newark and San Juan, Puerto Rico:
When Should I Buy My Thanksgiving Flight?
Procrastinators, rejoice! Thanksgiving travel is expensive, but you won't pay much more if you wait to buy. You only have to book more than 10 days ahead. Domestic round-trip prices rise less than 5% up to 10 days before departure and then spike sharply.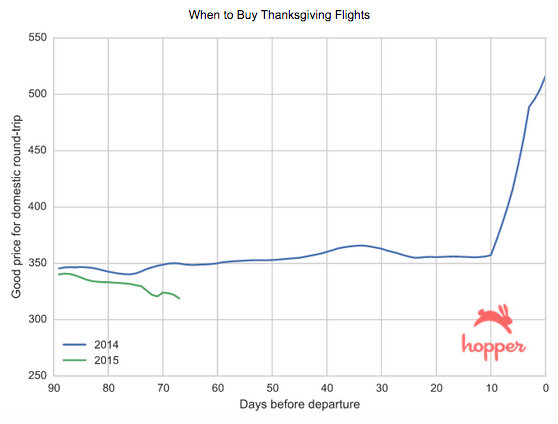 What Days Should I Fly for Thanksgiving?
Flying on Thanksgiving Day will be cheapest, of course, as demand is low. But that's not always desirable (especially if you want to sit down and tuck into your turkey dinner.) Aside from traveling on Thanksgiving Day, the cheapest round-trip options are for Monday November 23 returning Friday November 27.
The most expensive day to fly is Sunday (which is typical for the rest of the year). Most flyers can save a few bucks by opting to fly on Friday, Saturday or Monday instead.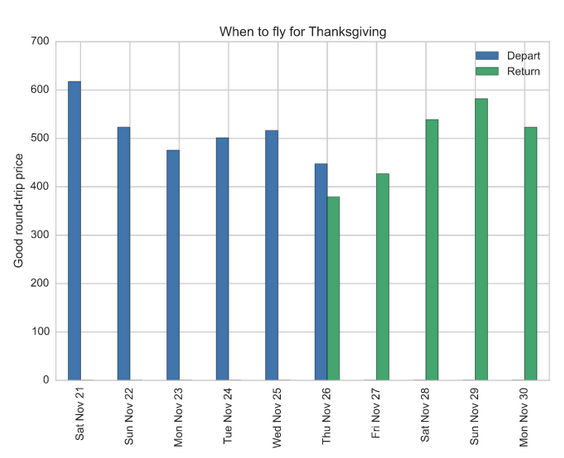 Should I Just Go on Vacation Instead?
Although rumors swirl about discounted international travel over Thanksgiving, our analysis finds that on average the rest of the world is not "on sale" from the U.S. over Thanksgiving, presumably because of the huge demands of domestic travel on airline infrastructure. On average, international destinations are about 20% more expensive over the holidays, with the cheapest on average being the following: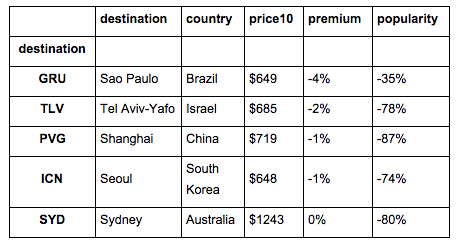 Are There Any Good Deals for Thanksgiving Flights?
Yes and no. You may be able to find a good deal on a specific route, but overall, prices are higher across the board. Here are just a few individual international routes that do look cheap for Thanksgiving, if you're still thinking of escaping: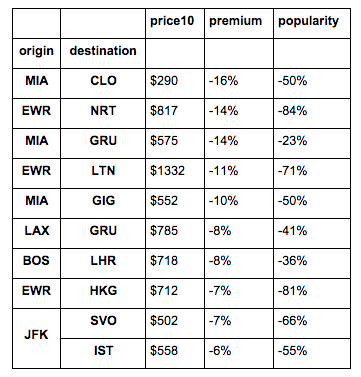 Looking for holiday flights? Download the Hopper app, now available on iOS and Android, to start saving today?
This article originally appeared on Hopper.com.