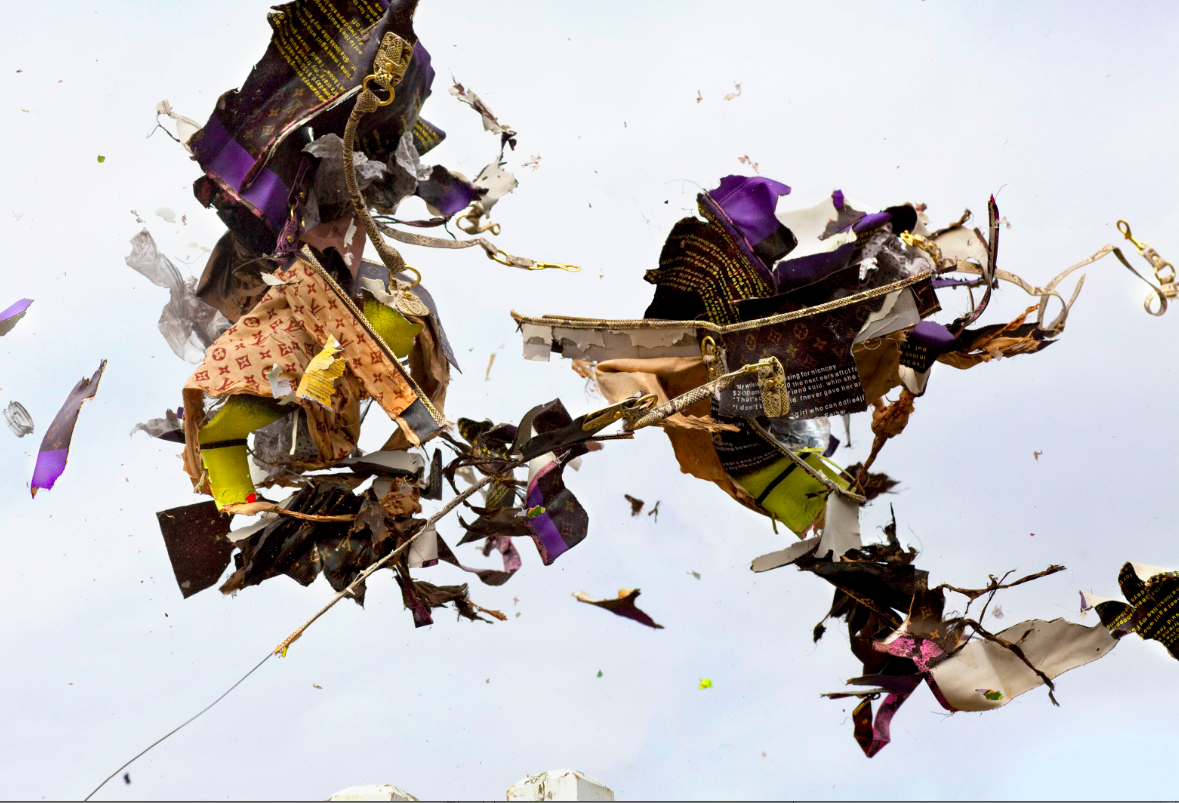 From South Africa's Soweto poorest kids, to Los Angeles wealthiest ones, destroying luxury goods has evolved into a new form of expression. According to the "izikhotane," the young South African teens who burn money and high-end accessories the ritual means showing off "adolescent identity and pride." For young celebs like Francesca Eastwood, Clint's daughter, it means "money to burn."
But this weekend at the first New York edition of the wildly popular Paris-based Cutlog Art Fair, it means something else entirely: art.
Luxury pieces that can range upwards of $3,000 are expensive material to create with, but that didn't intimidate artist Jordan Doner.  The New York-based artist is debuting his new work, Amazon nesting and his popular work, Luxury Explosions, which debuted at Art Basel in 2009. Back then critics hailed the work for its counter-intuitive treatment of luxury pieces by fellow artists. Said treatment saw Doner literally blowing up Vuitton bags by Takashi Murakami as well as Richard Prince. The resulting explosion was photographed and printed on a large
scale display.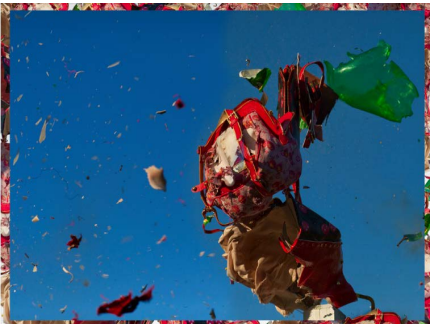 On the launch of the exhibit of both works, I was able to get a few minutes with Doner who elaborated on the work, why he loves it, and most importantly, if those shredded Vuitton bags were real.

Well, first, the obvious: what inspired these works?
Doner: Different inspirations that seemed unrelated at first.  The luxury
explosions came out of a series related to the success and failure of utopianism.  Half of the project focused on constructing and staging garden of earthly delight scenarios, and the counterweight to that was the antecedent cleansing revolution along the lines of the exploding
state-of-the-art home at the end of Antonioni's Zabriskie Point. The Amazon Nesting series began without a top-down meta-premise.  My Amazon parrots try to make nests out of whatever paper goods they can get their beaks into.  In my space this is high fashion magazines, auction house catalogs, and whatever pre-wide-band-Internet softcover girli mags I still have. The birds chew and hack away with their beaks and make what sound like pretty existential drawn-out low whines.  They eventually push the magazines off the shelf onto the floor. At some point the results were so stunning they were worth saving and eventually photographing.
There's something very kinetic about the work. Was the process of
creating them a very physical one?
Doner: Yes. The luxury explosions are a journey to the countryside, crouching
behind protection, the intensity of a narrow success window (misses hurt and are expensive), and finally picking the debris from the ground.  And with the amazing nesting this is an all encompassing physical, emotional, biological experience for the Amazons.
Burning luxury, shredding luxury is a growing theme in art and expression
of late -- what do you think is fueling it?
Doner:  So much has been invested creating an aura around democratized luxury -
imagine the total sum spent on LVMH and Gucci group advertisements over the last two decades? Tens of billions at least. Maybe another zero in there. So that accrued value is being leveraged.  As religious themes have been traditionally.  And destruction is on its face visually if not culturally sensational...
How do you hope audiences, especially a very fashion/luxury conscious
New York one will respond to the exhibit?
Doner: Worst case, that they responds viscerally to the look and energy.  That
there is a feeling that something is off but ended up resolved formally. Upside case, that the larger connection between the two sets of work on display in Amazon Luxuries, that this is the actually debris of failed aspiration, unattainable lifestyles and failed matings, comes across as
well.
You've shown at some pretty amazing museums including, Grey Area, Christies, Milk Gallery and P.S. 1 Museum... What does it mean to you to be doing a solo exhibit here?
Doner:  It's great.  The context that works is the cultural critical context that
fits.  Fragmental Museum and Cutlog feel right to initiate this relationship between these two series.
And... I have to ask: were those real luxury goods?

"Luxury Explosions" and "Amazons Nesting" are part of the Jordan Doner Solo Exhibit at Cutlog. It is on display at The Clemente Soto-Velez Center at 107 Suffolk Street until Monday, May 13th. Cutlog art fair was founded by designer Bruno Hadjadj and co-directed by architect Guy Reziciner. Learn more here.
Correction: A previous version of this post incorrectly identified the artist as Jon Donner. His name is actually Jordan Doner.
Calling all HuffPost superfans!
Sign up for membership to become a founding member and help shape HuffPost's next chapter