Lately, I'd been thinking about going on a silent retreat, though I'd never been on one. Hell, I wasn't even one people would call quiet. My brothers used to say when I was a toddler that I started talking before I even opened my eyes. So the idea of being silent, even for just a few days, was an odd choice for me.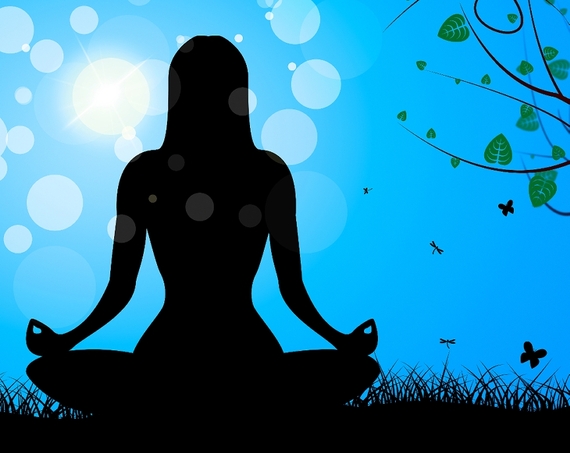 But the truth was: I was tired of talking. Tired of responding to people asking how I was doing post-split with my husband, who I'd been with for 17 years. Tired of my eyes welling up every time I tried to say I was doing fine, and not believing it at all.
So I liked the idea of being silent, of not having to explain who I was or what my story was. I found a retreat center in Southern California that seemed to fit the bill. The yoga and stillness retreat I signed up for wasn't 100% silent, but the owner of the center was more than happy to comply with my wish for total silence.
But when I arrived at the center, an hour away from San Diego, I found that I was the only person there for the retreat (one-on-one yoga sessions! hooray!). No one else was doing the silent thing, so that was pretty awkward. But I was determined to stick it out.
Then the damn international travelers started talking at dinner. For me, anyone from another country is like a drug. Particularly French people (I am fluent). I am physically unable to refrain from talking to them, from asking them where they're from, from talking about their culture. So guess what the Universe sent me? A gorgeous 20-year-old Dutch Frenchman.
The Universe has a funny sense of humor. And yet She knows exactly what we need.
My will to stay silent cracked. Two hours later, I gave in completely.
And it ended up being the right decision for me.
Sometimes We Don't Know What's Best for Us
I don't know about you, but I tend to think I know what's best for me. This will come as no surprise to you, but often I am wrong. This was a good example of my being wrong. I thought what I needed was silence, but as the retreat unfolded, I found out that what I actually needed was community.
Most of us go within ourselves when we're dealing with grief. We don't want to spread it like some contagious, infectious disease. Truly we believe that no one else has the capacity to heal us. We must heal ourselves.
And that's true. But sometimes what we need is to be wrapped in the safe cocoon of a community, of a village. I healed immensely over those two days at the retreat. Yes, I had alone time where I meditated and journaled like crazy. But what helped me even more than that was the time I spent in the company of others.
I spent the retreat talking, but rather than talking about myself and what had led me to the retreat in the first place, I asked questions. I found out that the Abercrombie-looking Frenchman had hitchhiked from Florida to California. That the man from Turkey had lived in Hong Kong, written a spiritual book, and had no idea where the winds would take him next. The woman from the Canary Islands was in the US to practice her English so she could get a job with the Spanish government. She and I shared a love of the Italian language and culture.
Being surrounded by people so unlike me -- people without roots, who truly lived the wanderlust way of life -- made me realize that my current situation, one fraught with pain, was only part of my journey, and that my journey would take me anywhere I wanted to go. It made me see that the proverbial light at the end of the tunnel was there, and it excited me to find out where my own path would lead me.
There's a time for silence. I don't doubt that one day, when it's right for me, I'll find that silent retreat I was seeking. But being open to letting the Universe tell us what we need in the moment -- even if it's being surrounded by others -- is the true path to healing.