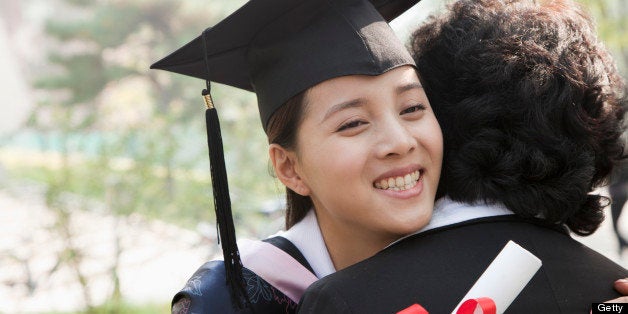 Brittany Nixon is anxious these days. She just graduated from high school and is preparing to start at Emory University, an elite private school in Atlanta. While every young person gets nervous as the first day of college approaches, Brittany's jitters are particularly well founded. She grew up in a Harlem housing project and attended schools where girls her age were more likely to become teen mothers than college graduates. The first in her family to start college, Brittany will study alongside students who have benefited from private tutors, read Homer's Odyssey in seventh grade and dress in designer clothes.
It's an intimidating situation which often has stark consequences. Only ten percent of low-income students complete college, a staggering statistic that becomes even more compelling when one notes that, today, fully 55 percent of low-income students start college. As a nation we have expanded access to college for more students than ever, a tremendous accomplishment. However, we have failed at making sure they can graduate.
Public attention has focused on the rising cost of college, which presents an enormous challenge to low-income students, and has skyrocketed 570 percent in the past thirty years, according to some estimates. Education leaders have also looked to improve academic preparedness nationwide by developing common core standards.
But too often students are derailed by everyday problems they are unprepared to handle. Even the highest achieving low-income students become overwhelmed and overstressed when they find themselves in situations that are dramatically different from any they have seen before. If we want more students to not only get to college but through college, education policymakers must look beyond the traditional targets of standardized test scores and financial aid to incorporate basic skills and college success into high school curricula.
A special report by The Chronicle of Higher Education and American Public Media's Marketplace documented the importance of these skills for employers. "When it comes to the skills most needed by employers, job candidates are lacking most in written and oral communication skills, adaptability and managing multiple priorities, and making decisions and problem solving," the report said.
After a decade of working with high-achieving, low-income high school and college students, I've identified three key skills that all young people need to know before heading to college. These are every bit as essential as math, grammar and reading comprehension although they are rarely taught in a formal classroom environment. By beginning this education in high school, we will better prepare all young people for the transition to college. By continuing it in college we will prepare them for the complex global 21st century workplace.
Self advocacy. Imagine you are the first in your family to attend college. The bursar calls and says your financial aid hasn't arrived so you can't register for classes; you miss three weeks of class waiting for the check. By that point you are too far behind to catch up. Students need to develop the confidence and communication skills to set up meetings, advocate for their right to attend class and resolve the situation expediently rather than waiting for it to resolve itself.
Money management. At competitive schools, low-income students find themselves in uniquely challenging financial situations. Imagine you arrive on campus, fresh from a housing project in the Bronx, with one suitcase on a Greyhound bus. Your roommate shows up with an entourage of family and friends and multiple pieces of matched luggage. Or your study group is meeting at a local café, but you don't have $5 for a cup of coffee. Students need to know how to build and manage their own budgets, but they also need to learn how to manage all of the social situations on campus in which money matters.
Network building. Every college student needs a robust network that includes peers who can lend emotional support through all-night study sessions; professors and faculty advisors who can help navigate the university bureaucracy, and career-oriented contacts who can help put in place the stepping stones to post-college employment. Low-income and first generation students find the network building process particularly unfamiliar and intimidating. They need training and practice in order to cultivate relationships with professionals.
These skills are teachable, and they are essential tools that all students need to learn if they are to reap the full benefits of higher education. For first generation, low-income students they can make the difference between a diploma and a dropout.