On November 7, 1956, when Eugene O'Neill's poignant Pulitzer Prize-winning play entitled Long Day's Journey Into Night had its Broadway premiere, audiences were stunned by Florence Eldridge's haunting portrayal of Mary Tyrone as a long-term morphine addict suffering from restlessness and insomnia. Coming from a family whose parents only drank wine at Passover (and who had no experience with recreational drugs), I often had trouble understanding how alcohol, uppers, downers and hallucinogens affected a person's behavior.
Our next-door neighbor in Brooklyn was a sweet Italian lady who would occasionally invite my mother over for some of her home-made dandelion wine. All I can remember is that, following her visits to Mrs. Barber, my mother had to hang on to the side of our house in order to make it down the driveway, into the back door of our home, and safely to bed.
During my college years (when everyone else was getting high or drinking at college parties), I was much more focused on pizza, ice cream, and other gustatory delights.
One summer, when an underage counselor at a YMCA summer camp returned from his day off barely coherent and reeking of alcohol, I was surprised to see the camp director order him to pack up his bags and immediately leave the camp grounds.
In 1963, when I attended a matinee performance of Edward Albee's controversial Who's Afraid of Virginia Woolf? (starring Kate Reid as Martha and Shepperd Strudwick as George), I was at a complete loss to understand how liquor unleashed the meanest spirits in dysfunctional relationships.
In 1965, when I saw Frank D. Gilroy's intense family drama, The Subject Was Roses, I failed to understand why Nettie Cleary was so concerned about her son's heavy drinking.
In 1969, when I first saw Mart Crowley's groundbreaking gay play, The Boys in the Band, I had no idea what a night of heavy drinking could do to unleash someone's inner demons. As someone who was fat, did not frequent gay bars and did not smoke dope, I found it hard to identify with any of the characters at Michael's party.
When I moved to San Francisco on my 25th birthday, I couldn't fathom why one of my roommates insisted on snorting poppers so that he could get the full impact of driving up a steep hill.
Nor was I able to comprehend why one of my clients, an African American court reporter with a heavy drinking problem, was always late paying his bill.
One hot and muggy summer night, while visiting a regional opera company, a member of its Board of Directors was asked to drive me back to my hotel. With his adolescent son in the back seat of the car, he proceeded to drive to town completely shitfaced, stopping in the middle of an intersection in a drunken stupor. While his son didn't seem to notice his father's inability to drive, the experience scared the living daylights out of me.
By the summer of 2012, when I finally had a chance to experience Stephen Bergman and Janet Surrey's play about the founding of Alcoholics Anonymous (Bill W. and Dr. Bob), I knew people who were in such 12-step recovery programs as Alcoholics Anonymous, Narcotics Anonymous, and Sex and Love Addicts Anonymous.
It was at that point that I finally began to understand the motivation of an alcoholic as expressed in one of the few good songs from 1971's musical flop, Prettybelle (which I saw twice before it closed at the end of its Boston tryout). Whereas I had frequently witnessed men getting drunk during sports events, I had never really grasped the quiet sadness and desperate insecurity that can temporarily be eased with the comfort of drinking.
Center Rep in Walnut Creek opened its 2015-2016 season at the Lesher Center for the Arts with a new production of Tenderly, The Rosemary Clooney Musical. Written by Janet Yates Vogt and Mark Friedman, this is essentially a "flashback" musical biography in which Lynda DiVito embodies one of America's favorite pop and jazz singers while Mark Farrell embodies some of the men and women in her life.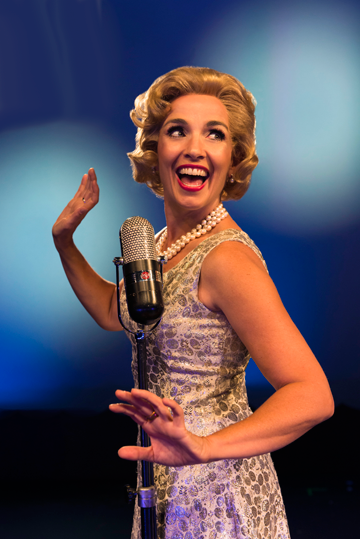 Lynda DiVito stars in Tenderly, The Rosemary Clooney
Musical (Photo by: Mellopix.com)
For those who remember Rosemary Clooney as the svelte, energetic belter who recorded such best-selling songs as "Come-On-A-My House," "Mambo Italiano," "Tenderly," and "Hey There," this show (which delves into Clooney's pill-popping history, bipolar disorder, unhappy marriage to José Ferrer, and her financial woes) may come as a bit of a surprise. The story, however, is public knowledge, having been described in Clooney's two autobiographies (1977's This For Remembrance: the Autobiography of Rosemary Clooney, an Irish-American Singer and 1999's Girl Singer: An Autobiography).
Born in 1928 in Maysville, Kentucky, Clooney and her sister, Betty, were left behind with relatives when her mother moved to Los Angeles with Rosemary's brother, Nick. After beginning her career on radio in Cincinnati, Clooney moved up to singing with Tony Pastor's band. She soon became a familiar face on television as well as a popular recording artist who appeared in nightclubs across America. On the silver screen, she appeared with Lauritz Melchior and Anna Maria Alberghetti in 1953's The Stars Are Singing and co-starred with Vera-Ellen, Bing Crosby, and Danny Kaye in 1954's White Christmas.
An enthusiastic Democrat, Clooney heard the shots fired by Sirhan Sirhan when Robert F. Kennedy was assassinated on June 5, 1968 in the kitchen of the Ambassador Hotel in Los Angeles. In July 1968, she suffered a nervous breakdown while performing in Reno, Nevada. She was hospitalized following her breakdown and, following her release, continued in psychoanalysis for the next eight years in order to deal with issues of drug dependency and abandonment.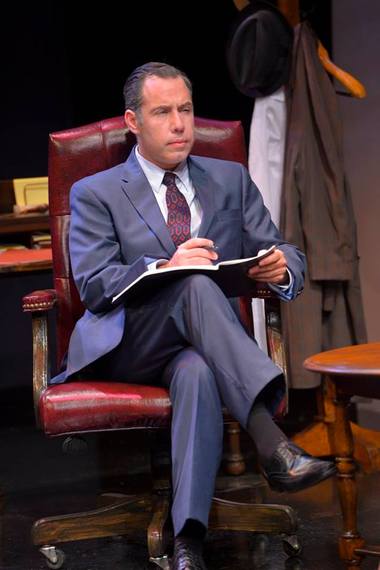 Mark Farrell as the Doctor in Tenderly,
The Rosemary Clooney Musical (Photo by: Kevin Berne)
Tenderly, The Rosemary Clooney Musical was first featured as part of the 2010 New Works Festival at the Human Race Theatre Company in Dayton, Ohio. The show received its official world premiere in Spring of 2012 from Dayton's Victoria Theatre Association.
Directed by Jenny Sullivan on a simple and attractive unit set designed by Nina Ball, Center Rep's production benefits immensely from Scot Woolley's musical arrangements, Steve Blum's music direction and the musical supervision of Brandon Adams.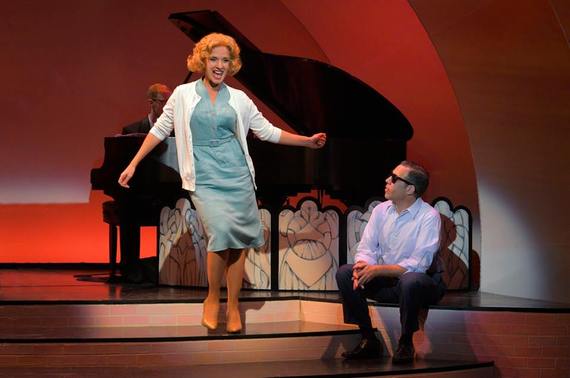 Lynda DiVito and Mark Farrell perform together in a scene from
Tenderly, The Rosemary Clooney Musical (Photo by: Kevin Berne)
The restrained sound design by Jeff Mockus helps to keep the audience's focus on the music without ever becoming oppressive. Although the drama makes this show a little more unsettling than the average jukebox musical, Tenderly, The Rosemary Clooney Musical is a fairly spartan production that keeps its two principals on the run.
That leads to two curious problems. Although Lynda DiVito is a reliably strong actress and has no trouble belting out many songs, a second costume change (either late in Act I or early in Act II) would bring more variety to her performance than merely putting on or taking off a sweater. The real challenge, however, is how to keep the show's focus on the character of Rosemary Clooney.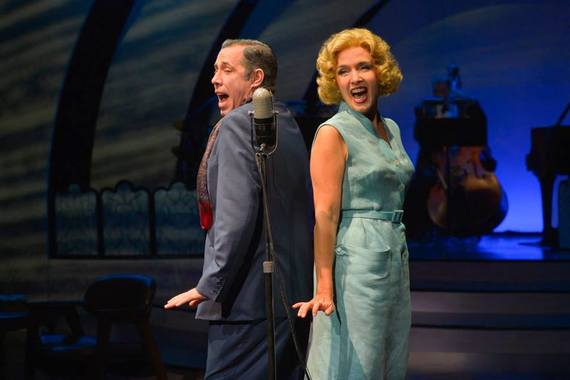 Mark Farrell and Lynda DiVito perform a duet in a scene from
Tenderly, The Rosemary Clooney Musical (Photo by: Kevin Berne)
In its current form, Mark Farrell -- who switches back and forth between playing Rosemary's mother, her sister Betty, her psychoanalyst, her first husband (Jose Ferrer), and her second husband (Dante DiPaolo) as well as Bing Crosby and Frank Sinatra -- ends up demonstrating greater versatility and gaining more audience sympathy than DiVito's driven portrayal of Rosemary Clooney. It's a curious imbalance which sometimes serves well as a dramatic foil and, at other times, subtly steals the spotlight away from Clooney.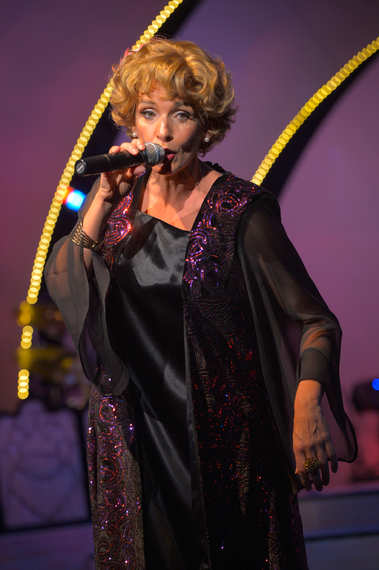 Lynda DiVito as Rosemary Clooney (Photo by: Kevin Berne)
American Conservatory Theater opened its 2015-2016 season with the West Coast premiere of Between Riverside and Crazy (the play that won playwright Stephen Adley Guirgis the 2015 Pulitzer Prize for Drama). The evening was a major triumph for director Irene Lewis in which, as Walter "Pops" Washington, Carl Lumbly delivered the kind of breathtaking performance that can only be described as a fierce and radiant tour de force.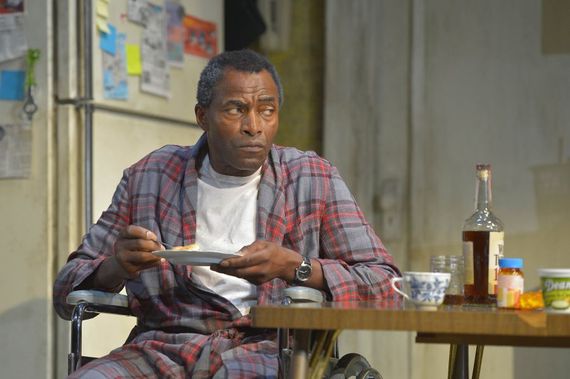 Carl Lumbly as Walter "Pops" Washington in a scene from
Between Riverside and Crazy (Photo by: Kevin Berne)
Walter is a stubborn old coot, a former cop for the New York Police Department who was mistakenly gunned down by a colleague. Following the death of his wife, "Pops" (whose breakfast often consists of little more than dry cereal and booze) has been coasting through life in a deep funk. Even though his wife is gone, Walter is hardly alone in his high-ceilinged apartment on Riverside Drive. He's surrounded by:
His son, Junior (Samuel Ray Gates), who has been fencing stolen goods.
Junior's girlfriend, Lulu (Elia Monte-Brown), a sexy, streetwise Puerto Rican woman who is supposedly studying accounting in school.
Junior's tiny dog.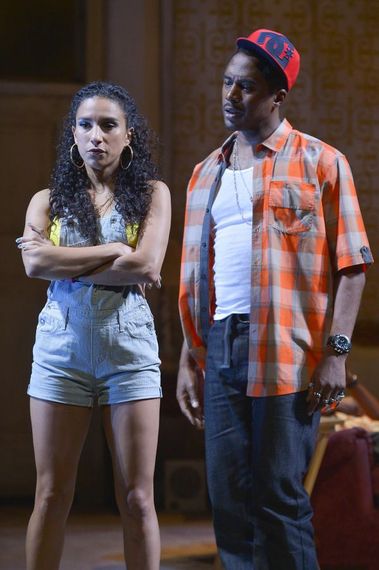 Elia Monte-Brown and Samuel Ray Gates in a scene from
Between Riverside and Crazy (Photo by: Kevin Berne)
Last, but certainly not least, is Oswaldo (Lakin Valdez), a former drug addict whom Walter insists on treating as a guest. Thanks to the advice of his ball-busting caseworker, Oswaldo has recently upgraded his breakfast menu from Ring Dings wrapped in a slice of baloney and accompanied by Fanta grape soda to raw almonds purchased from Whole Foods.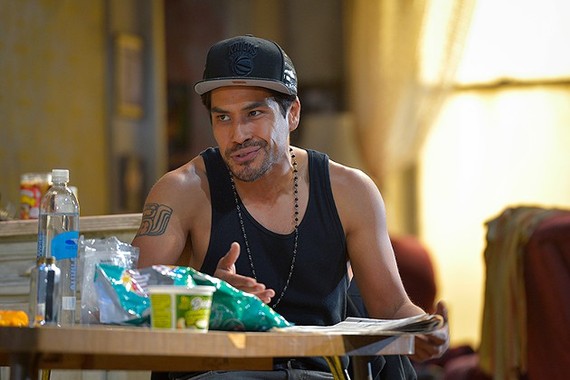 Lakin Valdez portrays Oswaldo in Between Riverside and Crazy
(Photo by: Kevin Berne)
When his old partner from the police force, Audrey (Stacy Ross), comes to pay a visit accompanied by her fiancé, Lieutenant Dave Caro (Gabriel Marin), Walter learns that they're determined to get him to accept a no-fault settlement to his civil lawsuit so that he can move out of his rent-controlled apartment and let the landlord convert the old man's slovenly unit into something that could draw a market rate. Here's how Guirgis describes Walter's apartment:
Once meticulously cared for, the place has devolved into a mix of beautiful fixtures, family mementos, and antique furniture competing for survival with dust, stains, garbage, leaks, and unattended junk. Still, the place retains its dignity and charm -- and the comforting aroma of decades of pot roasts and chicken dinners lets us know we're in a genuine old-school NYC family home. It's a rent-controlled palace ruled by a grieving despot king.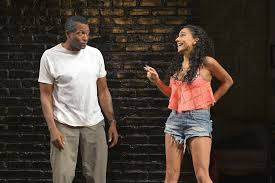 Carl Lumbly and Elia Monte-Brown in a scene from
Between Riverside and Crazy (Photo by: Kevin Berne)
Unfortunately, life has become increasingly difficult for Walter. Lulu has just informed Junior that she's pregnant, Audrey and Dave are subjecting him to an aggressive "good cop/bad cop" routine and, instead of the usual church lady who comes to visit him, a manipulative replacement (Catherine Castellanos) has arrived with ulterior motives that are nowhere as well-intentioned as she claims.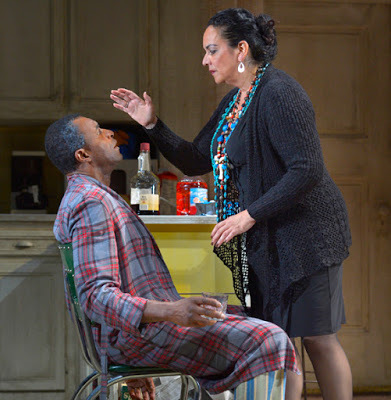 Carl Lumbly and Catherine Castellanos in a scene from
Between Riverside and Crazy (Photo by: Kevin Berne)
Like many people, I occasionally check my watch during a performance to see how well a play is progressing. When I did so midway through Act I, I was astonished at the richness of Guirgis's writing and the simple fact that, even at such an early moment in the drama, the audience had been exposed to so much beautifully crafted dialogue. As director Irene Lewis notes:
The language in Riverside is heightened. Guirgis is a poet. His dialogue isn't scratch-and-mumble naturalism. It's more of a poetic-realism, like the work of August Wilson. It's very beautiful to listen to (at least it is to my ear) and it's the kind of play that I had no idea how funny it was until I heard it. You actually have to be very careful with this kind of material. There is great dignity to all these people so, while they are extremely funny, these characters are also completely sincere. My background tends to make me sensitive to that.
Carl Lumbly (who portrays Walter) concurs. "I don't curse in my life, but I love that Guirgis takes language I consider coarse and elevates it. He transforms the language of the street into poetry."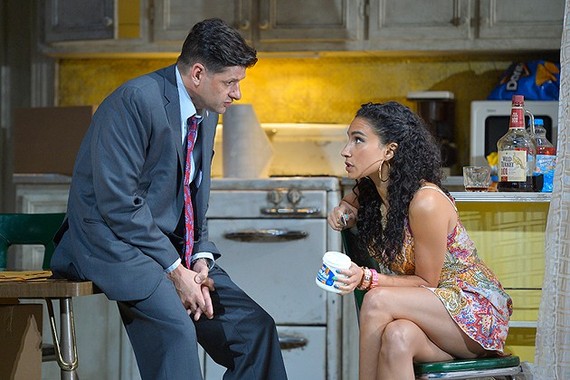 Gabriel Marin and Elia Monte-Brown in a scene from
Between Riverside and Crazy (Photo by: Kevin Berne)
In Act II, a new Church Lady arrives on the scene and quickly puts the make on Walter in an effort to get at his money (this may be one of the most hilarious seduction scenes I've ever seen on a stage and is worth purchasing a ticket just to experience the intensity with which Castellanos and Lumbly try to make believe that there's still some life left in Walter's decrepit old body).
While Lumbly and Castellanos dominate the evening (the Church Lady unwittingly provokes a remarkable transformation in Walter), they receive strong support from Gabriel Marin and Stacy Ross as the visiting policemen as well as from Elia Monte-Brown, Lakin Valdez, and Samuel Ray Gates. Though there is plenty of laughter built into Guirgis's play, it also sheds light on police corruption, the challenges faced by senior citizens trying to hold onto their rent-controlled apartments in a tight real estate market, and the precarious lifestyles of a drug addict trying to stay clean and a chronic drinker needing to get sober.
Guirgis's Pulitzer Prize-winning play offers audiences a poignant and often hilarious night of riveting theatre.
Calling all HuffPost superfans!
Sign up for membership to become a founding member and help shape HuffPost's next chapter