Few moments are as painful as when one's own true love (whether it be a romantic infatuation or the object of filial devotion) topples from their idealized status atop the pedestal of perfection and lands face-down in a puddle of reality. The sudden deflation of unreasonable expectations -- or the realization that someone might not be as perfect as one had thought -- can deal a crushing blow to a person's soul.
Whether the bad news comes in time to abort a major change of lifestyle or long after the fact of the actual incident, the emotional pain can be shocking, disillusioning and take a long time to subside. Whether or not the injured party will ever fully heal from having his ideals shattered may take years of soul-searching and/or psychotherapy.
Two new films shown at CAAMFest 2014 examine what happens when the bubble of supposed perfection bursts and people must struggle to save face while scrambling to hide their emotional scars. Not surprisingly, in both films technology plays a key part in ruining people's innocence.
The early days of videochat programs like ICUII opened up the possibilities of many new friendships and romances between people all over the world. For many gay men, such software programs led to long hours of mutual masturbation in front of their webcams. It didn't take long before the world's oldest job creator (the porn industry) figured out how to monetize cam-to-cam sessions.
Soon, a new electronic version of pay-for-play took over the Internet. In her article entitled From Harvard to Webcam Girl, Anna Katzen candidly describes how "Once, I was a shy nonprofit drone. Now, I make money reading Anais Nin in the buff -- among other things."
Today, the ease of engaging in videochat sessions via Skype and other software programs has made this kind of online interaction quite mundane. Many people will now spend long hours chatting with overseas "friends." Google+ has become a popular teleconferencing tool used by the White House and The Huffington Post. Soldiers stationed overseas routinely videoconference with their spouses at home.
In some ways, Internet chats have enabled people to overcome their shyness and learn how to flirt and/or build friendships in ways they might have previously assumed to be impossible. Many platforms for sexual social media attract grifters intent on targeting vulnerable, lonely or sympathetic souls who might be bilked for money.
Social skills onscreen are not the same as social skills in real life, as evidenced by the famous cartoon from The New Yorker magazine in which two mutts are seen sitting in front of a computer as one says "On the Internet, no one knows you're a dog."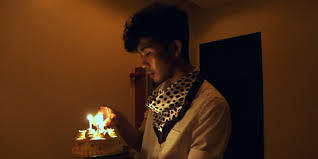 Ernesto "Jazz" Tigaldao stars in Jazz in Love
Baby Ruth Villarama's narrative/documentary entitled Jazz in Love focuses on two men in the midst of an international and intergenerational romance that has been made possible by modern technology.
Ernesto "Jazz" Tigaldao is a 22-year-old Filipino nurse who has been studying German in order to qualify for a fiancé visa. Lean, effeminate, extroverted and occasionally melodramatic, he is eager to marry his Facebook boyfriend of 11 months (who lives in Berlin) and get the hell out of Davao City.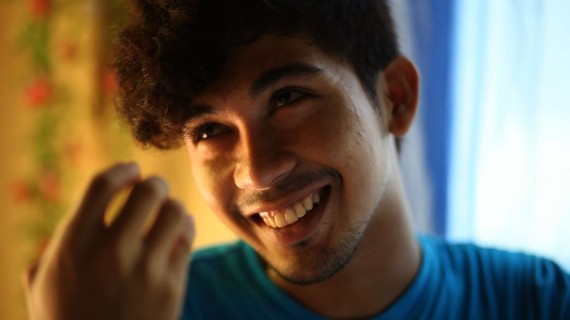 Ernesto "Jazz" Tigaldao stars in Jazz in Love
Theo Rutkowski is a 56-year-old military worker, an introvert who has always been single and who expected to keep living a single lifestyle until his death. Although he seems to have been seduced into the fantasy of marrying Jazz, when push comes to shove Theo learns that he doesn't really enjoy letting someone else make decisions for him. Especially when that person is always "on."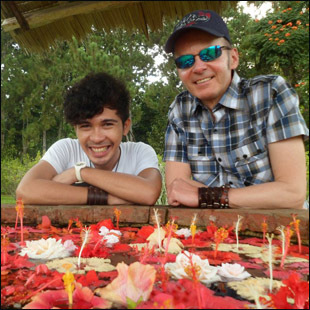 Ernesto "Jazz" Tigaldao and Theo Rutkowski
are the stars of Jazz in Love
I'm always suspicious of people who can't end a phone or chat conversation without engaging in games of "You hang up first," or "No, I love you more." It's a cute and romantic conceit which can be an early sign that a relationship is doomed. When it becomes a prolonged way of ending a Facebook chat, it's no surprise to discover that, once Theo arrives in Davao, the play-acting quickly grinds to a halt.
Although the initial plan was for Theo to ask Jazz's father for the young man's hand in marriage, the father has no idea what's going on and is much more interested in getting drunk. A birthday party Jazz has planned for Theo quickly starts to lose steam. But if one looks closely, one can see the wheels turning inside Theo's head as he realizes "I don't need this" when Jazz starts acting out and becoming more possessive and defensive.
If Villarama had hoped to document the arc of an international love affair that ended up in a same-sex wedding, she ended up with a different film once reality set in. Sadly, what happens to Jazz and Theo is no different from what happens to heterosexuals who rush into relationships that are built on unreasonable expectations. From a viewer's standpoint, once the energy drops out of the relationship between the two men, Jazz in Love has nowhere to go but down.
A standard plot device involves a grieving family who, as they go through a decedent's possessions, stumble upon a long-kept secret that is so shocking they can barely handle the knowledge they've been given. I tip my hat to J. P. Chan who, as the writer, producer and director of A Picture of You, has found a new -- and distinctly 21st century twist -- for an old, old story.
In his first feature film, Chan focuses on two estranged Asian-American siblings who, following the death of their mother, travel to rural Pennsylvania to pack up her home and get it ready for sale. Their mother, Judy (Jodi Long), was a beloved professor at a small college who is frequently seen in flashback, bicycling down a country road with a happy, contented look on her face. Unfortunately, her children are not so happy.
Kyle (Andrew Pang) is recently divorced and has spent the past six months as his mother's caretaker. Lonely, frustrated and anxious to get on with his life, he is less than thrilled to be spending time with his narcissistic, high-maintenance sister.
Jen (Jo Mei) is a dragon lady in development. A bitchy control freak whose emotions can zoom from one extreme to another in no time at all, Jen is not about to make the process of closing up her mother's house easy for Kyle. Nor does she have much talent for dealing with reality.

Jo Mei is Jen in A Picture of You
As if matters weren't tense enough, as Kyle goes through the files on his mother's computer, he double clicks on an icon and is suddenly confronted with a picture of a man's hard, wet, erect penis. When Jen sees this image, she becomes convinced that someone must have taken advantage of her mother and vows to get to the bottom of the mystery. Kyle, of course, would prefer to pretend that he never saw the picture in the first place.
Unfortunately, Jen has invited two close friends up for the weekend to lend a hand and give moral support.
Doug (Lucas Dixon) is her nerdy hipster boyfriend who, in his eagerness to marry Jen, decides that this is as good a time as any to ask Kyle for his sister's hand in marriage.
Mika (Teyonah Paris) is an attractive young African American woman who is Jen's best friend and former roommate.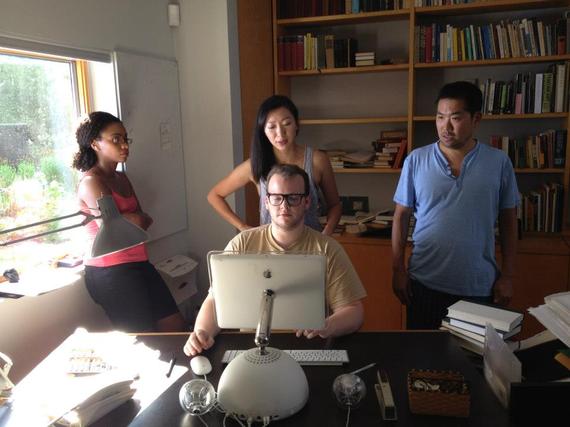 Tenovah Paris, Jo Mei, Lucas Dixon and Andrew Pang
do some computer sleuthing in A Picture of You
One of the surest ways to rattle smug young adults is to start talking about their parents' sexual practices. Reactions may range from "Ewwww!" to "Ugh, gross." But when someone can't let go of the matter, drama is bound to ensue. In his director's statement, Chan writes:
"Anyone who's lost someone dear to them knows what a roller coaster the process of grieving can be. You're crushed with sadness even as you laugh uproariously thinking of the good times you shared. Out of nowhere, memories of the one you lost come flooding back when you least expect it, overwhelming you with feelings every bit as complex and contradictory as your loved one was in life. When I lost my mother to cancer several years ago, I found myself devastated with grief. I couldn't imagine anything worse than a child losing his mother...until I realized that my stepfather had lost his wife, that my aunts and uncles had lost their sister, and that countless others had lost a good friend.

Collectively, we had all loved and lost the same person. But individually, we'd each lost someone who was entirely unique, and we were each left with a set of memories that was ours alone. And even if we could share all these memories, we'd still never have the entire picture of her. But I realized that not knowing everything about her meant there might always be more to discover. An off-hand anecdote from an aunt, a photograph I hadn't seen, her handwriting on a scrap of paper -- all these things were out there waiting to be discovered (or not). It kept her alive in a way I could never have imagined."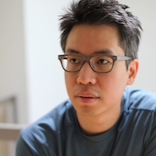 "I wanted to make a movie that reflects these ups and downs. But how do you capture all those feelings in a single film? I settled on the idea of a story that abruptly shifts genres, going from drama to comedy to drama again (with a few stops at mystery and suspense along the way). The task seemed impossible but also irresistible. Most importantly, it felt like the most honest way to honor those we'd lost."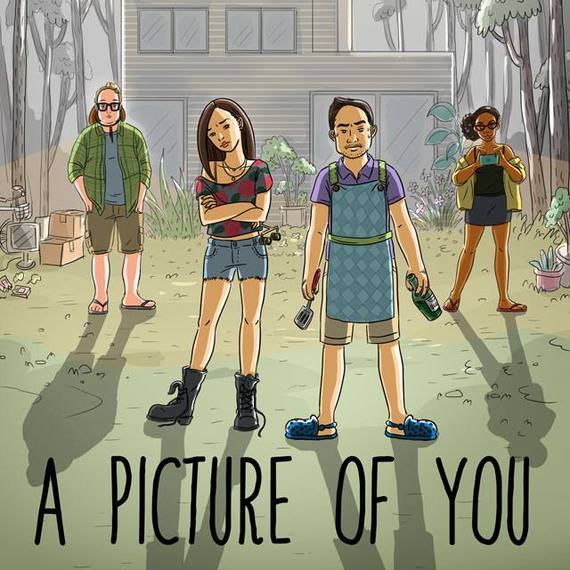 Poster art for A Picture of You
Following Doug's helpful hints about what each file's metadata can reveal, Kyle, Jen and their friends embark on a late night mission to find out whose hard cock may have violated Jen and Kyle's mother. Not so shockingly, they discover that Judy belonged to a group of local swingers -- many of whom had watched Kyle and Jen's development since they were little children.
A Picture of You is a smart, intimate, well-conceived and neatly executed low-budget film which draws the audience into an intensely sexual family secret (and the impact its discovery has on Judy's adult children). Chan adds some marijuana, sibling rivalry, moments of desperate loneliness and ill-advised curiosity to the mix with impressive results.
Related
Popular in the Community