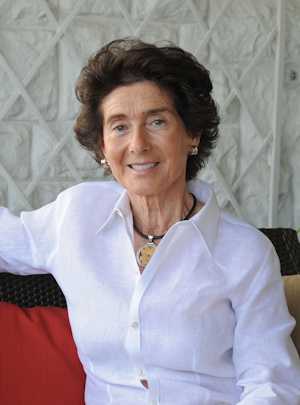 In the new year of 2015, I was excited by the idea of welcoming Paloma O'Shea to New England Conservatory of Music as part of a short US tour she was undertaking with her colleagues from Madrid. I had heard so much about her and the determination and vision she had demonstrated in creating from nothing a new conservatoire of music in Madrid, the Reina Sofia School of Music. But, alas, this visit never happened. The weather in the US intervened with one of the worst snowstorms on the east coast and Paloma and her party were marooned in NYC.
But several weeks later I found myself visiting sunny and warm Spain in the early spring and took time out to make good our belated introduction. She was, of course, the most charming hostess, showing me the School, and relating the story of its development over the last 25 years.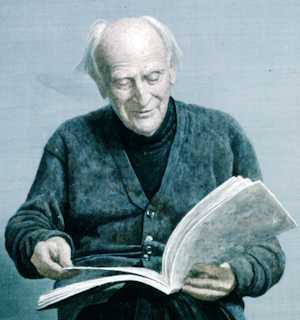 There is an original painting in Paloma's office of the great violinist Yehudi Menuhin smiling as he prepares a score, and, in many ways, this picture represents the very essence of how the School came into being.
In 1972, Paloma founded the Santander Piano Competition. She is a trained musician and an accomplished pianist, having won an End of Studies Prize at age 15 and performing with the Bilbao Symphony. So a competition devoted to her instrument of choice seemed very natural. But then she saw that Spanish pianists were not making it past the first round in the Santander, which inspired her to create a conservatoire in Spain devoted to the highest levels of musicianship and teaching. Through the support of BP she traveled extensively visiting music schools across the world from London to Moscow and NYC. She established a group of distinguished advisers-- Menuhin, Rostropovich, Alicia de Larrocha, Lorin Maazel, and Zubin Mehta, all of whom gave huge amounts of time and offered the right advice. Paloma always speaks of these early investors in her vision with the warmest affection and gratitude. Their generosity of spirit and insight allowed her to put together the plans for what is generally acknowledged a world class institution in Madrid.
The Reina Sofia School of Music was established in 1991 and situated on a small campus a few kilometers outside the city. The school lacked a concert hall and the facilities were far from ideal but it nevertheless boasted a great working team and collaborative spirit between the faculty and the students. "Taking all our meals together can do that," Paloma explains.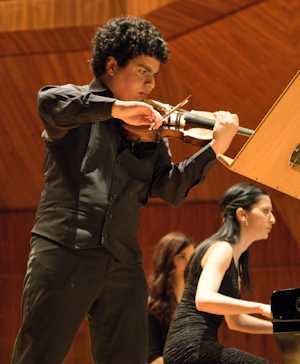 From the outset, the school's DNA was established and it remains very much intact today: quality faculty, a commitment to social justice, comprehensive and personalized education. The Conservatoire is small at about 150 students and there is a special emphasis given to applicants from Spain, Portugal and South America. The official language of the School is Spanish but it is overwhelmingly international in spirit with students drawn from all over the globe. Mohamed Hiber (Mo Mo to his friends!, pictured right), a young outstanding violinist from France, studies at the School. But he is also a leading member of Daniel Barenboim's West-Eastern Divan Orchestra, which was just designated as a United Nations Global Advocate for Cultural Understanding for its work with Israel and Palestine.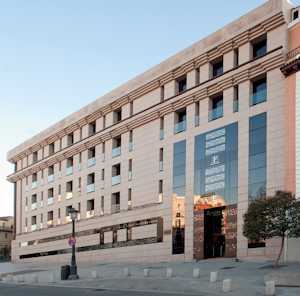 In 2008, the institution moved into the heart of Madrid and is now situated in an elegant and beautifully designed new building by Miguel Oriol, in the Plaza de Oriente and very close to the Royal Palace. It has a concert hall; the Sony Hall, which is ideal for chamber music; and excellent facilities for students and faculty. The planning that went into this new building and the partnerships with City authorities and major corporations are testament to the energy and determination that Paloma shows in getting things done. Her approach is very much along the American model of establishing relationships and trust and then raising funds through these networks. As Paloma says, "You have to sell."
The School's original budget began with 1 million pesetas (about €6,000) and has grown now to €9 million so fundraising for general revenue and scholarships for students is a never-ending task.
The Conservatoire is now celebrating its 25th anniversary and during its short history has established itself--amazingly-- as one of Europe's most important music schools. Its faculty roster alone reads like a Who's Who in the music world. It proudly claims some of the greatest teachers and performers, such as the violinists Zahkar Bron and Ana Chumachenco, the violist Nobuko Imai, the pianist Dimitri Bashkirov and the chamber music institute headed up by Günter Pichler, the voice department led by Ryland Davies, and a special relationship with the great Spanish mezzo-soprano Teresa Berganza amongst other distinguished faculty.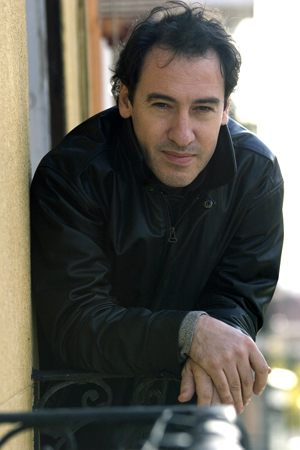 The Academic Director is the distinguished Argentinian-Spanish composer-conductor Fabián Panisello (in photo right) whose command of multiple languages and charm seems to know no bounds. And on the management front, there is Julia Sánchez Abeal, Director General of the Albéniz Foundation (the School's governing body), who brings a wealth of business experience.
With 25 years of growth behind it, the School continues to refine and expand its program. It is currently proposing a new master's degree to complement the existing bachelor's and graduate certifcate. The leaders are also considering new ideas such as developing a studio pedagogy program, an Entrepreneurial Musicianship program, and new relationships with the Teatro Real and Royal Academy of Music among other educational institutions.
Throughout this time the School's guiding spirit and visionary has been, and continues to be, Paloma, who just celebrated a notable birthday, her 80th. Her elegance, passion and dedication to the School's mission radiate from her being. She is a mother of six, a grandmother of 19, and is known and loved not just by the School but also by the whole music fraternity in Spain. Seeing her with Reina Sofia in June at the School's Commencement ceremony at the Teatro Real was like coming across two deeply affectionate sisters. She has been recognized for her wonderful accomplishments with the Legion d'Honneur from France, the Picasso Award from UNESCO and the title of Marchioness of O'Shea conferred by the King of Spain. This tireless worker for the very best of music and our society still has her sights trained on making the School even greater. After all, she said to me, "Once the children were grown what was she to do?" Well I think she has used her time very wisely.
Happy birthday, Paloma, and many happy returns!
Calling all HuffPost superfans!
Sign up for membership to become a founding member and help shape HuffPost's next chapter