Few performers could match Bea Arthur when it came to the art of the slow burn. Jack Benny could roll his eyes, inspect his fingernails, and shift his posture, but Arthur would stand rigidly onstage, glowering at one of her colleagues until the precise moment to strike had arrived. Chita Rivera, who appeared with Bea Arthur back in 1955 in The Shoestring Revue, recalls that "Her silences often said so much more than someone with a huge monologue. She would allow you to imagine what she was thinking -- and that was really funny!"
My favorite memory of Bea Arthur doing a slow burn comes from Act II of 1966's hit musical Mame, in which she played Vera Charles opposite Angela Lansbury's Tony award-winning portrayal of Auntie Mame. In the following clip, the two actresses reunited to perform their hilarious duet, "Bosom Buddies," for the Tony Awards.
One of the show's biggest laughs came much later in that scene. Having returned from secretarial school (where she learned how to record a person's dictation in shorthand in order to help Mame write a book), the homely Agnes Gooch unexpectedly becomes Mame's latest makeover project.
As Mame's Japanese houseboy, Ito, whisks Agnes up the spiral staircase to try on one of her employer's outfits, Vera describes what it's been like to observe Mame go through one crazy scheme after another. She then asks what Mame intends to put in her juicy tell-all book.
Mame cheerfully answers "I'll write about us, and who's the bitchier bitch!" Lansbury then proceeded to milk a huge, extended laugh from the audience as she opened up a compact, checked her makeup, and then folded it up and tucked it away in her purse before looking at Vera with a triumphant sense of satisfaction.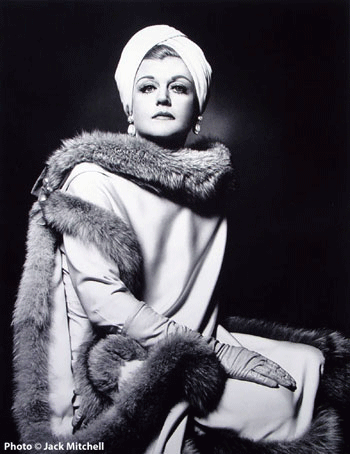 Angela Lansbury in the original Broadway production of Mame

Bea Arthur just kept glowering at Lansbury as she waited for the audience's laughter to subside. Then, in that wonderfully deep voice, she brought down the house with two words:
Who doesn't love a good cat fight? I'm not talking about old-fashioned ladies mud wrestling or a trailer trash hair-pulling contest. I'm referring to the kind of bitch fight where acid thoughts fly across the stage on malicious darts guided by a frightening level of intelligence. The aim is precise, designed to rub salt in an open wound. The gamesmanship is subtle, but fierce.
Ironically, many of those words have been written for women by gay men. Just as Jerry Herman's gentle wit stopped the show with "Bosom Buddies," Stephen Sondheim's sarcasm laid the caustic foundation for Elaine Stritch's big moment in 1970's Company.
Sondheim's exceptional songwriting skill was also on display in 1964's Anyone Can Whistle, for which he wrote an acid-tongued duet between Mayor Cora Hoover Hooper (Lansbury) and Nurse Fay Apple (Lee Remick). In the following rendition, Carol Burnett and Ruthie Henshall demonstrate their loathing for each other:
Some critics are comparing the late Alain Corneau's final film, Love Crime , with 1950's All About Eve, but I think they're way off base. Watch carefully and you'll notice a much stronger resemblance to 1994's Swimming With Sharks. The big difference is that this time around the sharks are vicious female predators who make Mama Grizzly Bears seem about as threatening as bunny rabbits.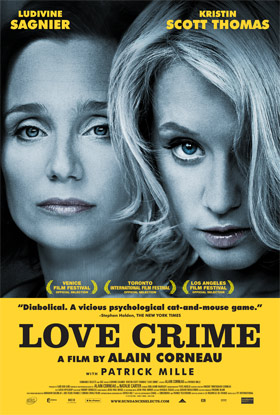 Poster art for Love Crime
As a filmmaker, Corneau had struggled with this concept for quite a while. Numerous screenwriters had advised him to give up on his idea. As he explains:
"After you have committed the perfect crime (of which you will definitely be suspected), how can you prove you are innocent by making yourself look guilty? A breakthrough happened the day I thought the motive for the crime could be humiliation, which can lead to the most irrational behavior. At that moment, I had the idea of creating two stories rolled into one: the humiliating confrontation that leads to the crime, and the way in which the criminal proves he is innocent. When I gave Natalie Carter the first draft to read, she told me she was interested but that my two heroines were more like men disguised as women bursting with testosterone! So we started working on the two women -- their confrontation and the ambiguity of their relationship -- between seduction and manipulation, fascination and rivalry."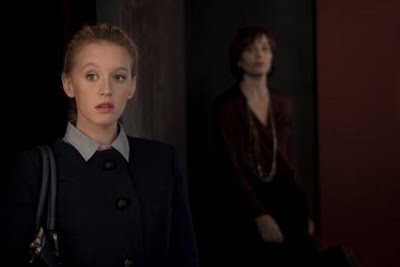 Ludivine Sagnier and Kristin Scott Thomas star in Love Crime
Love Crime revolves around four key characters caught in a ruthless business environment in Paris:
Christine (Kristin Scott Thomas) is a powerful female executive with impressive talents for clawing her way to the top, sabotaging colleagues, backstabbing anyone who gets in her way, and killing any survivors with kindness. She makes Martha Stewart look like a pussy.
Isabelle (Ludivine Sagnier) is Christine's hardworking assistant who is horrified to watch Christine take credit for her ideas.
Philippe (Patrick Mille) is the sexy embezzler who has been Christine's boy toy, until she sets him up to accompany Isabelle on an important business trip to Cairo.
Daniel (Guillaume Marquet), like Isabelle, is a hardworking executive assistant who encourages Isabelle to take credit for her own ideas and aim higher up the corporate ladder.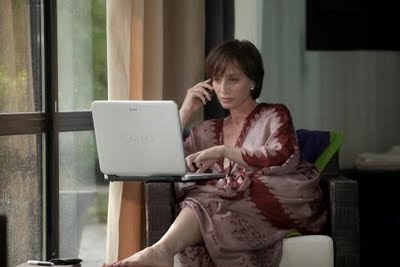 Kristin Scott Thomas is the cunning Christine in Love Crime
This is no ordinary story of revenge. Natalie Carter's script is so ingeniously plotted and precisely written that, even as clues are dropping in front of the audience, it's hard to tell exactly where they will lead. As Corneau explains:
"We are complementary because I am obsessed by structure and plot, and she is more obsessed with character building and psychology. She has the ability to add strong, significant dialogue, which I am not always capable of writing. Also, she likes cinema noir so she understands the plot mechanics and logic involved."
Having worked with Carter on another, film, Sagnier recalls that "It had been a long time since I had so much pleasure reading a script. It was like sitting down to a familiar meal and discovering new flavors with every bite. She has an architect's style -- the way she plays with volume, space, and her sense of dialogue."
How does Sagnier feel about the character she portrays?
"Isabelle is a workaholic: obstinate and methodical. She is essentially driven by work (which, of course, hides inner abysses that aren't detailed in this story but can easily be imagined). People who are workhorses are often more fragile emotionally. To get to such a high level of competence and excellence requires such a huge amount of work, concentration, and determination that they close themselves off to everything else.

We all know people like that who never stop, who take refuge in being overactive. They are often highly emotional people who manage to build a shell around themselves by being extremely busy. Except for when, suddenly, the protective bubble they live in bursts for one reason or another and they find themselves faced with reality. At that point they are more vulnerable than other people; the humiliation is that much more profound. To explain her actions, there is also that will to preserve her dignity at any price, which is why she starts plotting out her diabolical plan."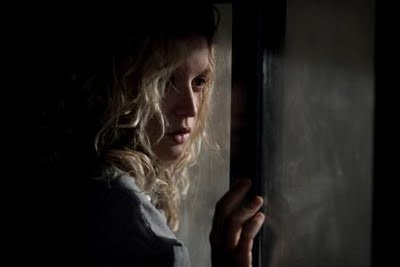 Ludivine Sagnier as Isabelle in Love Crime
While Sagnier may have the juiciest role -- which is enhanced by her ability to rapidly switch between looking like a doe-eyed innocent and acting like the female equivalent of Karl Rove, she faces a formidable opponent in Kristin Scott Thomas (whose portrait of a powerfully-driven female executive seems absolutely effortless).
This article was cross-posted on My Cultural Landscape. To continue reading, click here.
Calling all HuffPost superfans!
Sign up for membership to become a founding member and help shape HuffPost's next chapter