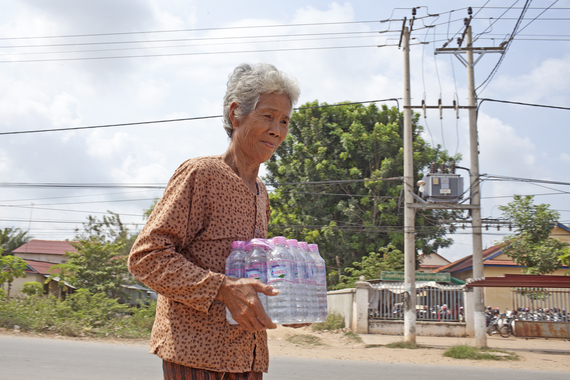 Em Sro, 73 years old, is buying bottled water from a nearby shop for her sister, who is a patient at the Koh Thom hospital in Cambodia. Photo credit: WaterAid / Kim Hak
This week, as we commemorate World Water Day on March 22, we must give the utmost priority to protecting our precious water resources, and the basic human right to safe water, at home and abroad. At WaterAid, we're focused on making sure that the poorest and most vulnerable members of society have lasting access to safe water, whoever and wherever they may be.
Our new report, Water: At What Cost? The State of the World's Water 2016, spells out the shocking state of the world's water: in 16 countries, more than 40 percent of the population does not have access to even the most basic water facility, such as a protected well. Forty percent! More staggering yet, our analysis shows that the poorest people are not only paying for their water, they are often paying far more than most anyone else.
Poor access to water is often rooted in power, poverty, inequality and poor management of resources, sometimes along with, or instead of, truly limited water supply. Worldwide, we're talking about more than 650 million people--more than twice the population of the United States--who do not have clean water to drink, bathe, clean and cook with.
It's hard to comprehend those kinds of statistics, much less fully understand what life is like for the millions of people who are affected. And yet, after months of alarming personal accounts of struggles faced by our fellow Americans, we have a growing appreciation of how vulnerable our access to safe water is here at home, too.
Two months ago, construction workers near my home hit a water main that serves the entire upper North end of Manhattan. Immediately, reports poured in from neighbors complaining about the murky brown water sputtering out of their sinks and bathtubs. Lines a quarter mile long formed at local stores selling what they had left of bottled water, local eateries and coffee shops had no choice but to close for the day, and children across the neighborhood went to bed without a bath. More than once, I saw people struggling under the weight of heavy loads of bottled water en route to home.
It was a one-off experience, not at all comparable to the daily struggle of people in poverty around the globe, or what our friends and neighbors have suffered in Flint or Crystal City. But it was a very real reminder of how dependent each and every one of us are on water--and how difficult life is when our basic human right to water is not being met.
As I write this, I sit in Addis Ababa, Ethiopia, where I was invited to speak at the Sanitation and Water for All Ministerial Meeting. It's a tremendous honor to be here, with leaders from over 40 countries across Asia, Africa and Latin America, and a diverse range of nonprofits, businesses and researchers who have come together to share lessons, solutions, and challenges to achieving a world where everyone has access to safe water, sanitation and hygiene by 2030. That means all people, in all countries.
The discussions are guided by what each of us has learned over the years and in our respective corners of the world. One: there are no silver bullets. Two: we must take the long view. And three: we have to understand and strengthen the whole system, so that essential water and sanitation services last.
We know what the building blocks of this system are: government leadership; strong national plans and systems; information systems and mutual accountability; and financing that is transparent and predictable. These are building blocks that apply just as much to cities and towns in the United States, as they do in Papua New Guinea, Madagascar, Ghana or Mozambique. If we are to have sustainable progress on providing safe water to everyone, it will take nothing less to achieve lasting, long term solutions to some of the world's most crushing water woes.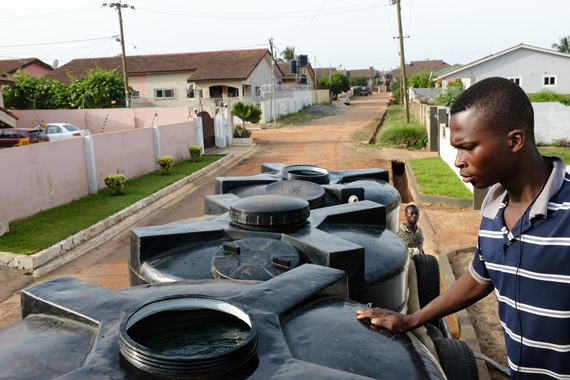 Shakibu, a water delivery truck hand, atop the truck he crews as he prepares to pump water into a storage tank at a customer's home in an upper middle class suburb of Ghana's capital, Accra. Basic infrastructure like roads and scheme water lag well behind property development and residents often have to purchase water by the tanker load and store it in large tanks. Photo credit: WaterAid / Nyani Quarmyne
Celebrating World Water Day
This March 22, people everywhere will be celebrating World Water Day in a show of solidarity, commitment and determination. We will be celebrating the essential, life-giving qualities of water. And we will be re-committing to protect this precious resource. Across the country, people, businesses, organizations and government entities will to take part in the exciting #Blue4Water campaign happening online and in bars, restaurants, schools and workplaces.
We have made tremendous progress. Since 1990 some 2.6 billion people have gained essential access to clean water. We can be hopeful and optimistic, but not self-congratulatory. With 1 in 10 people still without clean water, there remains so much to be done. Let's get to work.
This post is part of a series produced by The Huffington Post in conjunction with World Water Day (WWD), which has taken place annually on March 22 since 1993. The awareness day is an opportunity to learn more about and take action on water-related issues. It has a different theme selected by U.N. Water each year; in 2016, WWD focuses on water in relation to jobs. To see all posts that are a part of the series, click here.
Calling all HuffPost superfans!
Sign up for membership to become a founding member and help shape HuffPost's next chapter