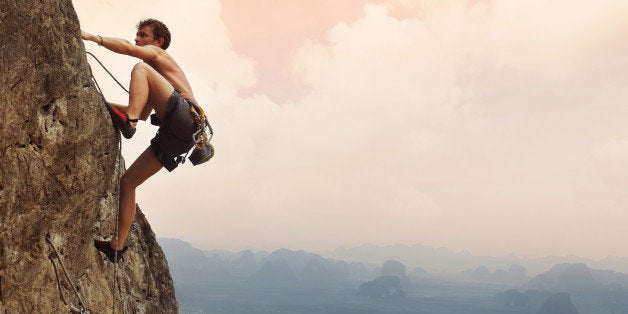 Courage is a difficult characteristic to possess. The courage to be different, the courage to succeed and even the courage to try something new and risk failure are all forces that govern our daily activities. Undeniably, the desire for excellence and the refusal to accept anything less than perfection are especially present in women.
As a freshman in college, I have over the course of one year experienced several highs and several lows; I have formed friendships that only become stronger as time passes, I have pushed through a mountain of essays and lab reports and I have, as a result of my time as a student, grown as an individual.
But the struggle as a female in the STEM field has been the greatest of them all. While I am not easily intimidated -- typically I am the intimidator -- sitting in a male dominated class studying a subject I can barley comprehend has been nothing less than nerve wracking. The constant pressure to prove myself to my peers and professors causes me to question my career choice daily.
This pressure reached its boiling point when I failed the first engineering exam I ever took, and without the support of the Women in Science and Engineering Resident Program (WISE RP), of which I am a proud member, I would have definitely dropped out of engineering that very day.
Although, there is no denying that even in 2015, women in the STEM industry continue to experience challenges that male students are generally free from; women have a tendency to push themselves much harder and seek approval from others much more than the average man, and while men generally take risks all the time, women often play it safe.
This is not to say that women have less potential than men; if anything, my experiences at the University of Michigan have given me the opportunity to learn and interact with some of the brightest female minds in the country. Societal pressures have caused many women to value the opinions of others greedily, and our ego is always prone to damage.
It is because of this that there are only exceptionally talented and wonderful women in STEM. To succeed in a STEM field requires a perspective that deviates from the ordinary, and to succeed in STEM requires a special kind of innovation that I am proud to witness on a daily basis.
Despite the challenges that I faced as a freshman female engineering student, I did not drop out of the College of Engineering. Rather, I told myself it is okay to receive one poor grade. It is okay not to be the best in everything I do, because regardless of my exam scores or GPA, I know that I am a strong, independent and intelligent female in the one of the world's top public engineering schools. I have the courage to try what others perceive to be an insurmountable challenge, and I refuse to give up now.
Calling all HuffPost superfans!
Sign up for membership to become a founding member and help shape HuffPost's next chapter