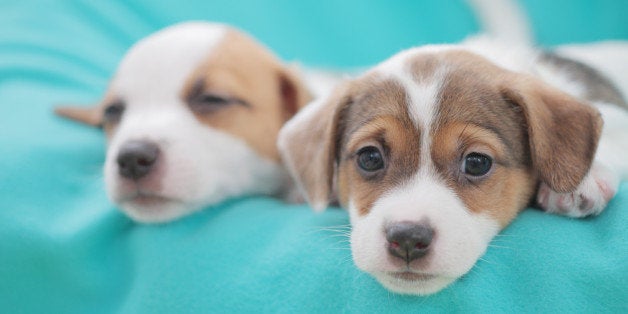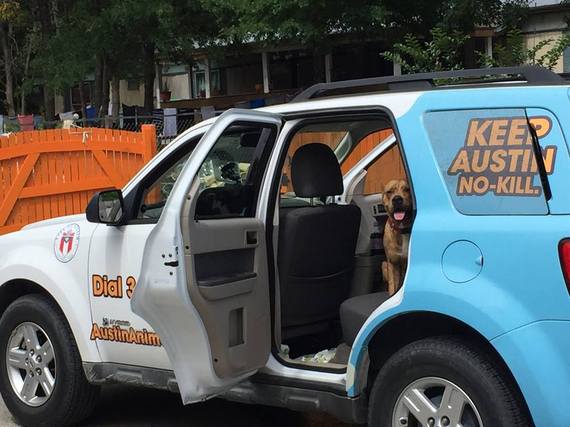 This spring has been challenging for Central Texas animals. After an unusually warm winter, the region has been plagued by a series of severe thunderstorms and floods, causing the displacement of large numbers of people and animals. As a result, animal shelters have seen high intake of both stray and surrendered pets.
At the Austin Animal Center, the open-admission shelter for Austin and the surrounding Travis County, this 'perfect storm' of factors has led to a particularly tough spring. In addition to our usual seasonal influx, many of the pets coming to us have injuries from storms and floods and need intensive medical care. We've had 1,200 pets in our care on any given day with 60 to 100 new animals arriving daily. And yet, even with these challenges, over the past three months, we've maintained a save rate above 96%.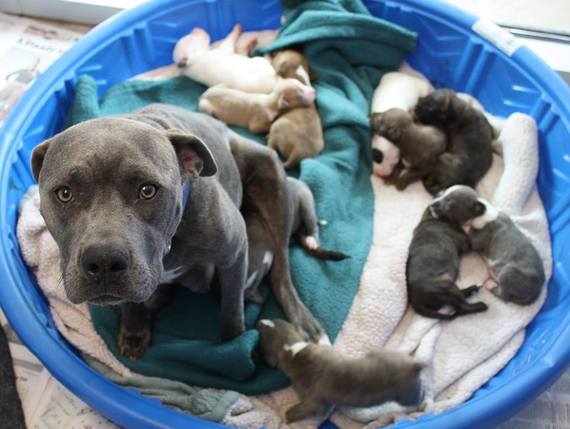 This mamma dog and her puppies are headed to a foster home, where they'll stay until the pups are old enough to be adopted.

If you're in a community that struggles during times of weather emergencies, natural disasters or season space crises, read on to learn how we've maintained such a high save rate of animals, even when things got hard. Whether you're an advocate, shelter staff member, volunteer or rescue group, you can use the lessons we've learned to save more animals in your town or city.
How We Save Lives In Difficult Times:
We ask for help. When flooding caused 50 of our dogs to be displaced from their kennels, we set up crates in our multi-purpose room and asked for temporary, emergency foster families to take a dog for one to two weeks. Within just an hour of posting our plea on social media, we had people lined up to assist. By the end of the day, all 50 of the dogs were out of the shelter and in loving foster homes, where they could crash on the couch instead of undergoing the stress of being confined to a kennel.
We make it easy to foster. Becoming a foster family with Austin Animal Center is no harder than adopting a pet. Fosters can usually take home an animal on the same day they sign up. Through temporary, emergency fostering, we've saved hundreds of lives of both dogs and cats. And by sending pets to foster, we learn things about them to help us find their perfect forever home more quickly.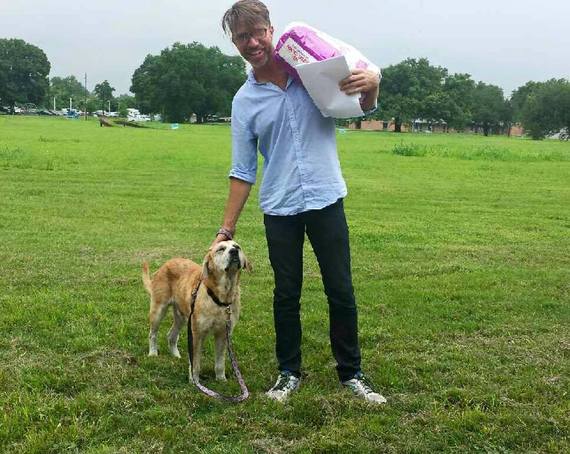 This man came to the shelter and told us he wanted to foster the dog who needed him the most. We introduced him to scared, 10-year-old Zeke, who desperately needed some TLC. These two fell in love immediately and this will most likely be a 'foster fail,' meaning Zeke may have found his forever home!

We make it easy to volunteer. After a particularly bad night of storms, a woman showed up before we opened and stopped a staff member in the parking lot, saying, "I heard you need help and I am here to do whatever you need." Even though she wasn't a current volunteer, we welcomed her in and showed her how to walk dogs who needed a kennel break. She got more than a dozen dogs out for bathroom breaks and ended up adopting a special needs cat that same day.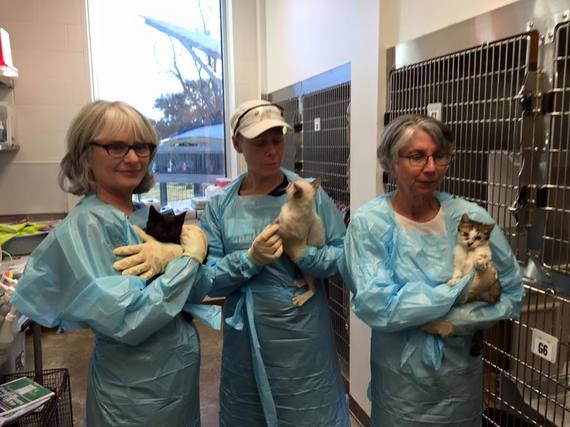 Volunteers assist in nearly every area of the shelter. These volunteers are helping to treat kittens with ringworm.

We serve pets and people in the community so they don't end up at the shelter. Our animal protection officers fill several important roles: Keeping our streets safe, rescuing animals who are sick or injured or are otherwise in danger, and helping people get services and support to keep pets in their home.
Animal protection officers provide fence-building assistance to owners to help keep pets safely and humanely confined and give families dog houses so every dog has adequate shelter. Working collaboratively with shelter outreach workers, they visit neighborhoods and connect residents to free or low cost spay and neuter and vaccine services. Our officers help give people what they need to keep pets at home with their families. And to help pets get back to their owners when they do get lost, we provide free microchips to any pet in Austin or Travis County. Then, if those animals are picked up by an officer at a later date, we scan for the microchip and bring the pet back home, keeping it from having to be impounded at the shelter.
One of our long-time animal protection officers put it this way: "In the old days, we used to have competitions among the officers to see who could bring the most stray dogs in. We'd search the streets for friendly dogs because they were easy impounds. Today, our mission is much different. It's to help people and provide resources to keep their pets out of the shelter."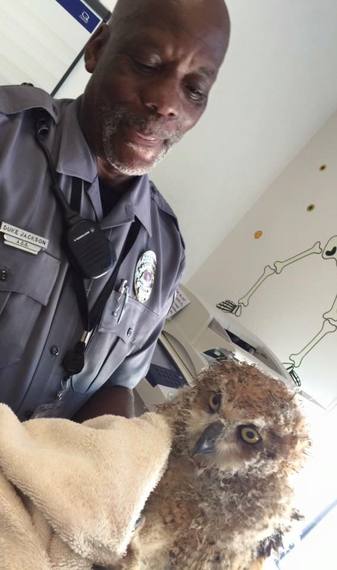 One of our officers rescued this baby owl when she got lost in a storm. The officer will take her to the Austin Wildlife Rescue where she'll be cared for until she's old enough to be released.
Busy is good! This is one of the best-kept secrets in animal shelters so we're trying to get the word out: During the busy spring and summer months, shelters have an amazing assortment of cats, dogs and other animals available for adoption. Want an adorable Yorkie? We've got it! A bouncy puppy? It's here! A Siamese cat. No problem! Not only is adopting from a busy shelter truly lifesaving, but our adopters are likely to be able to find pretty much any breed, size, age and type of animal they're looking for. We use this as a marketing opportunity, running weekly adoption specials and sharing the stories of the endless variety of pets in our shelter. In May, we adopted more than 600 pets to new families and in June, we're going for 800! We hold regular adoption events and at the end of every month we spread the good news about how many pets found homes.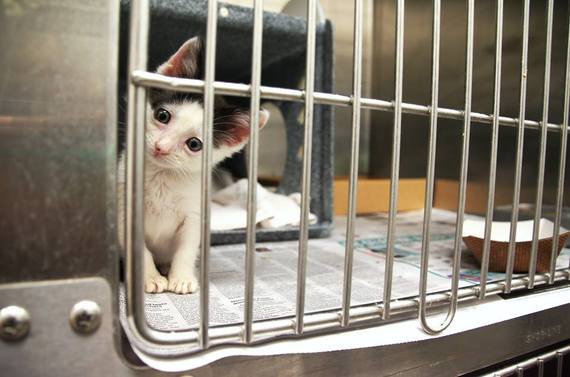 You're sure to find a kitten just as cute as this one if you visit your local shelter during the busy spring and summer months!

We communicate honestly and ask the community to go the extra mile. Over the past few weeks, all our kennels have been full and we've had more than 1,200 animals in our care, about half of those in foster homes. When more storms hit, we knew we had very little space left so we decided to invite people to help us keep animals out of the shelter. When people came in with stray animals, we met with them, took a found report and a photo, scanned for a microchip and asked the finder if they could hold the pet for a couple of days to give the owner a chance to find it. We offered food, supplies and crates and in more than half the cases, the finders were happy to help hold animals to give owners a chance to find them. Sometimes people just couldn't hold on to the pet, and we took those animals in, but it helped reduce our overall intake and better serve the 50 or so animals each day who needed our help - those who were sick, injured or otherwise truly homeless.

We don't shy away from sharing the hard stuff along with all the happy news. This commitment to transparency has helped us earn people's trust and has led to many amazing acts of kindness. Just the other day, one person bought Kong toys and Nylabones for every single dog in our shelter. She brought them in a big cart and said she wanted to make sure the dogs weren't bored in their kennels during the rainy weather. Once in a while, people ask us, "Don't people ever get tired of helping you?" We've found the answer to be be a resounding, "No!" What we've learned is people want to be given the chance to contribute to the efforts that keep homeless animals alive. Whether they're advocates, volunteers or just animal lovers, people want to help!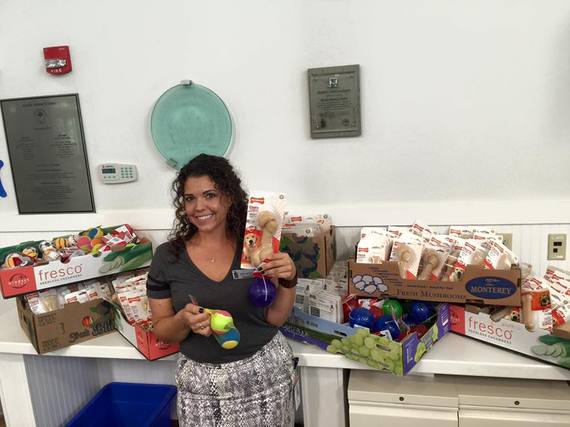 She bought toys for every single dog in the shelter! There were a lot of wagging tails that day and her story inspired others to give.

Our partners are at the heart of what we do. Our community partnerships are critical to maintaining No Kill in Austin. Our largest rescue partner, Austin Pets Alive!, takes nearly 4,000 of our most at-risk animals every year. This includes bottle baby kittens, puppies with Parvovirus, pets with special medical and behavioral needs and mothers with newborn babies. Austin Humane Society takes hundreds of animals from us each year and partners with us to spay and neuter thousands of community cats every year. Emancipet provided spay/neuter surgeries and vaccines to more than 20,000 Austin pets last year, helping us reduce the number of puppies and kittens being born in our community and reducing shelter intake. Beyond these three key partners, we work with more than 100 rescue groups who help us save everything from iguanas to opossums to goldfish to Labrador retrievers. To learn more about the partnerships that make Austin No Kill, check out this earlier post on the subject.
Earlier this year, Austin celebrated its five-year anniversary of being America's largest No Kill city. In 2008, the city of Austin euthanized more than 4,200 dogs in just one year. By 2015, that number had fallen by 90 percent to just 420. Today, more than 95% of the 18,000 animals who come through our doors each year make it out alive through adoption, rescue and foster placement. Over the past five years, we've learned so many lessons. But the biggest lesson of all may be this: When your shelter decides the only acceptable solution is lifesaving, and opens its doors to accept help in any form, you'll be amazed at what people will do to support No Kill, even when times are tough.
Related
Popular in the Community