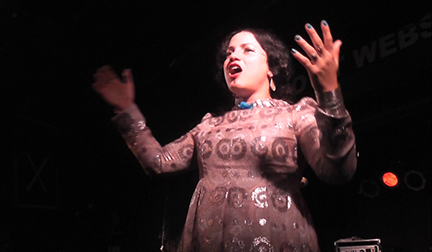 It took over an hour for the sound check. Now you've got a full house enraptured by your music. You're going full throttle, the audience is totally with you, and then--
No amplification. Nada.
I present to you two performances I captured, and consider myself fortunate to have done so.
In each case, the artists hardly missed a beat, and not only carried the show, but got the audience screaming for more.
Most recently, Tunisian singer-songwriter Emel Mathlouthi performed at GlobalFEST. (She had previously appeared in NYC at Crossing the Line fest and last Oct as part of the highly recommended Live@365 series.) Webster Hall's Studio room was packed. Described in the program as "Electro-inspired voice of Tunisia's Arab Spring" she was accompanied by synths and drums and as such she was delivering a solid show, and keeping the audience of presenters and other music biz types swaying and clapping. I was having a tough time shooting in the crowded room, and after the 5th person bumped into me and ruined the shot, I got ticked off enough to rudely elbow my way into the front of the room. And that's when it happened. The PA imploded. And that's how I caught Emel's most engaging song of the set; one in which her warmth and humor really shone. My thanks to Michael Jones for taking my camcorder sound and making it listenable.
On a larger scale, the next video is from quite a few months back, when I was covering the excellent Colours of Ostrova Festival in Czech Republic. It's a mammoth festival by any standards, with multiple stages spread over many acres, all dominated by the Dolni Vitkovice, the rusting hulk of a now defunct mining and refinery complex. On the outer fringes of the site, a tent holding several hundred people also had some of the more intriguing acts. It also had extremely challenging lights and sound given my equipment. But again, I found myself attempting to cover Lo Còr de la Plana and Ve Zou Via, two primarily a capella and percussion groups (Ve Zou Via does use an accordion) collaborating on one stage. The 6 men and 4 women were pretty much tearing it apart (though I found the volume to be overdriven) when the electricity blew. The tent was suddenly illuminated by natural light, and within a minute the singers had decided which song to sing, came to the front of the stage and proceeded to sing a most soulful song, electronic distortion free.
It is worth noting the extreme musical/cultural differences of these performances. One is purely monodic (once the PA blows and the synths cut out) and the other is polyphonic.
For more about Emel Mathlouthi: http://eyefortalent.com/index.cfm/fuseaction/artist.detail/artist_id/191
For more about GlobalFEST: http://www.globalfest-ny.org/
For more about Colours of Ostrava: http://www.colours.cz/en
For more about Lo Còr de la Plana: http://almaartistbooking.com/lo-cor-de-la-plana/
For more about Ve Zou Via: http://www.suonitineranti.com/Assurd.html
For more of Michal's original world music videos, visit: http://inter-muse.com
Calling all HuffPost superfans!
Sign up for membership to become a founding member and help shape HuffPost's next chapter