Imagine if you lost your Internet service. Picture having no email capability or access to Net-based information for days, even weeks. Yikes! How would the loss of the Internet affect your daily work?
But now let's thicken the plot. Imagine if your job were the emergency feeding of millions of people following a natural disaster. You would need to organize and communicate quickly and effectively with others. At this point the Internet is far more than just a luxury or convenience. Lives depend on it.
The UN World Food Programme (WFP), the largest hunger-relief organization, makes Internet connectivity a top priority when disaster strikes. Basic Internet, which many of us take for granted, is often damaged or not available in afflicted, impoverished areas.
After the earthquake in Nepal last month, WFP quickly dispatched a team of technical experts to restore Internet communications. They are called the Emergency Telecommunications Cluster (ETC).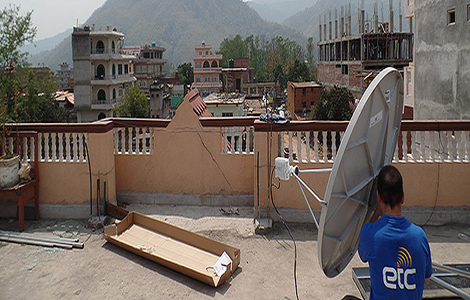 The WFP's Emergency Telecommunications team restoring Internet connectivity in Nepal that had been lost following the massive earthquake. (Photo credit: WFP/Mariko Hall)
This elite team allows WFP and partner agencies to have Internet capability as they help earthquake victims. This enhanced communication helps fuel the effort to feed millions of people. This leads to food in the hands of a hungry child. It means WFP rations delivered to a family that has lost all its food supplies and income.
The better the communication, the more effective the relief response. WFP officer Mariko Hall explains:
The response community needs Internet for uploading assessment data, for example, and ordering relief supplies. They use our services for communicating with their teams in other field locations, with Kathmandu and also their international headquarters. They also use our connectivity for communicating with their families, which helps them to maintain pace in these challenging situations.
Samaritan's Purse, one of the charities operating in Nepal, says the Internet is their lifeline. It helps them speed the delivery of aid. In the days after the quake, Samaritan's Purse said, "For people so hungry that they have been digging scraps of food out of the rubble, there was no time to waste."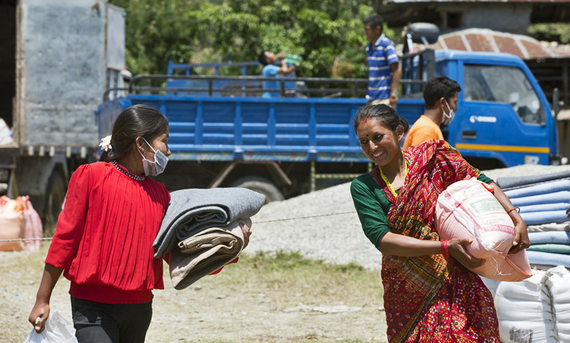 Food, blankets, and kitchen kits will meet the needs of earthquake survivors who lost everything. (Photo courtesy of Samaritan's Purse)
Daniella Malave, Programme Coordinator with Samaritan's Purse, says:
With the internet, we can communicate with headquarters to swiftly make decisions, or with heads of different districts and other NGOs to coordinate the response. It is crucial that we all have access to the same information, and work from the same information, to avoid duplication and ensure the best response possible.
After the earthquake hit Nepal, many roads were damaged and filled with debris. This poses a huge problem for moving food aid around the country.
The WFP logistics website and mailing list keeps tracks of which roads are open or closed. The relief agencies can access this information, including maps. This helps plan how to move the food aid most efficiently and quickly to where it's needed.
WFP relies entirely on voluntary donations to provide food aid and these crucial Internet services. It's vital that the international community provide the funds so that this humanitarian aid may be available.
The Internet is an amazing tool for communication. We see the best example of this in the conflict and disaster zones of the world. For when it matters the most, Internet communication is literally a lifesaver.
Related
Popular in the Community