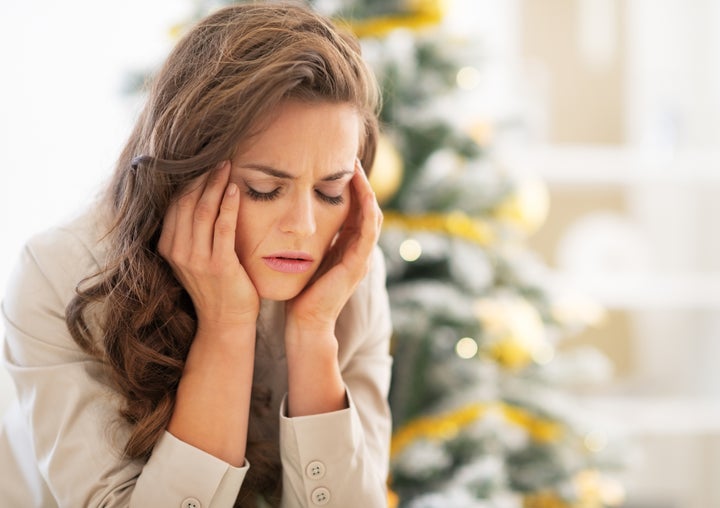 Stuffed turkeys and yuletide carols might be the stuff of holiday cheer, but when you're grieving, twinkling lights and festive dishes could simply be salt on your open wounds. The holidays – with their ubiquitous scents, sounds, sights and feelings – likely reminds you of a happier time, or simply a time spent with someone you loved who is gone. Your "ghosts" of Christmases, Thanksgivings, New Years' or Hanukahs past might still be haunting you this holiday season. Here's what you can do to get through it.
You've heard the old adage that a failure to plan is a plan to fail. If you're dreading the holiday season, the last thing you want to do is make plans for it. But guess what? Avoiding the holidays – like avoiding your grief – will only make it worse. Plan where you'll be and who you'll be with for any major holidays you celebrate. Make sure to choose company that understands what you're going through and can act as a support system for you. If other family members are grieving, talk about how each family member feels comfortable celebrating. What is comforting for one might be painful for another, so be candid with your feelings.
Take care of yourself first
Regardless of what you're going through, the holiday season can be draining. But when you're grieving, the stress of family plans, work obligations, gift lists and party planning can seem insurmountable. During this time, give yourself the greatest gift you can: self-care. Practice healthy nutrition, good sleep habits and engage in some quiet relaxation or meditation on a daily basis. Don't feel guilty for skipping out on your office holiday party in order to relax and recharge. Only you know how to best care for yourself, so if that involves surrounding yourself with family and friends, do it. If it means quiet time alone, that's okay too.
If you're like most people, "help" is a four-letter word you try to avoid. But when you're grieving, you need support. Sadly, after a death, even though your friends and family want to help, they simply don't know how. That's where you come in. Don't be afraid to ask for help – and to do so specifically. If you need someone to simply give you a call every day to lift your spirits, ASK! Believe me, people want to help; they just need you to tell them how to do so effectively.
Grieving has a way of turning our feelings inward. That's only natural, as you are forced to confront your new reality of a life without a person or relationship you valued. But one of the best ways for you to get the focus off your grief is to simply lend a helping hand. Fortunately, charitable opportunities abound this time of the year, so find a good cause and get involved. Whether you're simply dropping change in a collection jar or organizing a food drive from scratch, serving others is both comforting and healing throughout the grieving process.
Remember that you're unique
Unless you live in a Hallmark original movie, holidays are rarely perfect – for anyone, let alone someone suffering through a loss. Be careful not to compare your holiday celebrations with those of a friend, family member or acquaintance (which likely looks more picture-perfect on social media than it was in reality). Likewise, don't feel pressure to grieve in a certain way, either. There's no guilt in enjoying a holiday gathering or event, even if your loss is recent.
Grief knows no season, but it can certainly be accentuated by memories of a certain time of year. If you need a little extra help through the holiday season, a professional grief counselor might be your best resource. I know how hard this time of year can be for my clients, and I have specific exercises and habits to help make it more manageable (or even enjoyable). For more information on grief counseling, visit thegriefgirl.com.