Annie* was just 8 years old when her Southern Baptist parents started taking her to protest outside abortion clinics in Southern California. She marched in anti-abortion rallies, stood outside clinics with signs, and volunteered at crisis pregnancy centers.
Now, looking back at age 29, Annie wishes her parents hadn't pushed her so hard to actively participate in a cause she didn't quite understand at the time.
"I know, somewhere," she told HuffPost, "there's a picture of me holding a sign as a kid that read, 'Would You Kill Me, Too?'"
"[Being forced to protest at such a young age] made me yell slogans for an issue I did not comprehend, and I deeply regret the hurt I probably caused as a child," said Annie. "I remember women walking past me into a clinic, crying when they saw me."
Annie's experiences as a young child in the anti-abortion movement (if not her feelings about those experiences) are far from unique. Across the U.S., kids of all ages are woken up early on Saturday mornings and brought to local abortion clinics to protest with their parents. They pray, sing, pass out fliers, decorate sidewalks with chalk, or hold signs and posters.
While passing down religious and political beliefs is a natural part of parenting, and certainly not a bad thing, many patients, companions, clinic escorts and abortion providers that HuffPost spoke to question the role children are pushed to play in the anti-abortion movement. While anti-abortion leaders see children as an integral part of their protesting strategies, abortion rights advocates see young people being used as pawns to harass women making private health care decisions.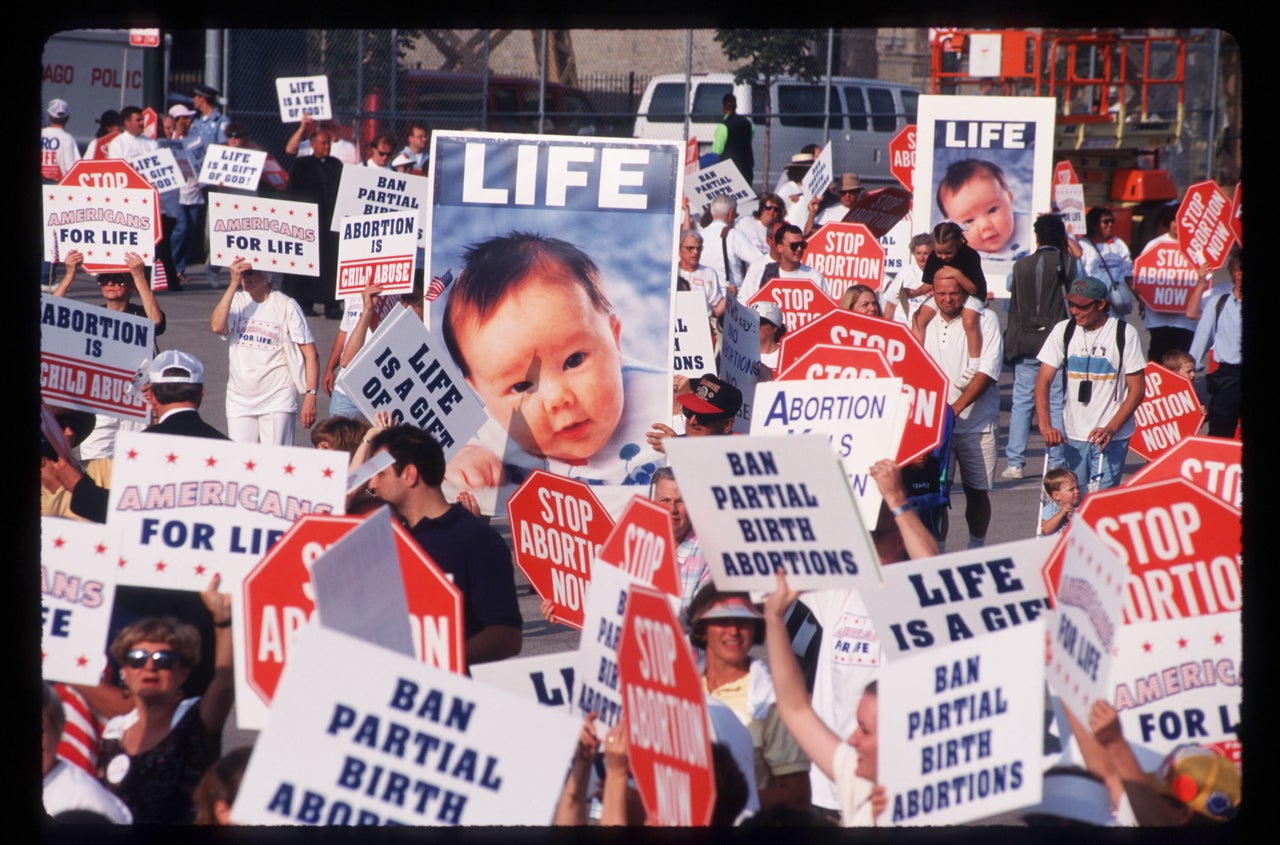 The anti-abortion movement has long used images of children in their marketing materials and posters. Protesters might carry posters featuring a baby or a young child's face, with words like, "Would you kill me, too?" overlaying the photo. Many volunteers at Crisis Pregnancy Centers pass out pamphlets and fliers outside abortion clinics that include photos of happy-looking families or smiling children.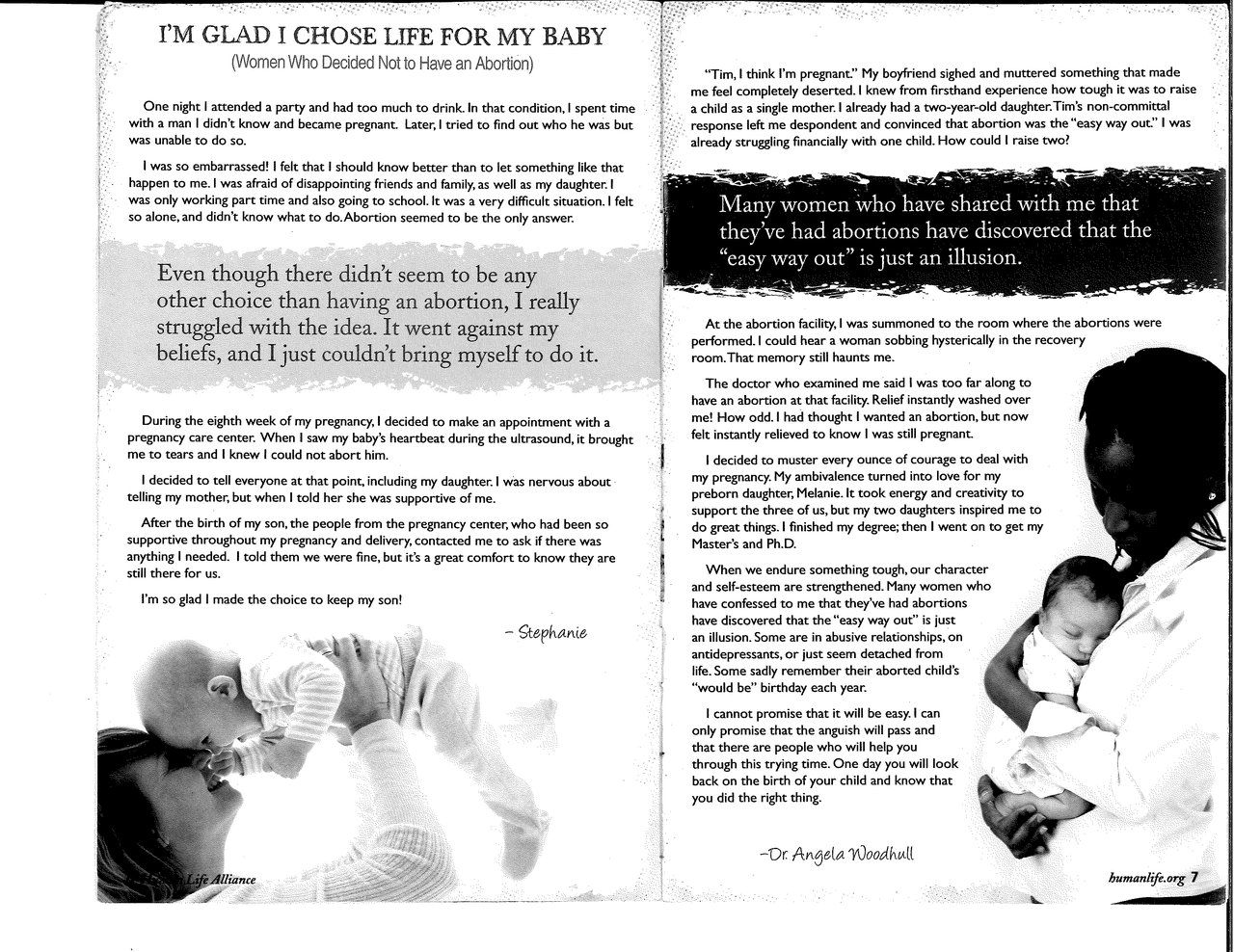 But the role children play extends outside of appearing on posters.
Kids are also leading prayers or engaging in group prayers led by religious leaders, speaking anti-abortion rhetoric into megaphones or microphones, and passing out literature from crisis pregnancy centers.
There is perhaps no better manifestation of the movement's use of children than last Saturday morning's Youth For Life march in Charlotte, North Carolina, outside of A Preferred Women's Health Center (APWHC), one of the biggest abortion providers in the south.
Love Life Charlotte, a conglomeration of churches in the Charlotte area who have come together to protest abortion access, was granted a parade permit by the city for Saturday morning for their Youth For Life march. According to Love Life Charlotte, about 40 churches bused in children of all ages to march outside the clinic.
Justin Reeder, the founder of Love Life Charlotte, told HuffPost that the event was an opportunity for youth members to "see how being pro-life is not just being against abortion but also offering love and life to those who feel abortion is their only option."
"As our nation continues to become more pro-life (Editor's note: a recent Gallup poll showed that 49 percent of Americans currently identify as "pro-choice" while 46 percent identify as "pro-life") it's important for young people to see how much love and life the Church can bring to those who feel abortion is their only option," Reeder said. "The youth are not engaging people, but rather praying that God ushers in a culture of love and life to a place where mothers feel so alone and afraid."
The youth march drew close to 1,000 participants on Saturday, according to Love Life Charlotte. The patients and patient companions that HuffPost heard from said that the sheer number of people marching outside the clinic coupled with the noise that they were making ensured an overwhelming and distressing experience for anyone moving in and out of APWHC. Two volunteer clinic escorts were so upset by the number of children participating in the demonstration that they left in tears.
Though Reeder said that the aim of the march was not to "engage" with the clinic's patients, the protest very much affected the appointments of APWHC'S patients. Although the participants never touched any of the patients, they did address them, often directly.
At one point, a 17-year-old member of Love Life Charlotte wept into a microphone, begging women who she called "Mom," not to murder their babies. A small group of kids performed live music into microphones so that their songs could be heard from inside the clinic.
A Preferred Women's Health Center is located at the bottom of Latrobe Drive, home to various local businesses on a wide two-lane road. Because Love Life Charlotte had been granted a parade permit, they were able to block off one of those lanes, thus disrupting the usual flow of traffic.
Members of the Charlotte-Mecklenburg Police Department were present to direct traffic and make sure members of all parties ― Love Life Charlotte, other anti-abortion groups, and Pro Choice Charlotte counter-protesters ― were abiding by all of the rules.
Calla Hales, clinic administrator at APWHC, has been skeptical of the police presence at these protests for a long time ― especially after an incident this summer in which members of CMPD were seen entertaining young kids from Love Life Charlotte while their parents prayed and protested outside APWHC.
(HuffPost reached out to CMPD for comment about this incident and did not hear back in time for publication.)
On Saturday morning, in preparation for the youth march, Hales had her staff pass out confidential questionnaires for patients to fill out once they'd made their way into the clinic. Just entering the clinic on Saturday meant passing not just the parade of children praying and singing at them, but also the usual gamut of aggressive protesters, and the three mobile crisis pregnancy centers and their nurses who often try to divert traffic away from the clinic.
Of the 22 patients or patient companions who filled out the questionnaires, which were obtained by HuffPost, 12 of them said that the number of people on the street made them consider leaving their already-hard-to-get appointments.
One woman wrote, "I was scared to death of all those protesters." Another person, who was a patient's companion, commented, "I should not have to watch my friend be shamed and emotionally attacked for one of the hardest personal choices she has ever made."
"They yelled into my car and embarrassed and upset my friend," a second patient companion wrote on their feedback form. "Music ridiculously loud, able to hear inside the clinic. Very disturbing."
And one woman, who had brought her daughter to the clinic, complained in her feedback form that on her way down Latrobe Drive to get to the clinic, she had been told by anti-abortion protesters to park "way way away from where I was supposed to be ― I am also handicapped."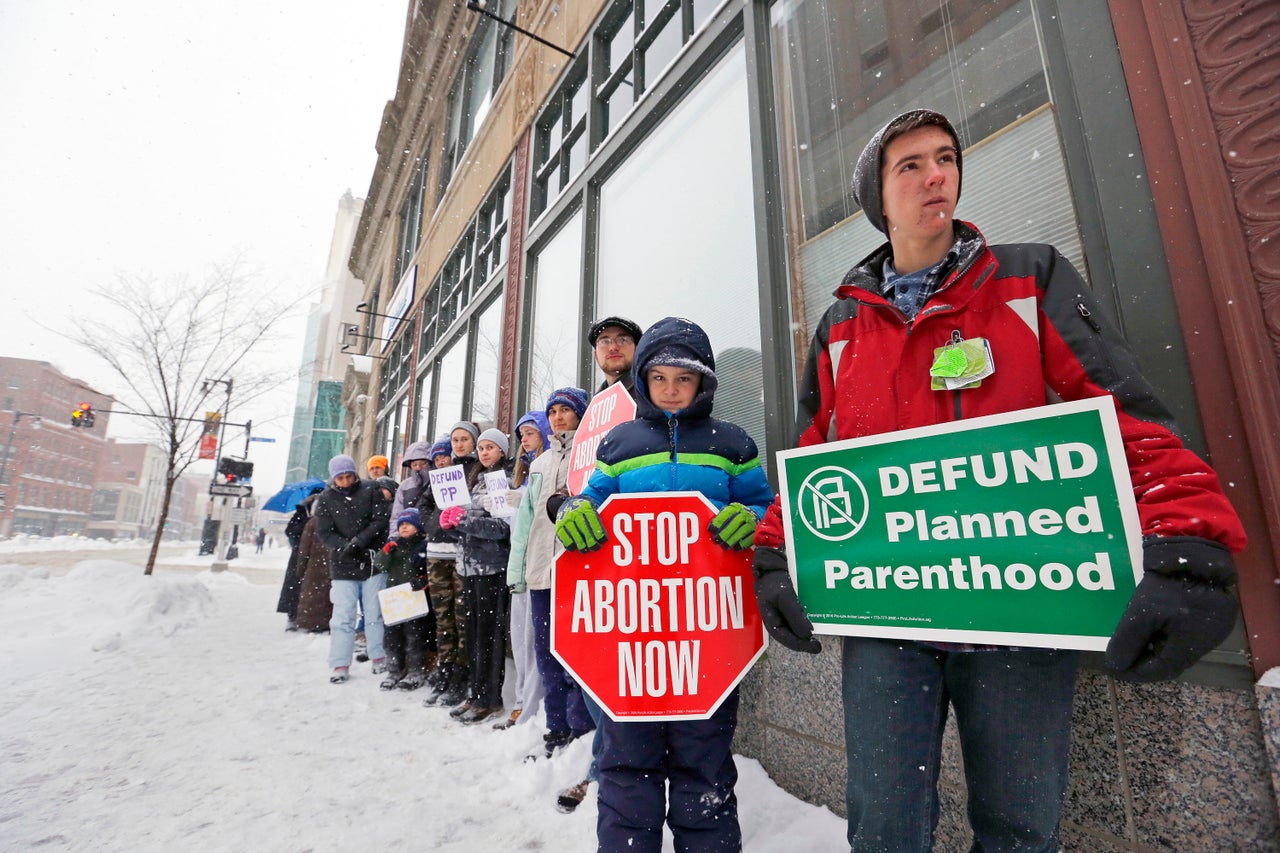 While Love Life Charlotte's youth march was an extreme example of child-based anti-abortion demonstrating, children all over the country are party to anti-abortion protests at the behest of their parents and their parents' religious groups. According to patients and clinic staffers that spoke to HuffPost, this participation sometimes crosses the line from simply attending a protest to engaging in harassment.
One volunteer clinic escort based in Atlanta, Karen, told HuffPost that at the clinic she volunteers at, she's seen an increase in this kind of harassment since the 2016 election.
"Since the election, we have a group from Abolish Human Abortion (AHA) and they often bring at least one little girl to participate in holding giant signs and speaking into the wireless-amplified megaphone," Karen said. "The little girl will read from the Bible or from an AHA script. It's clear [these girls] have no real understanding of what they are reading."
Karen recalled an incident in which one of these young girls looked at her and called her "evil."
"With direct eye-contact she asked me, 'Why are you doing this? Why do you want to make money off of murdering babies? Do you know you are evil? Do you know you will burn in hell?'" Karen told HuffPost. "It's chilling to see young children used this way ... I've seen babies being carried as props, and toddlers tagging along as props with the AHA group."
In Michigan at Northland Family Planning, one anti-abortion protester, Elvis Kesto, regularly brings his son, a toddler, to stand outside and protest with a sign that says, "Babies Are Murdered Here." Kesto regularly posts photos of this onto his Facebook page.
Jessica James, a clinic escort at Northland Family Planning, argues that forcing children to engage in the abortion debate outside clinics is akin to "religious and emotional abuse."
"My issue is with the long-term effects of what I consider to be religious and emotional abuse on a child that doesn't have a choice in the matter," Gird, who is training to be a social worker, told HuffPost.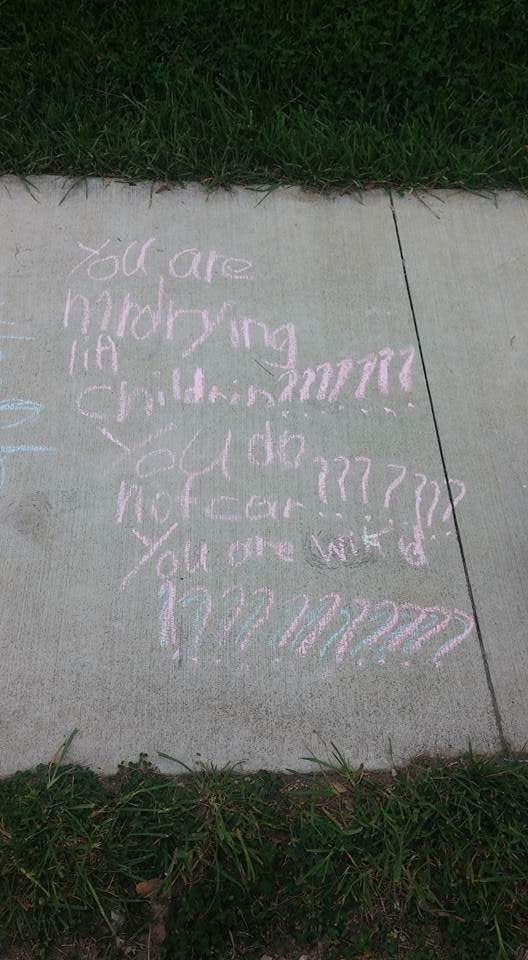 Steven Meyers, clinical psychologist and professor of psychology at Roosevelt University in Chicago, told HuffPost children that young "have limited perspective taking abilities, so they will have difficulty understanding what others experience."
"Their emerging cognitive abilities mean that they don't understand the complexity of issues and are more likely to perceive events in black-and-white terms," he said. "Their stage in moral development involves mainly pleasing their parents and avoiding punishment rather than having the ability at this point to grapple with abstract or complicated decisions."
In other words, anti-abortion protesters' kids will follow the lead of their parents, regardless of the emotional consequences it will have on patients, because of their innate want to do right by their mother and father.
Of course, parents across the political spectrum encourage their kids to engage in political discourse. There were many children at the Women's March on Washington the day after President Donald Trump's inauguration, and many of their photos and posters went viral.
Meyers sees a clear difference between the Women's March ― or any other peaceful march in a neutral space ― and anti-abortion protests, which often involve targeting individuals outside of clinics.
"The main difference between [the Women's March and anti-abortion protests] is the amount of conflict and negative emotion that children are exposed to at these events," he said. "Peaceful and orderly marches have the advantage of allowing parents to share their values with their children in ways that are more likely to be constructive teaching experiences. High conflict demonstrations can become more volatile and potentially distressing to young children."
Annie, whose political views have changed since she held signs outside her area abortion clinic, agrees with this assessment.
"I remember first hearing about the concept of abortion when I was 6, I believe, when Bill Clinton got elected," Annie told HuffPost. "My parents said it was a crime, for he wanted to kill babies."
She also said that she's had a hard time engaging in political demonstrations, because it brings back uncomfortable memories.
"I tried to attend an anti-Trump [protest] recently, and almost had a panic attack at the yelling, because it reminded me of the hurt I probably caused as a kid," she said. "Whenever I see kids in any sort of political protest now, I just want to hug them and hide them away, even if I fundamentally agree with the idea they're protesting."
By 11am on Saturday, after the Youth For Life rally and over an hour of marching and praying in the humid North Carolina end-of-summer heat, two young girls from Love Life Charlotte fainted.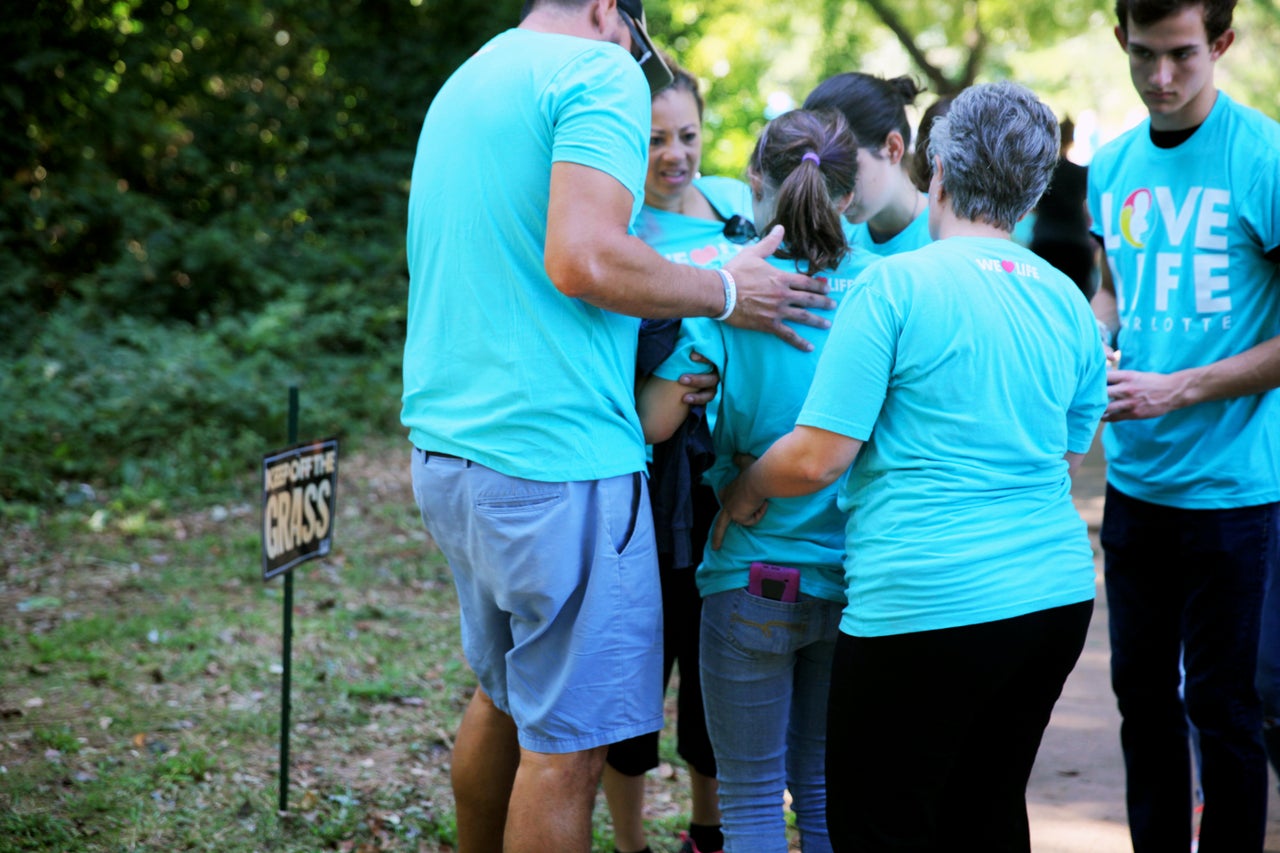 The two young teenagers were too faint to stand up. They were both ultimately fine, but the rest of Love Life Charlotte, including Reeder, carried on up the hill to finish their parade, while only a handful of youths and a couple of adults waited with the girls.
As all of this was happening, a member of another anti-choice group, Cities4Life, yelled prayers into a microphone, and begged women to come out of the clinic.
"Abortion is child abuse," he said.
Before You Go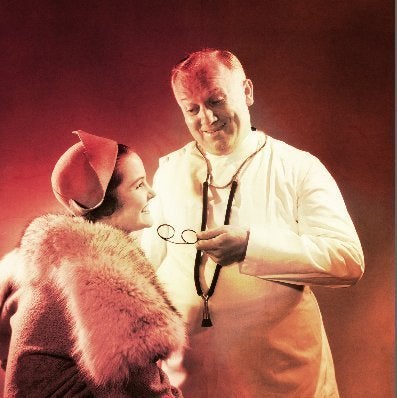 Myths About Abortion That Need To Be Busted
Popular in the Community