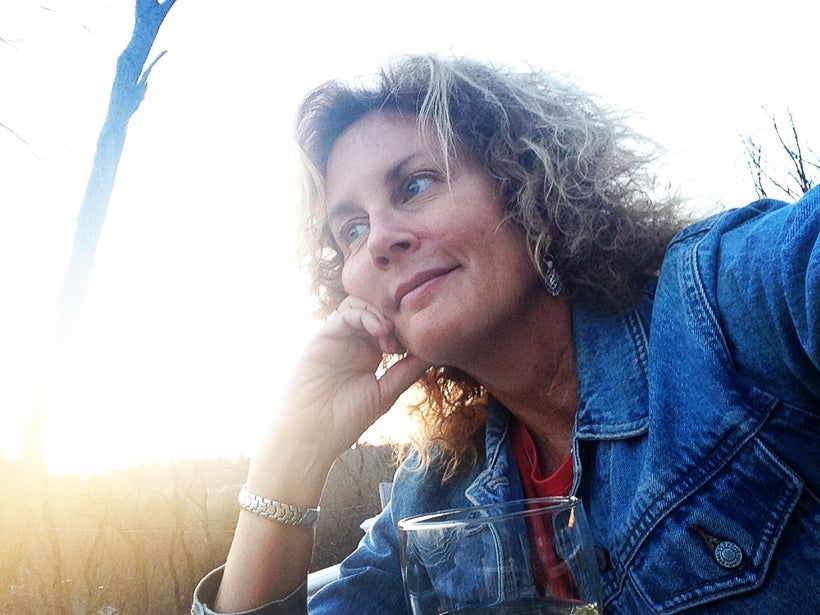 I knew it wouldn't be easy. But it was much harder than I thought.
It was my first day in a job for which I was clearly underqualified on paper but was committed to in heart. I had four children at home who deserved a better life than being caught in the crossfire of two parents battling a bitter divorce.
There was a suitcase full of excuses as to why I might not succeed. I hadn't worked outside the home in 14 years. I didn't have the Master's Degree that was 'preferred.' I had never worked as a hospital executive or a paid fundraiser. Yet I was absolutely certain I could be successful as the executive director of this hospital foundation. Why? Because I had to. Every night four mouths hung open in front of me like baby birds. I wasn't winning the legal battle in my divorce and my children were paying the price on public assistance. We needed a home, health insurance and autonomy. This job was our ticket to freedom.
I worked hard, endured long hours, and in less than two years was offered a CEO role at a larger hospital foundation. Within four years we raised $10.4 million on the heels of the largest hospital bankruptcy in U.S. history. Now recruiters were calling me. I was, by most standards, a success – at work; but, not at home.
The fast track to the top was easy for me. I was a strategic thinker and a connector. I taught myself new skills and volunteered to get experience. And I had purpose – the biggest purpose there could ever be – my children. But the more professional success I realized, the more detached I became from the very purpose that drove my life. I remember my second daughter asking me to play with her in our community pool one afternoon. I brushed off the request with an excuse that the water was too cold, and sat there wondering, "Why did I just do that? I love her and I love to swim."
I learned very early to develop my strengths and it paid off. I embraced my professional accomplishments because I felt I had earned them. What I neglected to embrace was my own self-worth outside of work. I skimmed over my personal value resulting in detached relationships because deep down I didn't think I deserved to be happy. Who would love me? After all I had spent so much time stifled and unhappy that I expected disappointment with regularity. The bottom line – I couldn't give love or feel it. And fixing that seemed impossible.
On the surface it looked like a rags to riches story but it was one dimensional. Our family was independent and I was known as a corporate turn-around expert but I was feeling more as if life had turned its back on me. I decided it would be my personal mission to discover how to undo this constrict. After all – change management was my strength so why not apply that to my personal life: 1) Research the problem, 2) Create a plan, 3) Execute, 4) Measure results.
1) Research the Problem: Self-help books were piled so high next to my bed I couldn't see the alarm clock. My children used to make fun of me for reading the same books Samantha's friends made fun of her for reading on Sex and the City. I wrote my first book, Starting Over, on this journey because I found that sharing purposeful advice forced me to reconcile the very issues that squeezed my freedom. I can't say exactly what day or event opened the window of clarity but when I caught my first breath of fresh air, from that point on I became a human spirit junkie. I could not get enough expertise on developing my self-awareness and mindfulness - the ability to pay attention to my thoughts without judgment or expectations. I learned that emotions are like dominoes. When we shut one off, they all fall.
2) Create a Plan: I realized that to survive the hurt of an unpalatable marriage I had shut down my ability to feel anything and in mastering that, I effectively cut off my connectedness to my very purpose – my children. And as for romance in my life – yes, I dated. But I was never in love, felt love, or expected to find "happily ever after at the end of a rainbow" anytime soon. So, to free my soul, I decided to immerse myself in vulnerability, gratitude and mindfulness. Dabbling would not do it. I had to jump in with both feet and admit, "Yes, this is really scary. I don't have it all figured out like everything else I do. But I am going allow myself to start feeling emotion again because I am awesome."
3) Execute: I didn't actually "feel" awesome. But I knew to do so was my goal so I practiced it. I adopted mindful daily routines. I started keeping a gratitude journal, writing thank you letters regularly, meditating, taking mindful walks, and setting daily intentions. For once I could actually smell liberty and see light as opposed to skirting the edge of an abyss that never ended. My hardy exterior, that had buttressed me in the man's business world, began to melt and I wondered if that would cost me professionally. What surprised me is that it did not. It actually served me well. I became not only more successful, I felt more aligned with people, was included in more things than I had time to participate, and most importantly accepted life on its terms, not mine, without assumption, doubt or expectation. And then one spring day I braved dinner with a man I had met on an Internet dating site, as I had fruitlessly done many times before, and for the first time ever I saw a rainbow. That relationship drew me to untether my heart and in the sunlight of that meadow I found love – the ability to love myself first. And then in the safety of two vulnerable hearts, our love for each other bloomed.
4) Measure the Results: The biggest result indicator of this journey for me was the love of my children. I had grown to realize that to give love I had to accept myself first with all my imperfections. To receive love, I had to love myself and everyone else with all their imperfections. And I had to forgive every instance the children and I had suffered merely for the sake that it suppressed our own rebirth.
Today the separation of miles between us wears not on the journey we travel hand in hand as a family. Intimacy grew where darkness had once been ubiquitous. Acceptance lit the path. All four of my children are thriving with strong work ethics and their own success. What I am most proud of is their depth of human spirit. They volunteer without acknowledgment and openly extend their hearts. We travel regularly to see each other, not to tour or attend functions but to spend long hours around the fireplace or on the porch laughing and loving. Group text messages abound during televised sporting events and Bluetooth is our favorite technology. Feeling and giving this love is the greatest reward of my life.
What I realize now after two decades as a CEO, four young adult children, a loving marriage, two books and years as an executive leadership coach is that the struggles people deal with, like mine, are related to their ability to search inside themselves for answers. When you can identify your own limiting assumptions, be present with your own discomfort without shutting down, and accept yourself without judgment, confidence grows and a rainbow appears at the end of which is a pot of freedom. It starts with you. It ends with excellence.
Corner Office Freedom Coach Mary Lee Gannon, ACC, CAE is an award winning speaker, author and president of StartingOverNow.com – a coaching and consulting firm that helps busy executive leaders and business owners get off the treadmill to nowhere with mindful confidence, connection and calm to have optimal performance, a higher six figure income and more time with the people who matter while it still matters. When you connect your head to your heart purpose emerges to drive vision and strategic focus. Her Corner Office Freedom Program intersects your self-awareness with self-acceptance for virtuoso leadership performance. Everything starts with you. It ends with excellence. Get her FREE book and 7-Day FREE Corner Office Leadership Challenge Course at http://startingovernow.com/7-day-leadership-challenge/ Contact Mary Lee at marylee@StartingOverNow.com or www.StartingOverNow.com
REAL LIFE. REAL NEWS. REAL VOICES.
Help us tell more of the stories that matter from voices that too often remain unheard.
This post was published on the now-closed HuffPost Contributor platform. Contributors control their own work and posted freely to our site. If you need to flag this entry as abusive,
send us an email
.