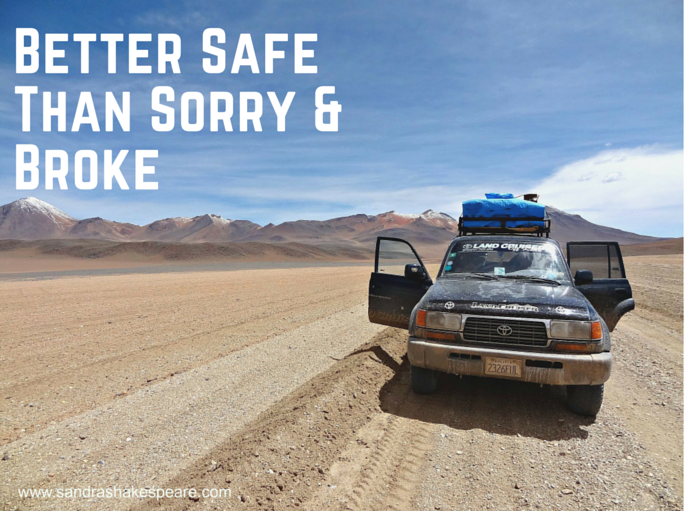 For many travellers planning a holiday, buying travel insurance is not the first thing that comes to mind. Unfortunately, sometimes going on a trip can mean you're faced with circumstances beyond your control. Terrorism, disease outbreaks, having an accident or being robbed are not events you can plan for. And when things go wrong this can have a huge impact, financially and otherwise. The question is, when you decide to get travel insurance and the unexpected happens, what does your travel insurance policy cover?
I had a few burning questions I needed some answers for, so I conducted some online research and spoke to Phil Sylvester, Chief Content and Communications Manager at www.worldnomads.com about why it's important and what it includes. 
Why get travel insurance?
Because no one can plan for getting sick, getting robbed or your hotel being forced to close prior to your arrival. Ensuring you invest in a policy as soon as you hand over payment to your travel agent, hotel or airline means you will be covered if anything deemed an 'unforeseen circumstances' occurs before or during your travels. 
What does travel insurance cover?
The three main areas that travel insurance covers are:
Medical costs and evacuation

Loss or theft of belongings

Cancellation or delay expenses
You can either buy all three of these as one package or buy them as individual policies.  It is important that you pick the right policy for yourself and your circumstances. Check the wording of the policies carefully. Providers tend to have different definitions or meanings for certain benefits - so if you're unclear give them a call and ask them to explain.
Rather surprisingly, I found that even if you're into bob sledding, zorbing, snow tubing, bungee jumping, abseiling or glacier walking - you can get cover. And, wait for it - World Nomads even cover air guitar playing and interpretative dancing amongst a few other unexpected activities. No kidding.
What isn't covered by travel insurance?
Doing illegal stuff and stupidity. If you want to jump over safety barriers, buy illegal drugs or disobey traffic law, you're generally not covered. Read the fine print on the policy you're buying but almost certainly - for that sort of stuff you're on your own.
On a more serious note, there's a few more things that insurance doesn't cover:
Pre-existing medical conditions, suicide, attempted suicide or self-harm, participation in military manoeuvres, and traveling for the purposes of medical treatment. 
Does travel insurance cover terrorism attacks or a contagious disease outbreak?
It's often believed that acts of terrorism are not covered, however this isn't entirely true.
As an attack of such nature falls in the category of 'unforeseen circumstance' you will still be covered for any of the following: 
Any medical expenses, medical evacuation, and repatriation if medically required, loss of belongings, trip interruption and cancellation costs.
World Nomads and several other reputable insurance companies I researched also provide emergency assistance teams who will keep you informed, put you in touch with consular officials and can get in touch with your family on your behalf. In the case of a major event, the insurer will supply an agent on the ground to liaise with you.
However, should you chose to travel to an area where there is ongoing terrorist activity, anything that happens to you directly or indirectly related to an act of terror would be void.
The same applies to contagious disease outbreak, a pandemic or epidemic. You should always check for any travel warnings ahead of your departure. If you find a warning for a country has been issued and you chose to go there anyway - you will be traveling without protection.
Do you need travel insurance for first world countries?
"Yes," Phil says. "The medical costs for a broken leg are the same if you are hit by a car or a rickshaw. In fact, medical costs can be higher in first world countries."
Medical evacuation costs are the same no matter where you are in the world. Costs for these range from tens of thousands of dollars up to hundreds of thousands of dollars. So if you're not Bill Gates, travel insurance is definitely something worth looking into.
Sandra a freelance writer and blogger. She spends most of her time writing about places she's travelled to on our awesome planet, the people that live on it and the things we eat here.
Calling all HuffPost superfans!
Sign up for membership to become a founding member and help shape HuffPost's next chapter
This post was published on the now-closed HuffPost Contributor platform. Contributors control their own work and posted freely to our site. If you need to flag this entry as abusive,
send us an email
.