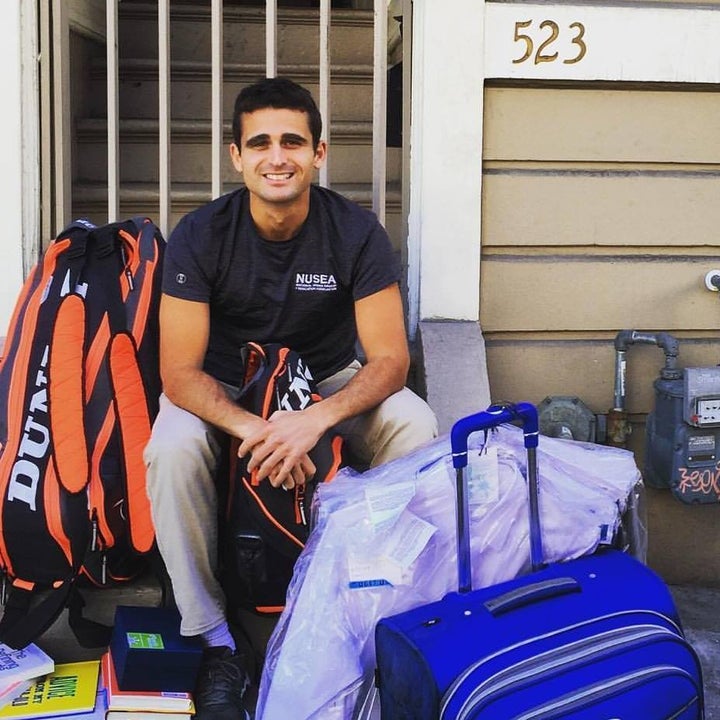 When to Jump, an independent media partner of The Huffington Post, is a curated community featuring the ideas and stories of people who have made the decision to leave something comfortable and chase a passion.
In a coffee shop across the country sits a man named Mike Lewis. There's something you should know about the man at the coffee shop…
His story is becoming well known, after he partnered with The Huffington Post to create a division called When to Jump, which is a platform designed to give voice to individuals making the jump to follow their hearts.
Mike says that he's had this dream for a long time. "It wouldn't go away." A nagging feeling wouldn't leave him alone. Mike couldn't tune it out anymore and decided to fly across the world to play Squash. No, not the vegetable, but the sport. Think indoor tennis, except much smaller, and twice as intense.
Mike wanted to play this sport internationally. "I had the dream to see the world using this sport, but I kept putting it off because it was never the right time to go. In working in the real world, you start to look down the barrel and realize there's never going to be a right time to go." Mike talked to people about his decision and began to enjoy the process of listening to all these people's stories of taking a huge risk in order to satiate that push his heart was feeling.
Mike talked to his friend Corey about it, and Corey pushed him to write down the stories of jumping that Mike had been collecting. "He believed in me," Mike says. So Mike went and traveled, and kept collecting stories.
16 months of traveling across the globe playing squash professionally and couch/hostel surfing from country to country. It was an incredibly formative time for Mike. He poured himself into new and exciting cultures and had intriguing conversations with his new friends about the jumps they took in order to follow their dreams.
"A lot of people are scared to share their idea. The best thing I found was that a lot of people believed in me before I believed in me. If you have a concept, you need to talk about it in order to make it feel more real."
While Mike was collecting stories, Corey passed away in an accident.
Since his friend's death, Mike has found new meaning to chasing his dreams. Corey pushed Mike to follow his heart, and Mike finds that his purpose now is to tell the stories of others jumping and following their hearts. Just like Corey had encouraged Mike to do, Mike now takes the role as chief encourager, dream pusher, and door opener.
Maybe that's why, as a writer I feel a deep respect for Mike Lewis. He wants to see others succeed. It's not about his name being recognizable, it never was. It was about believing in others, just like Corey believed in him. Mike loves to listen to inspiring stories of dream-chasers and gives them front and center on the Huffington Post When to Jump blog.
"I spoke to one woman in the Southeast, who jumped and it didn't work out. Hearing her story and understanding why it was still the right decision. Most people think a jump is only worthwhile if it works out and it was a compelling piece of evidence to the contrary. "
Mike's been writing his book, When to Jump, If the Life you Have, Isn't the Life You Want based on stories he began to collect back in 2013. In early 2018, it will be published by Macmillan and other foreign publishers worldwide. You can get updates on the release by joining his newsletter, whentojump.com/newsletter.
I asked Mike if he wants the book to make a difference, "I hope so. I hope it helps people. I hope it helps people. I'm not an expert on telling people how to live their lives. I think there should be some kind of texts out there that serves as a classic. A voice of encouragement. No one should have to do this alone. "
As an entrepreneur, I agree with Mike. No one should. Many days I'll scroll through the stories he's collected on When to Jump and read about people who have taken similar risks as I have. It gives me a sense of community. The noises of our respective coffee shops on opposite coasts drowns out the last sentence Mike says to me. The phone's signal dies in and out.
"Mike, is there anything else you want to add?" I ask before our signal cuts completely. "We all have a jump to make. It's important if you have something inside you, you should listen to it."
After the phone call ends, my mind drifts back to how I found a friendship with Mike Lewis. It happened the first week I had started my own business. I was blowing time scrolling through Instagram when someone from an account called, "When to Jump" had liked a picture of mine. My curiosity led me to their blog, and in twenty minutes I had written an article to submit about my own story. Mike published my story, and opened the door for me to write other articles on The Huffington Post for them, as well as for the Huffington Post blog.
Mike, Chief Door Opener, at it again.
Stories are only as powerful, as the voice that's telling it. Mike Lewis is giving the speechless their voices back and inspiring a movement. Check it out at whentojump.com, and sign up for his newsletter at whentojump.com/newsletter.
When to Jump, an independent media partner of The Huffington Post, is a curated community featuring the ideas and stories of people who have made the decision to leave something comfortable and chase a passion. You can follow When to Jump on Facebook, Instagram, and Twitter. For more stories like this one, sign up for the When to Jump newsletter here. (Note: The When to Jump newsletter is not managed by The Huffington Post.)
Related
Popular in the Community