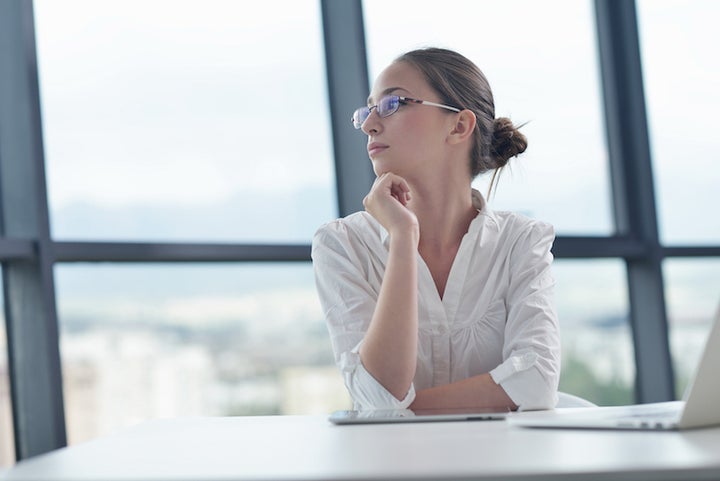 By: Caroline Ceniza-Levine
We all have dream companies or dream roles, and ideally your job search is targeted to that ideal. But what happens when you actually interview at the company you've always wanted, land a job there, but are disappointed at the offer? How much do you negotiate to make it work? Is the best strategy to get your foot in the door and work it out later? Or are you settling, blinded by your stubborn interest in the company? Here are three scenarios for when to turn down the dream job you thought you wanted:
It's not the job you thought it was
In both my recruiting work and my coaching work, I always encourage candidates to take a first interview if there is even a possible interest because it is only by participating in the hiring process that you really get to know the job enough to make a decision about it. Sure, you can research a company from afar. You can ask people you know who work there. You can take apart the job description to dissect the long-term expectations and day-to-day of your role and even ask people in similar roles for their firsthand experience.
But during the hiring process you meet with the person you would report to, the colleagues you would work with day-to-day, and perhaps even the staff who you would manage. You get to ask detailed questions about the job and confirm that the expectations and day-to-day are as advertised (more times than not, job descriptions are wrong). You get a deeper look at strategy and financials. If you aren't meeting enough people, getting your questions answered, or getting that close a look into the company, then you should ask for these things – an interview is a two-way dialogue. With all this additional information, your dream company or role might not hold up.
The money doesn't work
Sometimes the company and the role holds up in the due diligence of the hiring process but the offer extended does not. While compensation may not be the sole deciding factor, underweighting its significance is a mistake. You might be tempted to accept a lower base salary from where you are as an "investment" into your next company – trust me, the recruiter will make that argument (I certainly did!). You might overweight the bonus or growth prospects to try and make the compensation work. This could lead to overly optimistic projections or other dangerous assumptions that don't play out.
When an offer is dramatically different from what you expected, it could be because expectations weren't fully shared during the process – you might not have clearly expressed your minimum acceptable package, or the company might not have revealed its compensation structure. But sometimes compensation is determined after the hiring process plays out – e.g., the company decides you are at a Director level, rather than VP, and therefore the package is not what you were counting on. It is not always possible to ensure the money equation will work before embarking on the full hiring process.
The timing doesn't work
Sometimes the process isn't quick enough. I have worked on many a search where an ideal candidate was identified but s/he is already in late stages for another employer. Sometimes the company is firm on a start date you can't accommodate. I have worked on searches where the new hire needs to be in place for a specific event date and some candidates, especially at senior levels, may need to give much more notice to their current employer. Sometimes your dream job arises shortly after you've already made a move. You would have to determine if you're willing to leave your current new employer so soon.
Many times you can negotiate around timing. If you are in late stages for one employer, let your dream company know as they might be able to dramatically speed up their process. At the same time, slow down the other process by scheduling follow-up as late as you can and by asking lots of questions. If start date is the bottleneck, get creative. One HR executive started her new role while transitioning at her old role. Yes, she had a crazy, unsustainable schedule for two months but it enabled her to accept the new role and still finish her old commitments. Finally, if your dream job arises too late because you accepted another offer, you can still maintain a relationship for the future if not now.
You always want multiple leads in play ― not just because you may not get your dream job, but because even your dream job that you think you'd accept wholeheartedly may not play out as expected despite hard work on both sides of the table. I have coached many smart, experienced professionals who could not make an offer work:an experienced media executive whose dream offer from an incubator turned out to be a turnaround rather than growth situation, as the financials were weaker than expected; an operations executive whose dream firm couldn't match her current equity package meaning a five-figure drop in overall compensation; a consumer goods executive whose dream role opened up only after she accepted another significant job. In all of these cases, the overall career prospects remained strong because each of these professionals had other alternatives and accounted for the big picture. The immediate situations, while disappointing, helped them confirm priorities. Being able to say No is the ultimate leverage and sometimes you need to do just that.
This article previously appeared on ​Forbes.
Caroline Ceniza-Levine is a career and business coach with SixFigureStart®. She has worked with executives from Amazon, American Express, Condé Nast, Gilt, Goldman Sachs, Google, McKinsey, and other leading firms. She's also a stand-up comic, so she's not your typical coach.
Ellevate Network is a global women's network: the essential resource for professional women who create, inspire and lead. Together, we #InvestInWomen.
REAL LIFE. REAL NEWS. REAL VOICES.
Help us tell more of the stories that matter from voices that too often remain unheard.