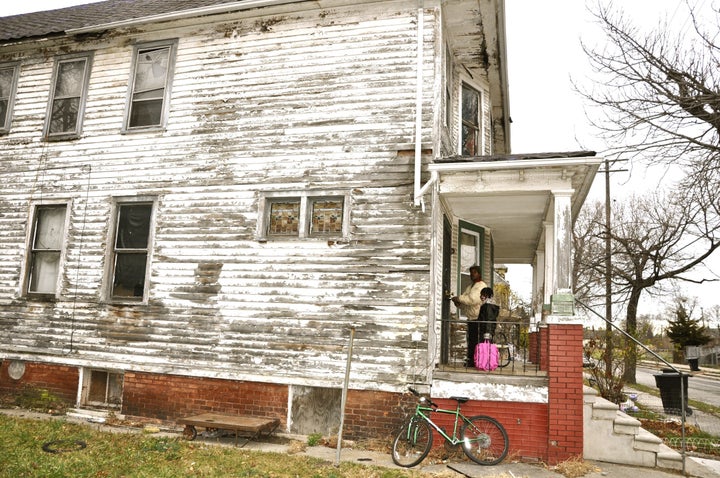 This story is part of HuffPost Impact's 12 Days, 12 Cities, 12 Families series, highlighting Americans who have persevered to overcome incredible challenges and the nonprofits that helped change their lives. Check back tomorrow for the conclusion of this series.
Among the polka dot houses and trash sculptures of Detroit's famed Heidelberg Project, you'll often spot Stephen Snead priming a wall or shoveling snow from a painted sidewalk. Snead, 42, is a native Detroiter and has lived near the project for almost his entire life. But almost six years ago, a series of unrelated tragedies changed Snead's life.
"2004 was actually a horrific year for me," Snead described. "On February the 21st, my nephew got married and the same day he got married, my house caught fire. In April, another one of my nephews was shot and killed. In July, I lost my mother. And then later on that year, the week before Thanksgiving, the job that I was working at for 13 years decided to close their doors. It's been hard ever since."
Nothing in Snead's story is so uncommon. A couch sitting too close to a radiator, an act of random violence and one job of millions lost as the great Motor City continues its slow degeneration. Snead struggled to find work as his experience at a laundry that washed the uniforms of car assembly workers and the napkins from their canteens had no value when the manufacturing plants and restaurants shut down. He borrowed space in the upper level of an old friend's duplex, down the street from his old family home, filed for a few months of unemployment and searched for a way to make ends meet. It was hard -- each blow darkened his spirit a bit more.
More uncommon was what Snead didn't do next. He didn't mope. He didn't move away from the community his father was born in, that he loved, in search of a job that would take him far from his close circle of family and neighbors. He didn't stop taking his youngest of three daughters to school every day or picking her up so he could help her with her homework in the evenings. Snead responded to these combined tragedies with thoughtfulness and innovation, and turned to his community to find ways to use his time that would help others.
"I love to help people," Snead said. "I love to do good things because I think we have a lack of people that do good things." Back when Snead was a kid, he said, he used to take out the elderly's trash and salt their sidewalks, because that's what people did for others. Now, he explained, with their children in far-flung cities in pursuit of steady work and neighborhood kids into video games and gangs, the elderly in his community had to fend for themselves. So in the little ways he could, Snead tried to relieve their burden a little.
"I do a lot of stuff for them. Making sure that their sidewalks don't have snow so they don't slip and fall. I take care of their yards. If they need their roofs repaired, I help them with that because people can't afford thousands of dollars to fix their roof. I do a lot of odd jobs. Everybody in the neighborhood knows me."
His neighbors paid him where they could. But kindness couldn't pay for Snead's dinner.
Stephen Snead on his bicycle
Handyman With The Soul Of An Artist
In 2007, he approached an old neighbor who had grown up with his brothers. Tyree Guyton had become a bit of a neighborhood celebrity for his wild Heildelberg Project, a two-block area of Detroit's East Side that he has painted, repurposed and renewed into a living community art project. While many Heidelberg residents remain in their original houses, the area has also attracted thousands of art lovers who wander the street and picnic in empty lots filled with sculptures.
"When I had a few hardships, I went to him to ask if I could do anything to help to make some money so I could eat," Snead explained. He knew he could do just about any kind of handiwork Guyton asked him to do and the idea of working on the giant art project intrigued him. He was a bit of an artist himself -- carving canes and jewelry out of wood, and making candles back when he had a home to keep the equipment in. He needed a job, but he also wanted to be a part of an art project that actively prevented his beloved neighborhood from being consigned to the annals of American history.
"He kept coming, Guyton laughed. "He was very persistent. One day we had a job for him and he came and he's been here ever since."
Though the Heidelberg Project hasn't taken him on full-time, you can see Snead there almost every day. This time of year, the sidewalks need shoveling and Guyton knows he can count on Snead to fix any pieces of art that have been knocked down by the wind. In the summer, Snead acts as Guyton's assistant, priming workspaces, supervising projects or offering advice and bits of salvaged artifacts that could be used in one of the artist's next pieces.
Occasionally, Snead surprises Guyton and others at the project with his wealth of skills. After moving into a new office, Snead offered to lay a new hardwood floor in the space by himself, piece by piece.
"He's a person that is very wise, he has a lot of information about life," Guyton said. "To have Steve to play a part in doing what we do, having conversations about life in general, has been a big help."
Though he hopes to soon find some kind of full-time job, Snead plans to keep working on the Heidelberg Project as long as Guyton will have him by his side. "I love working with him and I consider this a nine to five job. It doesn't pay like people expect, but it helps."
Snead is proud of his work there and it has allowed him to meet people from all over the world who come to see the internationally recognized neighborhood art. But of the hundreds of thousands who visit each year, he cherishes most the chance to show his daughters his handiwork.
"They love it and they know me as an artist too," he said. "They love to see what their dad is doing. My youngest daughter has even put a few polka dots here and there."
Still, this is not the life that he wants for his children. Without full-time work, Snead still technically squats in his friend's duplex while his girls live with his wife, whom he's been separated from since before the fire. His dreams of owning a landscaping business of his own or buying and fixing up one of the old houses down the street still feel far from coming true.
Art and kindness can fill the void that his personal tragedies have rendered within him, but they can't pay the bills or buy Christmas gifts for his family, at least not for now.
Calling all HuffPost superfans!
Sign up for membership to become a founding member and help shape HuffPost's next chapter