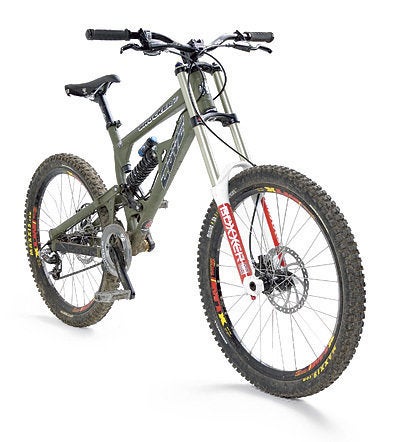 Two weeks ago TreeHugger founder and green visionary Graham Hill spoke about the sustainability of beauty in design. "We save beauty," Graham said. Beautiful things of quality stay with us. We tend to save and protect them. I agree with Graham, especially when it comes to items of design kept inside the home.
But sometimes choosing the ugly products makes more sense, especially when it comes to protecting your green ride -- your bike -- from thieves.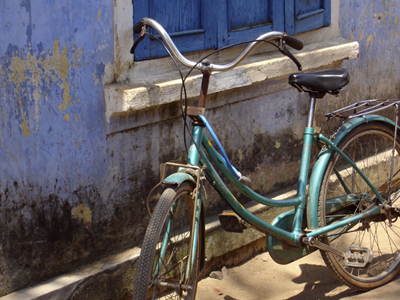 Bicycles are a great way to get around the city, and when I moved to Tel Aviv found I could easily rip through traffic and across town, in half the time that private cars and buses would take. Besides the health benefits, biking makes green sense too. Using one reduces pollution in your city and can often save you time: You can jump curbs and veer around garbage truck blocking you from getting to work.
But when buying a bike, sometimes ugly is better than beautiful. Over here in Israel, I've gone through about seven different bikes in as many years. The relative speed at which each bike was stolen was related to how beautiful it was. The more beautiful the bike, the faster it would disappear.
Consider the following examples:
Bike #1: A new 21-speed mountain bike loaner from a boyfriend.
Time till stolen: About 1 week, from my office in Tel Aviv.
Ugliness factor: 2 (scale of 1 to 10, 10 being the most ugly)
Bike #2: A new flashy city cruiser, with wide handlebars, painted in metallic purple, a real head turner. Bought from a friend returning to New Zealand.
Time till stolen: About 2 months, off the front porch of my ceramic studio where it was locked. Later it was found, but new "owner" chased after me wielding his fist when I tried to reclaim it.
Ugliness factor: 0
Bike #3: A rusty 1960s super cycle, painted baby blue, with white-rimmed tires and a basket. Pedal brakes.
Time till stolen: 2 years, from the lobby of my apartment where it was unlocked. Last seen in south Tel Aviv converted into a rickshaw.
Ugliness factor: 6
Bike #4: A super ugly, rusty, lime green Polish version of a BMX bike. It was so ugly that I was sure that this was the last bike I'd ever have to buy.
Time till stolen: About 2 years, from the electricity pole outside my apartment in Jerusalem.
Ugliness factor: 9
Notice a pattern? Ugly lasts longer.
We'd like to add our experiences living in Toronto. While the purchase of a lean, mean, sturdy city bike, light enough for lifting up flights of stairs, is a cyclist's fantasy, the clever bike owners (who dished out a lot of cash for their ride) would do various things to uglify their bikes to make them unattractive to thieves:
Some tips to "ugly" your bike:
1.Remove any flashy stickers or brand name labels from your bike.
2.Buy second hand so the bike already looks worn.
3.Repaint it with a cheap matte black or army green spray paint. Don't be modest with the paint. Over-spraying is a good thing. Not on the gears, chain, or brakes though.
4.Decorate it with ugly stickers, possibly a car air freshener, or fake animal fur.
5.Attach a milk crate or a rusty rack for carrying stuff.
6.Fake rust your bike with modern spray paint from the hardware store.
7.Tear a hole in your saddle (when it's raining cover with plastic bag).
8.Add some duct tape to the frame.
9.Consider adding some streamers or spokey dokeys.
10.Visit U-G-L-Y Your Bike, a great how-to guide that offers step-by-step tips to keep your "first class ride" from the hands of thieves.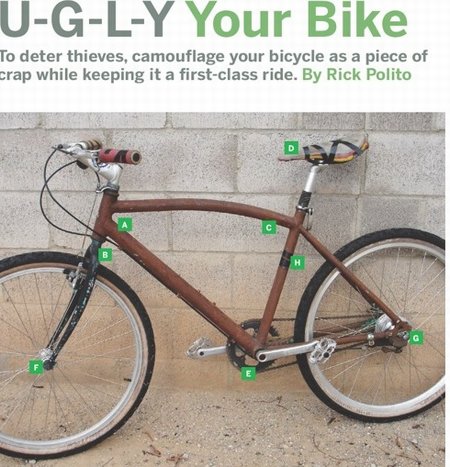 "Nature is a master of disguise. The tiger swallowtail caterpillar starts out as a bird dropping to discourage hungry birds...having an ugly bike doesn't mean having a junky bike. A bike thief may see the gem under the Krylon, but he also knows he can't sell it as quickly as the tricked out speedster at the other end of the bike rack."

And if you insist on buying a beautiful bike, consider the 19 pound folding Strida. The beautiful bike will invoke envy, and will let everyone know just how good your taste is. Folding small enough to take on the subway, on the bus or train, it can hang in your closet when not in use, or rest under your desk in the office. It will be spared from the drooling mouths of thieves, and is pretty enough that you'll want to keep it forever. But if you can't afford the $800 price tag, buy an ugly bike. You'll have it for a long time.
Related
Popular in the Community