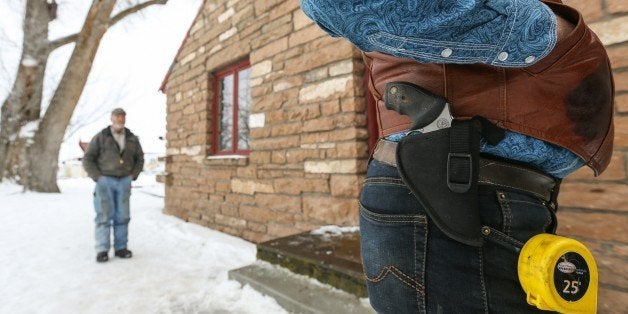 On May 28, Gun Owners of America (GOA) executive director emeritus Larry Pratt appeared on the "Gun Owner News Hour" radio program with host Robert Knight. The two discussed the prospect of another Democratic president following Barack Obama and Pratt mused, "If a liberal Democrat is elected president, then there goes the Supreme Court. It could be two, three, four Justices [nominated to the Court by the next president] and I think the Second Amendment would be in great peril if that happens." Then the ardent insurrectionist's rhetoric took on a darker tone as he commented:
At that point, we would have to come to an understanding, which we've been sort of taught, it's been taught out of us, that the courts do not have the last word on what the Constitution is. They decide particular cases. They don't make law. Their decisions, unlike the Roe v. Wade usurpation, don't extend to the whole of society. They're not supposed to. And we may have to reassert that proper constitutional balance, and it may not be pretty. So I'd much rather have an election where we solve this matter at the ballot box than have to resort to the bullet box.
If Pratt was the only one attacking one of our most sacred democratic institutions--the judiciary--then it would be easy to dismiss this as an isolated attack from a fringe actor (even though GOA claims to have 750,000 members). But he's not.
Republican presidential candidate Donald Trump has demonstrated that he has no more regard for our courts than GOA's anti-government leader. Trump's recent attacks on U.S. District Judge Gonzalo Curiel--who is overseeing two ongoing class-action lawsuits against Trump University in San Diego alleging fraud--are making national headlines.
The lawsuits appear to have merit. "I believe that Trump University was a fraudulent scheme and that it preyed upon the elderly and uneducated to separate them from their money," reports one former sales manager for Trump University. Judge Curiel recently ordered the release of internal university documents showing that Trump "played a key role in the marketing for the business and how staff members were guided to push customers to purchase expensive follow-ups costing up to $35,000 after taking free introductory courses."
In response, Trump has launched a series of racially-based and deeply personal attacks against the judge. At a recent campaign rally in San Diego, Trump called Judge Curiel a "Mexican" and stated "I have a judge who is a hater of Donald Trump, a hater. He's a hater." In truth, the judge was born in East Chicago, Indiana. Trump has also said, "I think [Judge Curiel's handling of the lawsuits] has to do with perhaps the fact that I'm very, very strong on the border [issue]. Now, he is Hispanic, I believe. He is a very hostile judge to me." Finally, Trump has suggested he will file a retributive lawsuit against Judge Curiel should he become president. These attacks have legal experts concerned that a Trump presidency could have constitutional ramifications regarding the independence of our nation's judiciary.
Trump has also signaled to conservatives that he is perfectly OK with using violence to infringe on other pillars of our democratic system, like free speech, saying the following things about individuals who have exercised their constitutional rights by peacefully protesting at his campaign events:
• "Knock the crap out of them, would you? Seriously, okay? Just knock the hell." (February 1, 2016)
• "I'd like to punch him in the face." (February 23, 2016)'
• "In the good ol' days, they'd have knocked him out of seat so fast." (February 27, 2016)
Additionally, after one of his supporters punched a protester in the face at one of his rallies, Trump indicated he would be willing to pay the man's legal fees. On Friday, a senior Trump advisor appeared on CNN and invoked the image of Democratic presidential candidate Hillary Clinton being tortured via waterboarding.
I've also been troubled by those who respond to Trump's racism and calls for violence with violence of their own. The ugly street confrontations we witnessed in San Jose on Thursday night were particularly discouraging.
I've been writing for years about the threat of insurrectionism in this country. Now I'm watching my fears come to fruition in this current political climate, where violence is increasingly becoming an acceptable response to court rulings, or political disagreements.
The idea that citizens have the right to use violence to correct political wrongs has gained traction as pro-gun leaders like Pratt and their political proxies have promoted an insurrectionary reading of the Second Amendment. As documented in a book that I co-authored with Casey Anderson, Guns, Democracy and the Insurrectionist Idea, the gun lobby has relentlessly pushed to legitimize "Second Amendment remedies" in response to democratically-enacted public policies that they personally object to.
The 2014 siege at the Bundy ranch--and the ensuing murder of two Las Vegas police officers by Bundy supporters--should have started a national dialogue about this perverse and dangerous reading of the Second Amendment. Sadly, it did not. So the occupation of the Sugar Pine Mine happened. As did the takeover of the Malheur National Wildlife Refuge. The Southern Poverty Law Center reported that there was "horrific political violence" in 2015. This violence included the shootings at the Emanuel African Methodist Episcopal Church in Charleston and a Planned Parenthood office in Colorado.
Just one day after Larry Pratt's comments on the "Gun Owner News Hour" radio show, 25 year-old Dionisio Garza opened fire with a pistol and AR-15 assault rifle at the Memorial Hand Car Wash in Houston, Texas, killing one person and wounding six others. Garza discharged approximately 212 rounds during the rampage at passing motorists and responding law enforcement officers. Garza was obsessed with anti-government conspiracy theories and convinced that society was on the brink of collapse. He had also become infatuated with Donald Trump. In August of last year, he tweeted, "@realDonaldTrump @AP @HuffingtonPost @nbc get them Mr .Trump... bunch of liars and puppets. I am an army vet 2 deployments..I stand with U." Many of his tweets since then were personal attacks on those who questioned or criticized Trump.
I was heartened over the weekend to see many commentators call out Trump for his remarks pertaining to Judge Curiel. But to be clear, Trump is simply the loudest voice among a growing movement that is calling for the use of private violence to settle perceived political wrongs. We can no longer afford to bury our heads in the sand and allow those that favor bullets over ballots to gain any more traction. Private violence and armed "citizen militias" helped to create the conditions that led to the rise of the Nazi Party and the destruction of German democracy in the 1930s. In our great democracy, the promotion of political violence should be vigorously condemned by the media and our political leaders alike.
We can only move forward as a nation by embracing nonviolence in the political process, respecting our democratic institutions, and acknowledging that representative government doesn't mean you always get the result you want. What it does mean--according to our Founders who drafted and ratified the Constitution--is that by working together, and reaching compromises in good faith, we enhance individual liberty for all.
Popular in the Community