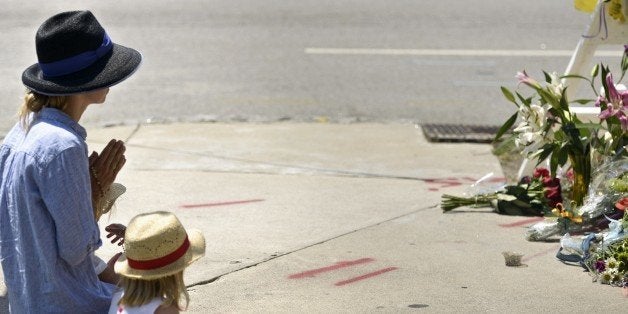 Many of us don't know how to respond to news of the shooting Wednesday night at Emanuel AME Church in Charleston, S.C. For me, it brings back memories of the worst kind. I was present at the Knoxville, Tenn., Unitarian Universalist Church on July 27, 2008, when a politically motivated gunman fired a shotgun at members of the congregation during a youth performance of a musical, killing two people and wounding seven others. The shooter pleaded guilty and is serving life in prison without parole. This is my experience.
One minute you are are sitting with your family -- husband, mom, stepmother, children -- waiting for your oldest baby, your 10-year-old, and your dad to perform in the church play. You're encouraging your smallest girls, ages six and eight, to go sit in another pew so they can see better, and then you're calling them back because the play has already started.
The next minute is a misplaced sound... perhaps a light bulb exploding? Perhaps a microphone crackling?
Because what sound I would have never guessed I was hearing was a gun. In church.
Hurting people. Killing people. Shaping lives.
And yet, on July 27, 2008, that all happened. About seven minutes later -- it is surreal -- we are lying on top of children under pews. I am looking at my husband, Lane, with my mind racing. Do I pretend to be dead? Do I talk to the girls? Do I just get up and double-check to be sure it wasn't a lightbulb? Because people don't just come in and shoot other people.
Not in church (not in schools, or malls, or any-freaking-where). But especially not in church, my church, the church I grew up in.
And then there's a voice telling us that we need to get out, it's safe, come this way. We are stumbling to the back of the church into the sunlight. We move slowly, blearily, still willing to believe, wanting and needing to believe it was while knowing it was not just a lightbulb.
The next part was even worse.
Mothers screaming for their babies, calling, wailing, yelling names. Every time I see a picture of the front of the newspaper of mamas in anguish, this is the soundtrack: absolute panic, absolute fear, undergirded by hope because you have to have hope.
Some smart person had quickly grabbed the children out of nurseries and classrooms and taken them to the church next door where they were locked down and loved on. But communication was stalled, there wasn't a seamless deployment of activity -- because someone had just opened fire in our church.
Finally, gratefully, heartbreakingly, families and kiddos were reunited. Clutching each other we find Virginia, our eldest, and we search with our eyes (because we are paralyzed and confused) for my father. Waiting. Shaking. I don't think we say it out loud but we know that he was in the back of the church, where the man came in. And now we can't find him.
I'm calling my brother, a minister at another church, to say, "Come now." I don't know if I was asking him as a brother or as a minister, or simply as an attempt to connect to a world that was normal 20 minutes ago.
And then my dad comes out.
His shirt is bloody and he is calm-ish. He and others had tackled the shooter and confined him. And then they held one of the victims in love, peace and appreciation for having stood in front of that man and protected the children, the congregation and his church. He swapped his life for it.
Eventually the "authorities" -- the FBI, the ATF, I don't know exactly who, but the people who can tell us why this happened -- arrive. Except they don't know either. They ask us: How many shots did we hear? What was the timing? Is there anything we want to share? Then, unbelievingly, they send us home.
It's like when you have your first child -- a life-changing, monumental, what-do-we-do-now moment -- and the hospital sends you home. Where is the manual? Where are the instructions? Are you sure you should let us go? Because there are so many more layers and chapters to this story, and they all have to do with life after a man with a gun comes into the church where you were raised.
I do want to tell the other parts, which include layers of love, of community, of lessons learned. But those soften and reshape this story (which I know is my story and my perspective). And today, when I woke up to news of another church shooting -- of nine people killed in the place you feel safest -- I only want to share the parts that ripped me up. The parts that are still confusing and raw. Because that's what it feels like when someone comes into your life with a gun and tries to kill you.
Rachel Bohstedt Estes is outreach director at Canterbury United Methodist Church in Birmingham, Ala., where she lives with her husband and three daughters.
Calling all HuffPost superfans!
Sign up for membership to become a founding member and help shape HuffPost's next chapter