For children living in warzones, a 'normal childhood' does not exist. Journeys to school, the safety of home, and even friends and family, slowly disappear and are replaced with explosions, violence and insecurity. Witnessing deaths and living in constant danger is the harsh reality of everyday life. For these children, the struggle for survival worsens each day as the perpetrators of war search for even more brutal weapons to kill and destroy. On top of the relentless violence, in countries such as Syria the most basic means of survival -- water -- has become a weapon of war.
As a result of violence, the flow of water from the Wadi Barada and Fijeh Springs in Damascus, which supply 70 per cent of water to the city was interrupted. As a result, an estimated 5.5 million Syrians in Damascus and rural Damascus, which include immensely vulnerable children and their families, are living without access to running water -- marking the end of a devastating year and a bleak start to 2017.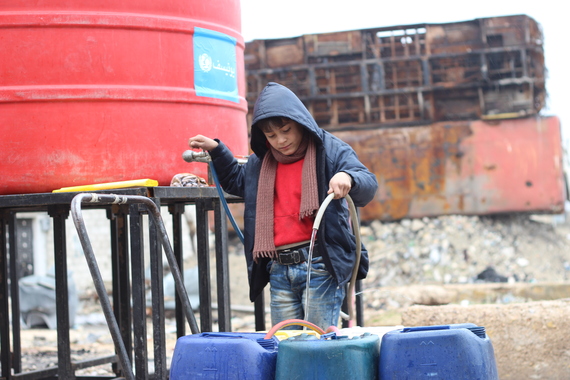 On 27 December 2016 in east Aleppo City in the Syrian Arab Republic, a boy collects water from UNICEF-supported a water point in Shakoor neighbourhood.Photo credit: © UNICEF/UN046879/Al-Issa
The destruction of water sources is not new in Syria. There have been 30 deliberate water cuts in 2016 -- in Aleppo, Damascus, Hama, Raqqa and Dara. Pumps were destroyed and water sources contaminated in clear violation of human rights.
For many children, the lack of water supply locally means they are forced to walk for hours in search of it, which puts them at a real risk of exploitation, violence and even death. In 2015, 11 children were killed when collecting water for their families. In addition to physical dangers along the way, collecting water from unregulated sources becomes all the more tragic for children because, if the bullets don't kill them, the water might. Untreated or contaminated water exposes children to Faecal Transmitted Infections (FTIs) which cause life-threatening diseases like diarrhoea.
The water shortage in Damascus underlines a growing and multi-faceted problem in conflict. In Syria, there are 13.5 million people in need of safe water, around 6 million of whom are children. In some areas only 15 per cent of people have access to safe water and there is an estimated 50 per cent reduction in water availability across the country, forcing families to spend up to 25 per cent of their income on water. We need to address water access concerns. Solving Syria's water crisis is a crucial part of the humanitarian response and can lay the foundation for rebuilding the war-torn country. We must ask ourselves what the future holds for the people of Syria considering the continuing drought and the need to replace a dated water system.
At the very core of UNICEF's work in humanitarian emergencies is the provision of equitable access to water, sanitation and hygiene to some of the most vulnerable and excluded communities. No child should have to live a day without access to water, hygiene and sanitation and water should never be used as a weapon of war -- when it is, civilians and children suffer the most.
UNICEF is in Syria providing solutions to the water crisis and helping ensure that children's access to water is not dangerous. Working with partners, we deliver water to homes to prevent children having to risk their lives in search for it; we rehabilitate and maintain water-pumping stations and generators, and we provide fuel for generators to supply millions of people with drinking water.
As the war continues, we remain focused on keeping taps flowing and children safe.
Related
Popular in the Community