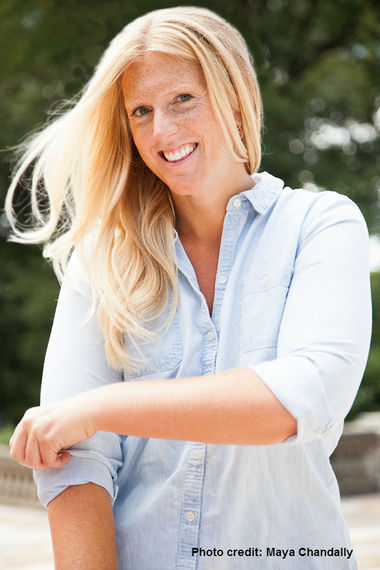 Social media has become an amazing connector where building friendships and communities happens on a daily basis. It still amazes me that I have created a network of inspiring people spread throughout the world.
Our community extends well beyond that single connection. Depending on the study you read, the average American knows between 290 to 600 people.
Some people say that social media makes us less connected, but not Kelly Will. In 2013 and 2014, Will traveled across America for 365 days. Along the way, she personally connected with thousands of people, staying with 164 host families, while touring the 50 states in her greatest social experiment to date... The One Person, One Community, One Nation Movement.
Kelly stops by to share about her amazing journey and how by connecting to one, we unite all.
JB: You had an exciting career as a New York City gossip girl before you took on this project. You wrote for The New York Times and The New York Post, to name a few. What inspired you to give it all up?
KW: For nine years, it was a dream career come true. I can't imagine many girls in their 20s that wouldn't want to dress in designer gowns and run around with Lenny Kravitz, have dinner with Meryl Streep, go to France for Eva Longoria's wedding, interview Bon Jovi or dance with Britney Spears. My life was wildly fun and I was so grateful and present in every moment of those nine years. But...one day, I turned 30 and then 31 and...the Kardashian Klan was really taking over and celebrity news was changing. I was not changing with it. I was growing out of it and I felt certain that there was a different purpose for me in the next chapter of my life.
JB: How did you come up with the idea for the One Person, One Community, One Nation Movement?
KW: In the spring of 2013, my life was crushing me. I was letting others make me feel small and I was not listening to my intuition or my spirit. I was not acting like Kelly Will. I was having an identity crisis - I missed the power of being a gossip columnist but I was afraid to pursue anything "too big." At the same time, an important member of my family died tragically and as I do, when I can't handle the emotional part of my life, I created an illness to protect myself.
I woke up one day with excruciating pain running through my left shoulder and arm. After many doctor visits, I learned that at 34 years old, I had created a severely herniated disc in my spine. Due to stress! I knew it was time to overhaul my life. The brevity and fragility of life was clear. I meditated daily and prayed for guidance for weeks. One Saturday, in April 2013, I was getting my Honda C-RV's oil changed at the dealership. As I waited, I flipped through a magazine and came across a map of the US. In that moment, this wild plan washed over me and I could envision it. I knew I would travel to all 50 states and I would share my daily experiences online.
My hypothesis: The social web we weave is greater than we can imagine. I would visit all 50 states in 365 days, using ONLY my circle of friends and family and their extended circles. I sought a safe roof over my head each night and the opportunity to deeply connect with each person and family to create lifelong friendships.
JB: You made 615 personal connections. What surprised you the most about the people you met on your journey?
KW: The overwhelming kindness and generosity. After months in home after home, I felt like my heart was bursting with the love shown to me. We hear such sad and depressing stories in the news. I was nervous going into each home but I was treated like a beloved family member at every stop! I was a stranger when I walked into 70 percent of the homes I visited, but for the friend that had connected us. I drove away from each home with tears in my eyes or rolling down my cheeks. I felt like I was leaving my family.
JB: You drove a grueling 36,101 miles and stayed with 164 host families over the 365 days of the experiment. What did you learn about yourself?
KW: Grueling is a great word. This journey has been the hardest and most fulfilling thing I have done in my life. I longed for all I had given up. I missed having a home of my own. I stripped my life down before I left, so I would have no place to hide out. I purposely exposed myself by selling everything I owned to fund it all. I knew that was the only way to insure my completion of the 365. I pushed myself to the edge, way beyond my comfort zone and I survived. I not only survived, but I changed myself at my core in the best ways.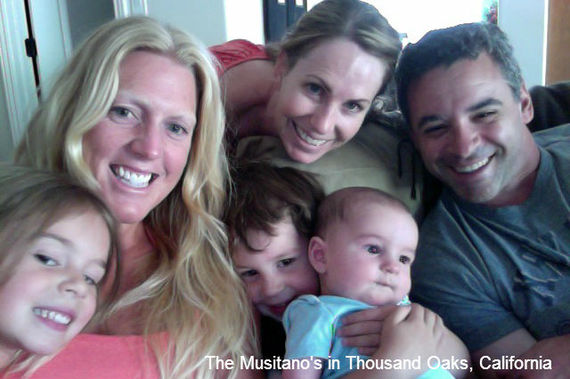 JB: It's pretty cool how people you barely knew opened up their homes for you to stay in. Did the openness and generosity of America surprise you?
KW: At each stop, I found people so willing to open not just their home, but also, their hearts to me. We sat down around the kitchen table or living room and immediately dove right into the stories of our lives. The amount of knowledge we gained and shared still blows me away. Each person delivered a different, beautiful, rich story that gave me a lesson and a new message I could help share with others.
And then there's the food. I budgeted the year to provide my own food, but that was not necessary. The food was endless - we truly show love through food and I ate like a queen. Montana pastries, ratatouille in Rhode Island, homemade yeast rolls in Washington, one-day-old Vermont and New Hampshire maple syrup.

JB: What was your biggest take-away from the experiment?
KW: Seven months in, I awakened to my greatest lesson as I was driving through a Massachusetts snowstorm. I remember thinking, "Why are they all letting me in? Why do they like me?" I realized from home to home, I was seeing my reflection through my host's eyes. I saw myself with kindness and gentleness. I saw myself with love. They saw my core spirit and they loved me. It was time for me to love me.
Gaining true love for myself has given me a sense of peace that I never knew before and it allows me to be kind, gentle and caring with every person I meet in a day.
JB: You finished your journey on May 18, 2014. How has your life changed?
KW: From the moment I had the vision of this journey in the Honda dealership, I felt sure of one thing. I believed that each day, I would learn so much about me, about people and about all natural life, that by Day 365, I would be a new woman. My long-time friends and my family will tell you - I am an all-new woman. I love blindly. I feel compassion and empathy from the depths of my soul for all people and for nature. I see people with honest and clear eyes and I forgive immediately. I am bursting with love. I can't explain what that feels like, but it is incredible. When I write it or say it aloud, it brings tears to my eyes.
KW: My goal is to be the Queen of LOVE, a powerful positive thought leader to inspire all to live the life of your dreams. I want everyone to feel like I do, and you don't have to give up everything and hit the road for 365 days like I did. I have created a toolkit to ease you into a more peaceful, brilliant life!
On October 15, I launched my next project, BROADCAST LOVE: The Tool Kit for a Life Bursting With Love. #BroadcastLove is my first book and it will be sold as a part of my Kickstarter campaign. Through the Kickstarter rewards, you will also have an opportunity to work with me in-person, over the phone and/or online. Over the last 18 months, I created the ultimate life hack guide on how to do everything and do it happier, smarter, faster and so much kinder.
JB: How can people learn more about the One Person, One Community, One Nation Movement?
KW: It's easy to keep up with me! I continue to share stories of adventure and inspiration across America, every day of the week on my website, http://kellybroadcastsamerica.com. I invite everyone to contact me - all of my information is on my site and I value and answer every message I receive.
Related