Over the years, I've noticed that pride events find themselves subjected to misunderstandings from the greater community regarding why these events are necessary and why many members of the LGBT community and our allies participate. While I cannot speak for the entire LGBT community, I can speak to the heritage that informs my participation and to the feelings that I experience as I march each year.
On a very personal level, my participation in the march is a public expression of my right as an American and as a human being not only to be true to myself, but also to show the world that LGBT people are both ordinary and come from every walk of life. As a child, I was reared in a community that was far more conservative than the city in which I now live and work. When I came out as a high school senior, I struggled to find acceptance and affirmation for my identity as a member of the LGBT community. In fact, prior to my coming out, I experienced bullying that was based solely on assumptions regarding my sexual orientation rather than any "known" facts. When I made the decision to come out, it was with full knowledge of the climate of my school district at the time as well as with a lack of clarity regarding how my family would respond or whether they would accept me.
On the family front, I was beyond fortunate to once again be reminded of the limitless love that parents, grandparents, aunts and uncles, and great-grandparents have for their loved ones. I was fortunate to have a family that responded with hugs and love rather than dismissal and rejection. Of course, I realize that my story is one of great fortune and that no coming out is ordinary or replicable, yet every coming out story is life-changing as it liberates the individual from a life of secrecy to one of honesty and shared uniqueness.
Although my family story was one of complete support, my experience at school was markedly different. As a high school senior, I encountered bullies among peers, some faculty, and administrators who were either guided by fear or just a lack of understanding. In retrospect, I'm glad I came out and I'm glad I endured what I faced in my hometown, because I'm hopeful that those who came after had the courage to also say "I'm gay," "I'm a lesbian," "I'm bisexual," or "I'm transgender," because the reality is that our schools are meant to educate and nurture students. In order for students to realize their full potential, they have to be assured of an environment that is safe for all students without exception. A child should feel safe expressing his or herself and coming to terms with his or her identity. On this front, we still have a great deal of work before us. Our nation's schools remain places that for many students are not safe and put them at risk of either being a victim of violent attacks or finding themselves in a climate in which the unthinkable results from the hurt endured by years of bullying.
Yet even amidst the personal stories, marching in New York City Pride means far more to me than a reflection on my own experience. Marching means renewing a connection with the brave, courageous, loving activists who came before me and sharing that connection not only with my generation, but reminding those who will come after that they too represent the continuation in a long generous line of human beings.
And so when someone asks why do I march? Or when someone seems to undermine the purpose of Pride Month and all of the events that take part during these thirty days, my answer is rather long-winded, because it begins with:
"I march to remind myself to cherish the freedom that the struggles that took place before me made possible. I march to commemorate those who gave their lives along the way. I march, because so many have given so much that the very least I can do is put my feet to pavement to ensure that their sacrifice for the liberation of others is never forgotten."
When I march, I march in memory, in celebration, in resistance, in hope, and in gratitude. I march knowing that our history as a community is planted on a field that has been imbued with tears, blood, and sweat. We should never forget that our rights and liberation were not given freely, but rather were fought for over many years. Pride Month is about honoring our heritage — a rich and diverse history.
In 1924, the Society for Human Rights was founded. It's an organization that today many people have either forgotten or may know by name only, but in 1924 it represented the birth of something new. Founded in Chicago by Henry Gerber, it was the first gay rights organization founded in the United States. After being threatened by authorities, the organization ceased to exist. The Society for Human Rights was followed decades later by the Mattachine Society (1950), the Daughters of Bilitis (1955), and the National Transexual Counseling Unit (1966). I can't do justice to all of these organizations in a simple Facebook post, but I can encourage you to read about these organizations and to understand the struggles that they faced solely for the purpose of seeking to ensure the rights of LGBT people. When we march, we march alongside a history that is rooted in these early organizations.
On June 28, 1969, the modern struggle for LGBT rights emerged at the Stonewall Inn on Christopher Street in New York City's Greenwich Village neighborhood. The events that led to the Stonewall riots are well-documented, however, too little credit is given to transgender members of our community who led the revolt at Stonewall that changed the course of history. When we march, we march to honor Sylvia Rivera, Marsha P. Johnson, and all of the Stonewall veterans who bravely challenged institutionalized discrimination and demanded an end to it.
As Stonewall demonstrated, throughout our history, merely gathering as a community often came with enormous risks that today we take for granted. On June 24, 1973 members of the LGBT community gathered at the UpStairs Lounge in New Orleans for a religious service. At this time, LGBT people were creating their own accepting and affirming faith communities due to the rejection by mainstream faith groups. Gathering at the UpStairs Lounge to sing hymns and pray, the group became the victim of a horrendous and tragic hate crime. In the midst of hymns and prayers, an individual or group inspired by hate ignited a fire that would kill 32 members of the congregation that had gathered that evening. Through today, many of those victims remain nameless. If you're not familiar with this event from our community's history, I encourage you to read about it, because it's a reminder of how far we have come. When we march, we march united in the face of hate crimes, we march united in memory of those who gave their lives to be true to themselves.
In 1977, many found inspiration in a human being who called upon the world to have hope and asked all gay people to come forth from the closet to let the world know that we exist. Harvey Milk was a prophet and a leader who courageously became the first openly gay elected official in the United States. Sadly, Harvey's life was cut short by a colleague on the San Francisco Board of Supervisors who had recently resigned. When we march, we march to honor Harvey Milk's legacy and courage.
As a community, we owe a debt of gratitude to those members of ACT UP who demanded an end to our government's silence and inaction regarding the AIDS crisis. Beyond organizations, we owe a great deal of thanks to people like Peter Staley and Larry Kramer who recognized an injustice and held our leaders accountable. When we march, we march in appreciation for their leadership and sacrifice.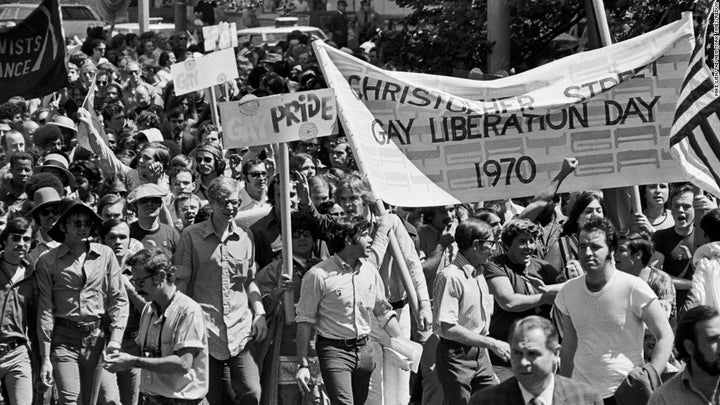 When we march, we march not as part of a meaningless "parade," but rather as a living, breathing, loving testament to a movement that liberated a group of people who had been wronged throughout the course of history. The brave, courageous, and loving visionaries who came before us foresaw a world in which LGBT people could be true to themselves. When we march, we march as a community of truth — a community that stands united with our history, committed to the struggle of the present, and hopeful for a future that's more equal than the world in which we find ourselves. When we march, we march knowing that there was a time when we could not march as a community. And so as we prepare to take to the streets, I hope that those watching see in us all of those who came before us, because marching in and of itself would not be possible without their sacrifice and courage.
Since today marks the 44th anniversary of the UpStairs Lounge arson attack, perhaps the song that some accounts suggest those men and women were singing, "United We Stand," may offer us both inspiration and an opportunity to honor them for the courageous act of gathering to pray as a community that affirmed LGBT people.
When we march, we march united.
Related
Popular in the Community