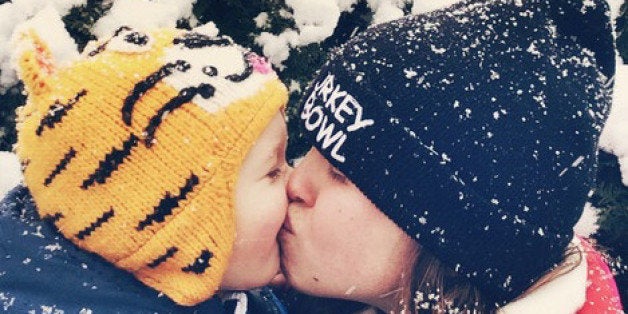 Thank you for first snows. For a little boy who asks, "Should we sing, Mommy? Should we sing about the snow?"
Thank you for his face. His gummy smiles and belly laughs. Thank you for his gentleness. His arms around my neck and whispered, "I love you." Thank you for his strong will. For a voice loud enough to scream and cry. For healthy limbs strong enough throw all the blocks on the floor.
Thank you for deep breaths. For redos and new days and I'm sorrys.
Thank you for stretch marks. These long and weary battle scars. For a body able to grow a life, a whole human baby made up of wild hair and bright, blue eyes. Thank you for her sweet breath and open-mouthed kiss. For her loud and independent spirit.
Thank you for family. For parents who drive long drives to play with their grandbabies and sisters who don't care if your house is messy and come over to paint your nails.
Thank you for friends. For the ones you cry with, roll your eyes with. For the ones you say all the saddest, darkest things with. Thank you for the ones who help clean up. Who watch all the bad TV. Who patiently explain what a brine is.
Thank you for the guy who comes home every night and holds his babies. Who crawls on the floor despite long days and tired eyes and builds a tall tower. Thank you for his love. For making him into a man who folds his own laundry and carries everyone to bed.
Thank you for turkey and gravy and mashed potatoes. For Steve Carell and The Family Stone. Thank you for Christmas hymns and summer smells. For all the little things in between the big things that really matter.
Thank you for our tiredness. For giving us a life so rich that we cannot help but collapse at the end of the day.
Thank you for guarding us from the darkest demons.
We use the word blessed a lot these days, as if God flew down from heaven and gave us our Chevron sweaters and drive-thu Paneras because we did something right. As if it means those who don't have new cars or Pinterest kitchens are less loved or less chosen by God.
And so I whisper quiet thank yous up into the sky, hoping not to jinx such a blessed and happy life.
Thank you. Thank you. Thank you.