However, Chinese-led institutions are continuing to fund coal, and failing to implement best practices already adopted among other global development banks. New research out this week has found that China provides the most funding for coal projects abroad. This lack of progress risks undermining China's reputation as a global leader on climate. It also risks putting the whole world, including China, onto a dangerous pathway of catastrophic climate impacts.
We cannot tackle climate change without China's banks on board
Coal plants are being supported by public funding from several China-led institutions including China Development Bank (CDB). In Indonesia, the main recipient country for international coal finance, China Development Bank was the biggest development bank lending to coal projects.
In research last year, it was found that China has doubled the availability of global development finance – holding more than twice the assets of the major Western-backed development banks. The China Development Bank and the Export-Import Bank of China (CHEXIM) now provide as much development finance as the next six biggest multilateral lenders combined. What is now increasingly clear is that it will not be possible to keep global warming within safe limits unless China's development banks join global efforts.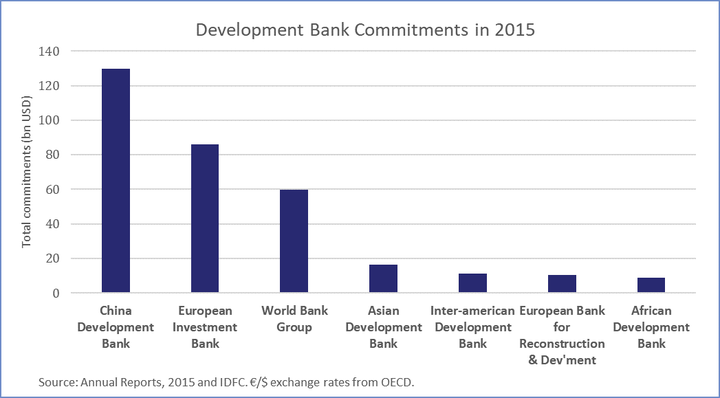 Most other multilateral development banks are moving to phase out or exclude coal financing altogether. For example, the Asian Development Bank is tracking emissions across its portfolio to promote innovation and efficiency and has committed to reducing its emissions.
The World Bank has said it will only provide financing for coal projects in rare circumstances, while the European Investment Bank has introduced strict limits on emissions, effectively meaning the bank is unable to lend to most coal-fired power plants.
In the private sector, more than 300 global companies adopted science-based targets to reduce their emissions. These approaches show there is a range of tools that China's policy banks could use to green their investments.
Leadership is in China's interests
China Development Bank is a state-run institution using public funding, and would do well to look toward best practices being adopted by other global institutions.
In other ways, China has been a leader on climate change and green finance. China is making progress domestically in phasing out coal, but needs to match this with progress at the international level.
China's policy banks have not been silent on these issues and there are signs of progress. CHEXIM's investments in energy saving and environment-friendly projects increased by 45% from 2015 to 2016. Meanwhile, CDB cites green growth as one of its core values and is committed to "combating pollution in China".
However, China promotes coal finance abroad because domestic companies get construction contracts. This is short-sighted from an economic point of view. The impacts of climate change are already increasing, and many coal plants will have to close early if we are to prevent the most dangerous climate impacts. Chinese firms and economic growth could benefit much more if China's development investments catalysed a long-term shift from coal to clean energy.
Now China has to match words with actions. Development banks such as the Asian Development Bank have been greening their investments in several ways, including excluding coal from their investments, setting clean energy targets, and tracking emissions. There must be urgent action to reform China's development institutions, or the whole world, and China itself, will suffer.
Related
Popular in the Community