Two years after a national campaign exposed a coal industry-bankrolled curriculum foisted on unwitting teachers and children, the state of Illinois is still dragging its feet to revamp its own widely denounced, misleading and climate change-denying "Coal Education Program" for schools.
Here's the punchline, kids: On the heels of a recent study that the coal industry annually drains nearly $20 million from the Illinois state budget, the Department of Commerce and Economic Opportunity's Office of Coal Development now says it's too broke to promptly respond to a long-awaited evaluation of the discredited coal education program.
"The office is currently operating with a sharply reduced staff," DCEO spokesman Dave Blanchette said in an email yesterday, "and they don't expect to have a full implementation plan completed for several months."
That same lack of urgency is also shared among the hired evaluators of the Coal Education Program, who recommended that the state program "could improve" over the "next 24 months."
The coal education evaluation team was composed of two University of Illinois professors who were awarded a lucrative DCEO grant for project proposals that would "improve coal extraction, preparation, and transportation systems within Illinois."
In a strange omission of any possible conflict of interest, the Illinois evaluation team of geologist Sallie Greenberg -- a long-time booster of the FutureGen "clean coal" boondoggle, and associate with the coal industry-backed Midwest Geological Sequestration Consortium -- and I-STEM specialist Dr. Lizanne DeStefano apparently failed to disclose they had both been participants in the same controversial coal education conference program they were hired to evaluate.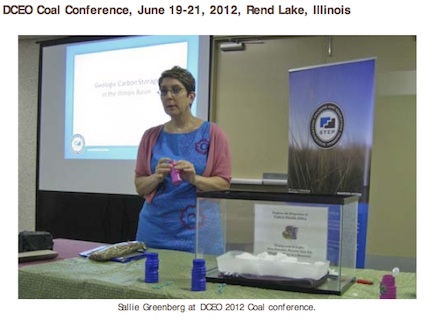 Greenberg at 2012 DCEO Coal Conference
While Blanchette confirmed that the unabashed coal industry propaganda piece, "From the Coal Mines to the Power Lines," has been "suspended," the DCEO still insists on maintaining a shameless website for kids that claims air and water pollution from coal mining and burning has been virtually eliminated (despite decades of documented evidence of coal ash and slurry contamination, mercury and CO2 emissions), that miners work in safe conditions (despite a spike in black lung disease), and perhaps the most egregious example of utter falsehood: a creepy cartoon figure that claims land reclamation "is returning the land to the way it was or better than before mining."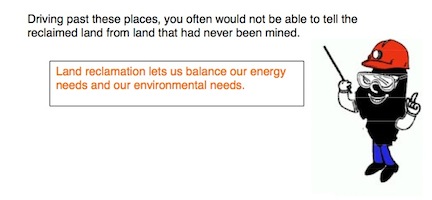 Fact-check: According to a special study by Southern Illinois University scientists on sustainable strip-mine reclamation, published in the International Journal of Mining, Reclamation and Environmental in 2006: "Mined land cropped for bond release commonly becomes unmanaged grasslands. Scant mineland is returned to trees, with survival and growth poorer than on reclaimed minelands preregulation. Problems include high soil strength, poor water relations and excessive ground cover. Sustainable plant communities have not developed."
This is only the natural resources. Like Illinois' Coal Education Program, there is no mention of the forced displacement and stripmined and longwall-mined destruction of historic communities and farms across the state in the process.
I understand this fact first-hand: A poorly maintained coal waste pile now splatters onto a county road during rain storms in my family's once vibrant Eagle Creek hills in Saline County, where our 150-year-old family farm, church and native Shawnee forests on the edge of a federally-protected wilderness area were stripmined into oblivion last decade, and still remain a pockmarked valley of ruin and depopulation.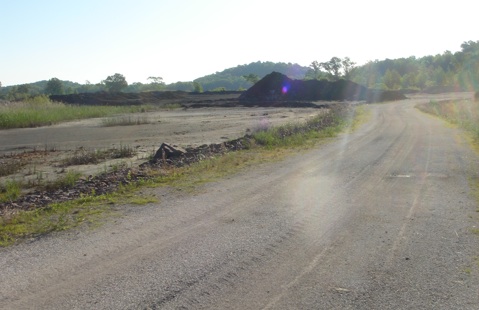 Coal waste adjacent to the Eagle Road in Saline County
This kind of empirical data from citizens and miners impacted by coal mining is also scant in the new evaluation of the Coal Education Program.

In the meantime, as Illinois state officials dally on any changes to their coal curriculum, children will most likely still have to ward off the pushers of state-funded dimebags of coal--unit price: 10,000 bags @.25 per bag -- distributed as part of the program.
And pay the ultimate price, of course, for climate change.
Support HuffPost
The Stakes Have Never Been Higher
Related
Popular in the Community