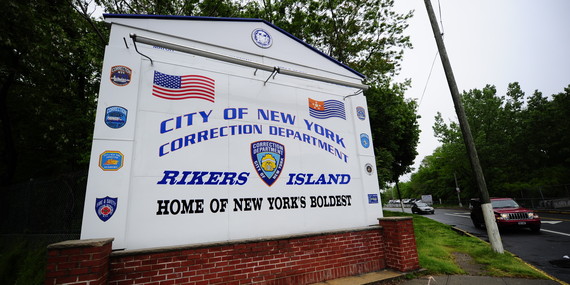 Over the past week people across the United States expressed outrage upon learning of the trial and subsequent conviction of Daniel Holtzclaw, an Oklahoma City Police Department officer who raped, stalked and assaulted 13 women while on duty and now faces up to 263 years in prison. A similar story is unfolding in New York City. In May, two women filed suit in federal court against their attacker, an on-duty corrections guard at Rose M. Singer Center - the female-only jail on Rikers Island. The New York women, who are remaining anonymous because of fear of retribution, accuse Benny Santiago of repeatedly raping them and threatening them and their families to not report the assaults.
Meanwhile the city has done nothing to resolve their complaints or to end the abuses, the women say. "The City is aware that New York State has identified a significant risk of sexual coercion of women in custody, but it nonetheless permits a culture of systemic rape and other sexual abuse of women by correction officers to exist," says the complaint, which also accuses seven unnamed officers of victimizing other women.
A 2013 survey published by the U.S. Department of Justice found that people incarcerated at the Rose M. Singer Center reported more sexual victimization at the hands of staff than nearly any other jail facility in the country. Nearly ten percent of respondents to the survey reported being sexually attacked. (It bears noting that sexual violence is typically underreported). Yet even as we are disgusted by Holtzclaw, few in New York City have pointed to the fact that a variety of Daniel Holtzclaw-like characters terrorize women, and men and children, at Rikers Island with a type of impunity that can only be understood as implicitly sanctioning the violence. In 2014 despite receiving more than 100 formal complaints of sexual assault, the Department of Corrections passed on just two of the complaints to the New York Police Department for charges. Public Advocate Letitia James found that from 2010-2013 not a single correction officer had been disciplined in any way for sexual abuse.
The team prosecuting Holtzclaw explained to his jury that the police officer had selected his targets carefully, preying on middle-aged, mostly poor, Black women with drug and prostitution convictions because he thought their stories would not be believed over his own denials in Oklahoma courts. Not all lives are valued equally in America. Even after one of the women came forward, Holtzclaw remained on duty continuing his atrocities as the investigation got underway. National exposure, even the conviction, might not have occurred without the efforts of other Black women - both on-line and in court - keeping pressure on the case.
Here in New York, as in Oklahoma, the burden was left to those harmed to seek an end to the violence. The suit, of course, was a last resort after other avenues were exhausted. The New York Times explains:

Even after one of the plaintiffs reported sexual misconduct by the officer, first to a mental health clinician, then to a jail physician and then to city investigators, the city, rather than promptly investigate the allegations, continued to employ the guard.
On Tuesday, the New York City Council will hold an oversight hearing on conditions for women at Rikers Island, who, like everyone else in City jails, are primarily there solely because they cannot afford to pay bail and thus buy their way off the island. We will have an opportunity to see how City Council values women generally, and especially women, predominantly women of color, who have been accused of crime.
Holtzclaw's plan almost worked; women at Rikers Island are similarly vulnerable to victimization because they have been devalued in the current social context of the United States. As for solutions, it's really pretty simple: If the City cannot ensure that people will not be tortured, raped or otherwise victimized while in custody, than the City cannot continue detaining people at Rikers Island.