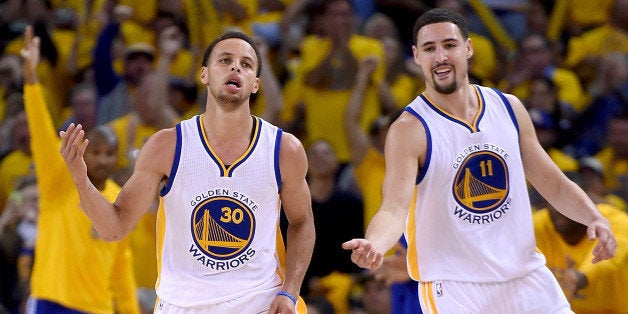 It has been 40 years since the Golden State Warriors last won an NBA title. That 1975 team was forced to play at the Cow Palace in San Francisco due to a schedule conflict at the Oakland Coliseum. That year they surprised the NBA world by defeating the favored Washington Bullets. Not many Oaklanders remember that team, but hope for another championship is alive and well. This time a championship will come in Oakland.
If one were to take a walk around Oakland, one could never tell the City had experienced such a drought. By the looks of the City and the excitement in the air, one might think the Warriors were in the finals every year. It's something magical -- a knowing smile, a wave, a fleet of cars proudly displaying their Warriors flags, a certain bravado that has crept into the walk of the average Oaklander. At this moment the Warriors are winning and so is Oakland. The team, city, and their fan base stand on the precipice of the greatest prize in professional basketball -- an NBA Championship. This moment is special and Oakland is relishing it.
Notwithstanding their contemplated move to San Francisco, (which has been met with cynicism or even anger) should the Warriors win the 2015 NBA Championship, it belongs to the City of Oakland. This Warriors team shares the hallmark characteristics of Oakland, the city it currently calls home -- grittiness, talent, and a never say die attitude. It's precisely that Oakland spirit that has this year's Warriors team on the doorstep of the NBA's highest honor. It was obvious in their nail-biting come-from-behind wins. It was obvious when Stephen Curry broke his own record for three-pointers in a regular season and then went on to demolish the record for three-pointers in a post-season, and also when Klay Thompson scored 37 points in a single quarter. Lastly, it was especially obviously in rookie coach Steve Kerr's refusal to conform to a traditional style of basketball in favor of a small ball line-up featuring a more jump-shooting approach. This Oakland team not only made it, they made it without compromising their identity and style.
A championship could not come at a more opportune time for Oakland. Its importance is amplified by the backdrop of a city struggling to grow, remain diverse, and keep crime at bay. I believe Oakland appreciates the largeness of this moment. A championship would provide a sense of optimism for a city that has struggled to keep up. One long time Oakland resident, Rick Dumas, an architect and partner with the firm of AE3 Partners, points out that this would be a generational win. Meaning, a win would be a first for an entire generation of Oaklanders. More than that, it would elevate Oakland in the national conversation and allow our City to be discussed in a rare, positive light. A championship would be a reason for the entire country to celebrate Oakland.
The NBA finals will give the nation some insight into all the positives Oakland has to offer--proximity to one of the best universities in the world, a top 5 Port, a beautiful lake and waterfront, and one of the most diverse citizenries our country has to offer. A Finals win will show pundits like Charles Barkley that the Oakland brand of grittiness should not be underestimated. Old or young, rich or poor, and regardless of color line, a championship would provide fuel for the entire City to band together. This championship will help reclaim some of that hope that's been lost through decades of financial and cultural struggle. In this way, a championship would mean so much more than just a sporting achievement.
Let's go Warriors -- you have a city behind you. "We Believe" and we know that there is "Strength in Numbers"!
REAL LIFE. REAL NEWS. REAL VOICES.
Help us tell more of the stories that matter from voices that too often remain unheard.