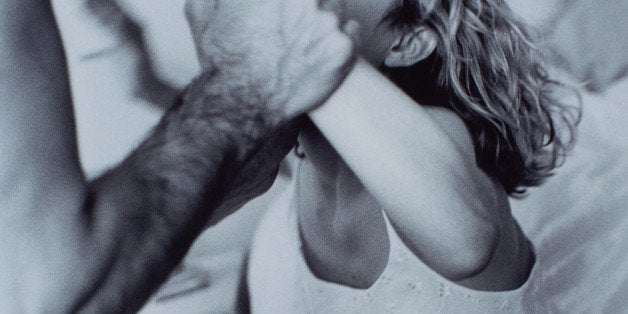 Piper's tragedy is just one of the many horrifying stories that can be found on "When Women Refuse" -- a new Tumblr page that's documenting news stories about what can happen to women who rebuff the sexual advances of men.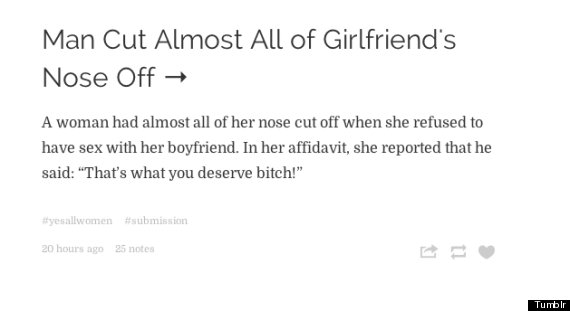 Zandt was inspired to create "When Women Refuse" after writer Kate Harding began curating links to similar stories on her Facebook page. She teamed up with Lainna Fader, Kate Tull, Kathryn Peters and Shauna Gordon-McKeon to create the blog. Their mission is to prove that Rodger's mass murder was not an anomaly, but instead part of a larger cultural pattern of violence against women.
"One of the things we're hoping people take away from this, however they're coming to the conversation, is to understand that these are not isolated incidents," Zandt told The Huffington Post in a phone interview. "These things happen way more than our cultural consciousness [will recognize]."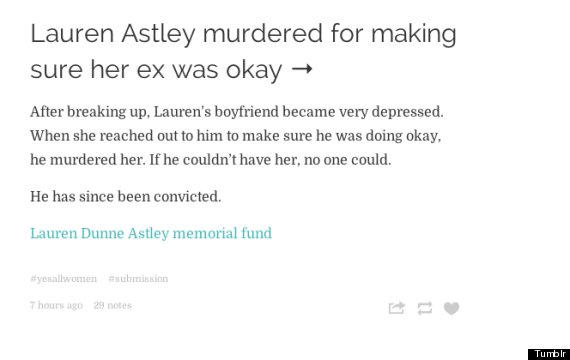 "After the horrific tragedy of the shootings at UCSB on May 23, the Internet responded with the hashtag #YesAllWomen, to start a conversation around the fact that while not all men commit acts of violence, all women are afraid, and rightfully so, of gender-based violence," the administrators of "Where Women Refuse" wrote on Tumblr. "Many people participating in these conversations seemed to point to the UCSB shootings as an isolated incident, the work of a mad man who had nothing to do with reality. But the reality for many is that women denying sexual advances to both men they know and don't know is often fraught with violent results."
The Tumblr page has sparked a lot of buzz this week in both the news media and social media sites.
"The fact that this conversation is happening now is a huge indicator of the structural connectivity work that online feminists have been doing for years," Zandt said. "We're in a different place than we were five years ago… We're creating a space for these discussions."
Calling all HuffPost superfans!
Sign up for membership to become a founding member and help shape HuffPost's next chapter
BEFORE YOU GO
PHOTO GALLERY
#YesAllWomen Stories