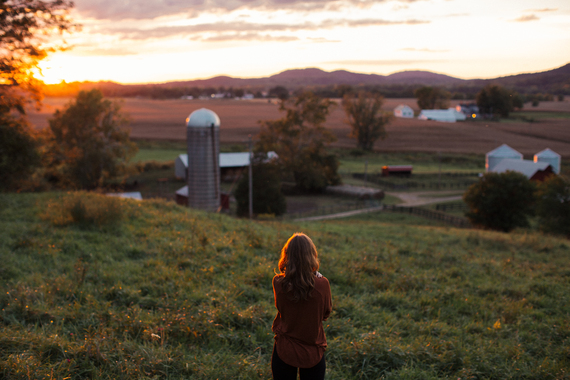 "I don't really know what I want to do with my life yet..."
"I mean, I don't want to be a (fill in the blank) forever. But this is fine for now..."
These are some of the things I've heard from young people. And it really gets me down. It's a trend I wish I could break; they feel like they should wait until they know exactly what they want to do before they take a step in any direction. Years go by and they still haven't figured out what they really want to do with their lives. Lost time. Lost potential.
I say, take a step. Any step. You'll figure it out later.
When I left high school for college, my parents never pushed me to study any field in particular (something I am super grateful for). "You can get a degree in basket weaving. But you are getting a degree." And that's exactly what I did, though not in basket weaving. At no time during those four years at UCLA did I think about what I would do after I got my degree. I was so focused on getting it, that I forgot about everything else.
I had been acting in independent theatre around LA but it was clear to me very quickly that an actor's life was not for me. I continued waiting tables and temping, which only showed me more of what I didn't want to do with my life. I felt lost, despondent, and like I was letting everyone in my family down for not being the spectacular human they hoped I would be. Even more than that, I was bored. I needed to be inspired. I needed to feel proactive. I needed to do something. So, I did.
I enrolled in photography and journalism at Santa Monica College, two subjects I had long been interested in. I thought it would be fun to learn something new without the pressure of getting a decent grade or racking up credits. Suddenly, every day had purpose. The assignments forced me to think critically and creatively, and get out of the apartment.
Those two classes sparked something in me. I adored my instructors. That's when I got a little tickle under my skin that pushed me to pursue teaching. A year later, I was accepted into Teach for America and ended up teaching in LAUSD for five fulfilling years.
The trap that I think a lot of people fall into is deciding to wait until they know exactly what they want to do with their lives before making a move, any move. I've seen too many people postpone university (or drop out) because they don't know what they want to study. Too many people set aside exciting ideas because they can't see a clear path for following them. Too many people settle for the predictable because the unknown feels too risky.
Here's the thing: life is risky. That's life. You can make excuses and bemoan that if you follow a 'tickle' it may lead to something great, though it could also be a colossal waste of time. But I believe with the whole of my being that it is not. Trying something new is how you find your thing, your passion, your calling. And if you don't, well, you've learned something important anyway; you learned what is not your calling.
When you don't know what to do, do something.
I left a journalism class thinking that I might want to be a teacher, not a journalist. That's what doing something does. It shakes you up, makes you consider other options, takes you out of your comfort zone, and opens you up to possibility. Life callings don't come to people sitting on their tushies, no matter how badly they yearn for them. Maybe that works for some, but I don't know a single person who is fired up about the work they do or the life they live who hasn't taken risks, asked questions, tried, failed, or pursued their passions - even unknown passions - relentlessly.
I think taking a step towards something, anything, is the most important move you can make when you don't know what to do with your life. And it never gets old. After teaching elementary school for four years, I felt I needed a change so I enrolled in a creative writing course at Los Angeles City College. A year and a half later I left teaching to get a MFA in creative writing - a field that has become my career.
It turned out that teaching wasn't my ultimate life calling. It was just my calling at the time. I loved being a teacher and am so grateful for that experience. Each student was a blessing. They made me a better mother and a better person. And teaching led me to another calling, writing. The beauty of our time is we don't have to make one career choice for life. We can try new things, take a chance, or change course whenever we feel a 'tickle.'
Katie Davis said, "Courage is not about knowing the path. It's about taking the first steps." I agree. There is something to be said for quiet reflection and taking time to sit with yourself when you don't know which direction to head. But there is danger in sitting for too long. 'Quiet reflection' can become a comfortable place where we can get lost for years if we're not careful. When you don't know what to do, do something. Even if it scares you. Even if it feels risky. It just may lead to something great.
This blog post was originally published on WritingInBold.com, where you can find more writing by Jazmine Aluma.