I say it to get a sympathetic giggle, to show some sarcastic humor, to inject some honesty into my conversations. I say it to lower the stakes for myself, and I don't mean it -- just like I don't mean it when I complain about my love handles returning or when I joke that the state of my house is a health hazard. It's just something we say, especially to other moms.
But my mom friends and I are smart. We know we (kinda sorta) mean it. We know words mean something. We know we're beating ourselves up for last night's chicken nuggets and today's dirty pajamas. We know that sometimes we're barely making it and that the days we don't feel the mom guilt are precious few. And we absolutely know that we say those words because we're not sure how else to process the guilt and expectations.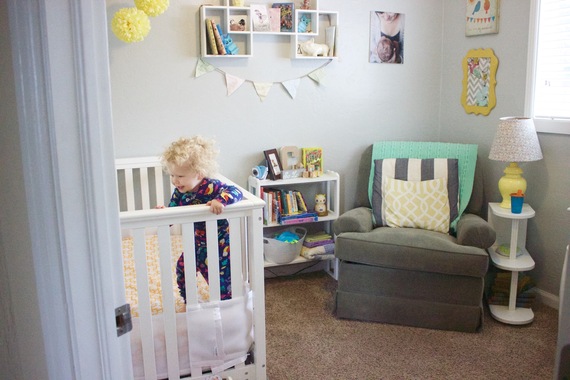 I've been in "bad mom" territory for a month or two now, brought on by sickness and fatigue and cloudy days. I swear every Monday, every new morning, every naptime that I'm going to turn it around and get my crap together, and I write to-do lists with sky-high expectations. I'm not only going to address the mildew in the bathroom, but I'm also going to spring clean my entire house! Since I haven't cooked a hot meal in two weeks, this week I'll master the art of French cooking! Because I've been behind on work all month, it's time to take on more projects and do it all in one day! It's my penance for being a bad mom, and the heart is willing, but the flesh is weak* (*and also my expectations may be a tiny bit unrealistic).
I keep thinking the cure for "bad mom" syndrome is to be more productive. I'll get out of this funk when I'm back on top, and that to-do list is checked off, right? But I have a feeling it's more about my attitude than my circumstances.
Even when my toddler uses fast-food chicken nuggets as a spoon to eat five packets of sugar-filled ketchup, I'm not a bad mom.
Even when there's mildew in the bathroom and dirty diapers overflowing the trash can, I'm not a bad mom.
Even when there are more Daniel Tiger episodes watched than books read in a day, I am not a bad mom.
I'm not a bad mom because serving healthy food, keeping a clean house, and reading books aren't what make me a good mom. I'm a good mom because I'm not trying to do it in my strength but with prayer and humility and mistakes. I'm a good mom because I agonize over whether I'm doing it right. I'm a good mom because I asked the question in the first place.
Today, I erased "Spring clean bathroom" and "Bake bread" off of my to-do list. In their place, I added, "Walk to the park with Charlie." And by golly, I checked that one off.