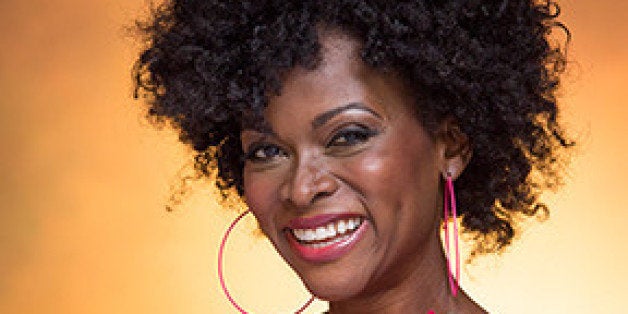 Last June, one of my "spiritpreneur" coaching clients called me in tears. She had been offered the new contract that we had carefully positioned her to receive. She would now easily be respected and regarded as an expert and guru in her niche. Her brand evolution happened pretty quickly and now she was about to stomp with the big dogs. Her tears weren't tears of joy, however. They were tears of fear.
"What if I completely mess it up? I don't want to blow it," she said. Secretly, she felt like a fraud. This changed my work with her, and what I realized I needed to bring all of my coaching clients. There is no benefit to having the skills and strategy to meet our goals if our internal "stuff" blocks us from being happy with what we want.
I knew exactly where she was coming from.
Almost 10 years ago, I was invited to do empowerment workshops with students in rural Nigeria. At the time, I was the host of a short film competition show on the BET (Black Entertainment Television) network. The sponsors of the trip were affiliated with The African Academy Awards, so I was there to teach a mini-film empowerment workshop, but the main objective was for the youth to see women who looked like them in positions of leadership and personal power.
It was an awesome experience, but ironically, I felt incredibly insecure most of the trip. I was there to empower the young women, but I felt overwhelmed and not up to the task.
My internal "who do you think you are?" meter was gonging out of control. I was there to empower but felt completely disempowered. I was about to complete my Master's Degree and had won several awards in my field but I felt like a faker.
Studies show that we are not alone.
"I have written eleven books, but each time I think, 'uh oh, they're going to find out now. I've run a game on everybody, and they're going to find me out. " Guess who said that? Dr. Maya Angelou; arguably one of the most accomplished women to walk this planet, feared being labeled a fraud.
Kevin Costner revealed that the late great Whitney Houston wondered if she was good enough, even with all that she had accomplished.
About watching himself in movies, Oscar nominee Don Cheadle remarked, "All I can see is everything I'm doing wrong that is a sham and a fraud."
So yes, high-achieving men can feel the secret lie of being an impostor as well.
Do you have impostor syndrome?
Are you afraid of being "found out"?
Have you ever felt like a faker in your own life?
Do you think that you are projecting a well-executed sham?
Are you secretly afraid that if folks at work or in your life saw the real you, you would be rejected?
Have you ever felt deep down like you were not really qualified or not good enough yet?
Some of us feel like we won't be good enough until we have the perfect bank account, marriage, kids, career, home, car, shoes and hair -- or whatever success looks like to you.
Until then, we stamp ourselves just not enough. We feel inadequate for being ourselves. This is not a healthy way to live!
My coaching clients are what I call Big Vision Women. These are women who are making a tremendous impact in the world, and they seem to have everything -- except what they really want. I provide soulcare and strategy to get "there" and we deal with the impostor syndrome a lot. For that reason, I consider myself to be a "self-worth midwife."
After the experience with my "spiritpreneur" client I mentioned above, I make sure to build in this "soulcare" that other entrepreneurial programs might see as frivolous into all programs. I specifically named my new program "Become the Guru" because I know that this is triggering language for many of us. The first time I saw a blog many years ago refer to me as a "lifestyle guru" I burst out crying. What would "people" think?
When I suggested to another well-heeled coaching client that feeling like an impostor as a high-powered attorney was a self-esteem issue she balked.
After all she was a speech-giving, loud-talking, red bottoms-wearing, queen of self-esteem, right?
If you don't feel deserving of your own blessings, there are deeper issues of unworthiness at play.
You will never have enough letters after your name or designers in your closet to make you feel good enough if you feel inadequate deep down.
So how do you stop feeling like an impostor in your own life?
Here are 5 Believe in Your Own Power actions you can take today.
1. Keep a success journal.
Instead of being caught up in everything you have yet to achieve, salute your successes. You have manifested every accomplishment. Own that.
It's not about keeping up with the Joneses, in life or in your career. Keep your eyes on your own ball and realize that the Joneses have their own issues to deal with. Don't let social media fool you. You don't know what anyone else is going through.
3. Release the myth of perfection.
No person or experience is perfect. We are all perfect in our imperfections. If you wait for perfection to feel good you will miss your life.
You have to flex your courage muscle. That's right, courage is a muscle. When you fall on your face, get back out there again.
5. Recognize how much value you bring.
Own your value and your successes. You are the co-creator of your life. Have faith that you were born to be your greatest self. The key is now for you to stop playing small and step into your fabulous greatness.
Yes! Greatness looks good on you.
Abiola Abrams is a transformational speaker, women's self-worth coach, creator of the Sacred Business Academy's "Become the Guru Bootcamp," and author of the award-winning "Sacred Bombshell Handbook of Self-Love." Get her free "Sacred Self-Worth Kit" of empowerment goodies at: OwnYourBombshell.com. Take her free 4-part video workshop, "Spiritpreneur Success Strategies" at BombshellMyBusiness.com.
For more from Abiola on believing in yourself, watch this video:
Calling all HuffPost superfans!
Sign up for membership to become a founding member and help shape HuffPost's next chapter