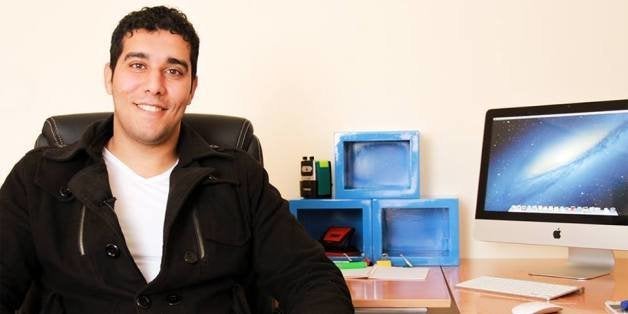 Nearly four weeks into Operation Protective Edge, Ahmed Borai is explaining how to separate hydrogen from seawater. Gaza's sole power plant was bombed out of commission four days earlier, leaving Gaza City blacked out and reducing the rest of the strip to two hours of electricity a day. The gasoline needed to run a generator costs two dollars a liter, the plant could take a year to repair, and Ahmed doesn't have that kind of time or money to spare. So he's using a car battery and a converter to run high voltage through a barrel of water to create an alternative -- albeit highly explosive -- source of fuel.
"We're bombed at any time here," he declares over Facebook chat, "so not a big deal." But while he concedes his workaround is "scary", Ahmed has bigger worries. "If I lose the internet, I lose my company." Fabraca, a 3D printing and product design company that he founded in early 2013, now includes four other employees from India, Serbia and Armenia, and the income it generates supports his entire family.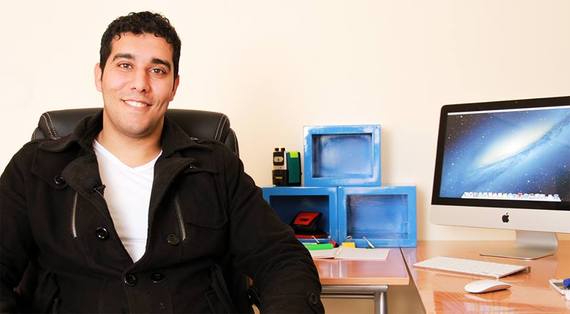 Ahmed is not the only young entrepreneur on the strip seeking innovative solutions to economic straits. Imposed after Hamas won elections in 2007, the Israeli blockade of the strip has seen the implosion of much of Gaza's private sector. As unemployment rose to over 50 percent, Ahmed's father was one of many who lost his livelihood. At that time, Ahmed recalls, "a young man should think of either involving [himself] with the government or ... finding a job somehow." With no way to study abroad, factory work unpalatable, and his family depending on him, he wracked his brain for "a business that can't be affected by Palestine crises." Through Fabraca he has managed to achieve a measure of that independence. "The most effective thing in my life is that I built my work on the internet," he declares, so it has "no boundaries, no one can control it."
In recent years, other residents of the San Francisco-sized strip have also turned to online business platforms in hopes that virtual space will prove less vulnerable than on-the-ground infrastructure. One of its biggest success stories is Unit One, a company with a staff of over 200 that provides software development, data entry, online marketing and e-content development at what its founder, Saady Lozon, calls "highly competitive prices." Lozon points out that each year, about 150 students graduate from Gaza's four universities with degrees in IT-related fields, "and we're trying to use the skills they have." To skirt opposition to women working in mixed environments, his 150-member data entry team is all female; per the company's corporate social responsibility policy, 10 percent of these employees are disabled.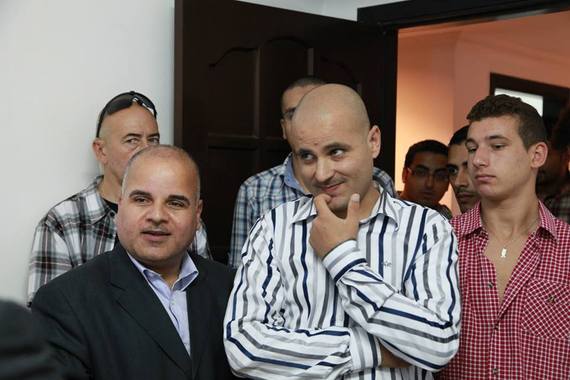 While Gaza's startup sector is still nascent, would-be entrepreneurs in Gaza have gotten a boost from partners like Google, which along with NGO Mercy Corps and local partners sponsors both a startup accelerator, Gaza Sky Geeks, and an annual startup weekend that attracts hundreds of competitors. Last December, three of those teams received investment from private investors outside Gaza for the first time; this year, the number of applicants to Startup Weekend Gaza doubled. "The tech sector offers the opportunity to work despite borders not being easy to cross," says Iliana Montauk, Mercy Corps' digital economy program director in the West Bank and head of the Sky Geeks. "Startups are a way to connect to the world, and people are thirsty to be a part of that. When we brought [judges] to Gaza, they said they'd never seen such thirst anywhere else." Because security restrictions make it harder for men to obtain visas, women are especially vital for startups' networking capacities. In this June's competition, women made 36 of the 71 total pitches, and judges awarded a special prize to Boom Baby Boom, an app for pregnant women and mothers designed by 16-year-old Sofiya Mosalam.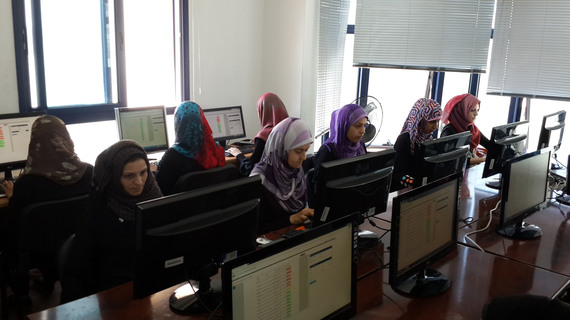 Three weeks later, the IDF informed Sofiya's family that their house was targeted, so they moved in with friends in what they hoped was a safer neighborhood. From there, working on four hours of electricity a day, she is now creating an aid campaign, complete with video, for Gazans who are worse off. Saady too left his house after an air strike demolished his next door neighbor's house and severely damaged his. Nevertheless, he estimates that his team managed to fulfill 60 to 70 percent of their orders until the loss of the power plant reduced them to 10 percent of normal capacity.
While the latest ceasefire has given him the chance to hook up more solar cells and generators, upping his daily power supply to roughly six hours, it remains to be seen whether negotiations will yield a significant easing of the current blockade, and with it improved chances for entrepreneurs based in the strip. For his part, Saady remains doggedly hopeful. Though he admits to sadness about the loss of his house, what he most wants to recover is Gaza's self-sufficiency. "We have to live and build up Gaza by ourselves." Google the word "Gaza", he laments, "and what comes up is images of people who've been killed, blood, and destruction. We have to show the world that Gaza is beautiful and its people have lots of energy, that we aren't living off of wars and we don't need relief from anyone."
Calling all HuffPost superfans!
Sign up for membership to become a founding member and help shape HuffPost's next chapter