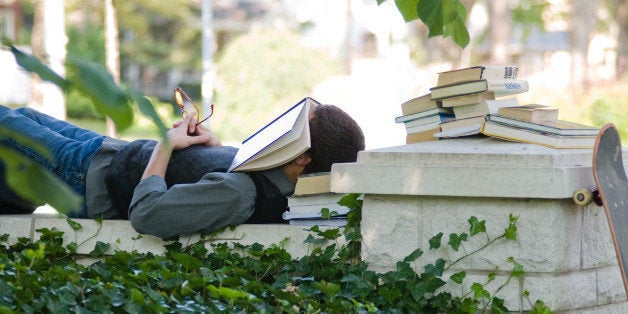 Over the next few months, parents and their college-bound kids will be on the road visiting schools and solidifying the list of where they want to apply. Some schools will be instantly attractive and placed at the top of the list. But unfortunately, sometimes first choices can easily turn into big regrets. How you handle that is very important. Here is the story of how one freshman dealt with a choice she wishes she hadn't made.

In late December of 2012, at about eleven o'clock on a Friday night, I received a frantic voicemail message from the father of a college-bound student. The father said that his daughter Lily (not her real name) had been deferred from the University of Pennsylvania -- the only school she had applied to. They needed back-ups, and fast. The following morning Lily and I were on the phone coming up with a game plan.

Smart and funny, I knew instantaneously Lily would be a joy to work with. She explained that the moment she stepped foot on the Penn campus it was love at first site, her top choice, and the only school she wanted to attend. Lily had convinced herself that applying only there would magically get her in. Despite her parents' reservations about only applying to one school, they had left the ultimate decision to her.

Lily came to me with a list of five schools, all requiring supplemental essays. "Which is your new first choice?" I asked her. And she told me about all the wonderful aspects of Wellesley. She knew everything there was to know about it. She already knew her major, a minor, and there was a blueprint of the four years she would spend there. "Great! That will be the essay we are going to work on last." Lily wanted to work on Wellesley first. But I felt the others would be a good warm-up. Plus, I wanted to put a little less pressure on this particular school. So she agreed we should save the best for last.

Throughout the process Lily took notes well, pushed herself to make her drafts better, and never once complained through multiple re-writes. Lily was one of the best applicants I had ever worked with! When all of her applications had been turned in, she thanked me effusively, and we waited to see where she would be accepted. On May 3 Lily emailed me. "I just called my mother, I just called my father, and now I'm writing you. I got into Wellesley!" I was thrilled for Lily and so proud to have played even a small role in her getting in. Also, seeing a student get accepted at the school they most hope to attend is one of the most satisfying aspects of what I do.

This past December, about halfway through the month, I received another call from Lily's father. "How's Lily doing?" "Lily hates Wellesley, she can tell you about it." It turned out her number one choice had fallen short in her eyes. Lily wanted to transfer schools. And so we set up a time for us to speak. And since she lived in New York, she wanted this time for us to meet in person.

Lily went through the long list of reasons why she so desperately wanted to transfer schools. The "culture" of the school didn't fit in with her needs. And although one of her original reasons for wanting to go to Wellesley was that it was an all-girls school, she felt the lack of male students took something intangible away from her education. Despite all this, she had achieved a lot in the one single semester she had been there. She had won elected office, been heavily involved in student politics, received straight A's in her classes, and most importantly to her, she now knew that after college she would be going to law school. "But I know where I want to go now," she proudly announced. Lily had narrowed the list down to: Columbia, University of Chicago, Georgetown, and Cornell. And there was no first choice this time. Lily was vastly more sophisticated and driven than the high school senior I had worked with the previous December.

In May I received a phone call from Lily, she was on the verge of tears as she announced to me that she had been accepted at Cornell. In fact, Lily ended up getting accepted at all of the schools she applied to. I asked her what she learned from this experience and her response was quite simple: "Maybe your first choice isn't always the best choice."

The car is gassed up and the plane tickets have been purchased for The 2014 Summer College Tour. And no doubt after the tour ends, parents and children will have a good idea which school they most want to attend. And while it's a very good idea to know what you want, it's also a good idea to keep your options open, not have your mind so dead-set on one school. The last thing you want to do is make a choice you regret. College-bound students should weigh the pluses and minuses of each school equally. They should look carefully at each school. And most importantly, keep an open mind. Applicants may very well have a number one choice. And they may get into that school. But once they get there, everything they thought and felt about it could change. And if this is indeed the case, there's nothing to be ashamed of if you choose to transfer. Lily is off to Cornell. And she's thrilled to be doing so. It took her until her sophomore year to get there. Here's hoping you select well. And have fun visiting all of those school's.
Popular in the Community