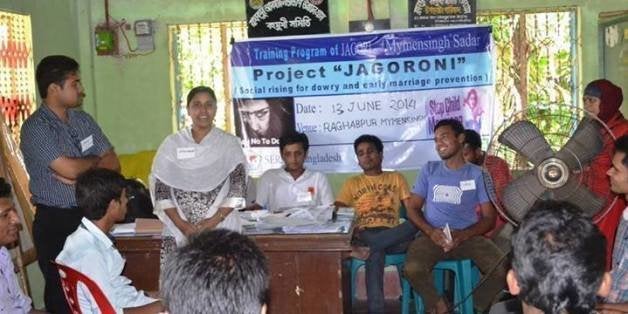 After she got married, she had to drop out of 7th grade.
This is the beginning of a story I heard at the +SocialGood event last month from Miriam Enerstrida, a young woman who escaped child marriage in Zambia. When she was in 7th grade, Miriam was sold into marriage. Her husband's family kept her in their basement, naked, so she could not run away. When she asked about going back to school, she said she was beaten and they made her repeat the phrase "school is for boys and not for the girl child."
The real question is: Why?
Child marriage is not only wrong from a legal and human rights perspective, but also from a broader economic and developmental perspective. When girls are married young, they are more likely to drop out of school; more likely to acquire HIV and other sexually-transmitted infections; and more likely to live their lives in poverty - a poverty that often is passed on to their children. And girls who give birth before the age of 15 - which often happens for child brides - are five times more likely to die during childbirth than women in their twenties.
On July 22, 2014, I will join global leaders in London as the UK government hosts the first Girl Summit, aimed at mobilizing domestic and international efforts to end female genital mutilation (FGM) and child, early and forced marriage (CEFM) within a generation.
To truly put an end to child, early and forced marriage, it is imperative that we don't just look at it as a girls' or women's issue. It's a human rights issue, and that means men play a big role. They must be partners and champions in turning the tide. Young men in particular are crucial in this fight. At Women Deliver, we're already seeing the impact engaging men to end child marriage can have. Through seed grants to Women Deliver Young Leaders, supported by Johnson & Johnson and WomanCare Global and the Women Deliver C Exchange, two young men are working really hard to #EndChildMarriageNOW in Bangladesh and Zimbabwe.
SM Shaikat, from Bangladesh, has started a project called Jajoroni ("rising" in Bengali) which mobilizes young people in their communities to become watchdogs against dowry and early marriage Each group will run a local hotline to trace cases of early marriage and marriage-related violence, and then use this information to pressure the national government to take action. Another seed grant recipient, Yemurai Nyoni from Zimbabwe, is working with the Rising Birds Project, an initiative that engages Parliamentarians, community leaders and young people to outlaw and spread awareness about child marriage.
As Yemurai told me, "Youth all over the world have declared war against child marriage, citing it as a threat to our future that must be eliminated if we are to create the world that we want. We have started a movement to end child marriage in our generation, and with your partnership, this can soon become a reality for adolescent girls in Zimbabwe."
So, join me, Women Deliver, Yemurai, and SM Shaikat, and all the organizations working on these issues, including Girls Not Brides, UNFPA, UNICEF, and Plan International, as we call on the global leaders at the UK Girl Summit to end child marriage. Let's think about both the human AND the economic consequences. Think about the lost investment. Think about the lost potential in each and every one of these girls.
But there is a silver lining: When we reverse this vicious cycle, we see a very different picture. We see prosperity, economic growth, healthy families, and educated societies. When you invest in girls and women, everybody wins.
REAL LIFE. REAL NEWS. REAL VOICES.
Help us tell more of the stories that matter from voices that too often remain unheard.